Colorado Fires June 2018: Maps, Update on 416 Wildfire and Others Still Burning
Colorado fire officials are battling several large wildfires ahead of a potential storm that could either deliver much-needed rain or dangerous lightning strikes capable of creating new fires. At least four fires have ripped through the state, burning thousands of acres of land.
416 Fire
The 416 fire outside Durango, Colorado, spread to nearly 33,000 acres by Friday morning, according to numbers released by fire officials. The wildfire burning through San Juan National Forest was 18 percent contained, up 3 percent from the previous day.
The fire, which started around 10 miles north of Durango on June 1, had expanded to 32,959 acres as of Friday morning. On Thursday, the fire was measured at 29,147 acres, with containment at 15 percent.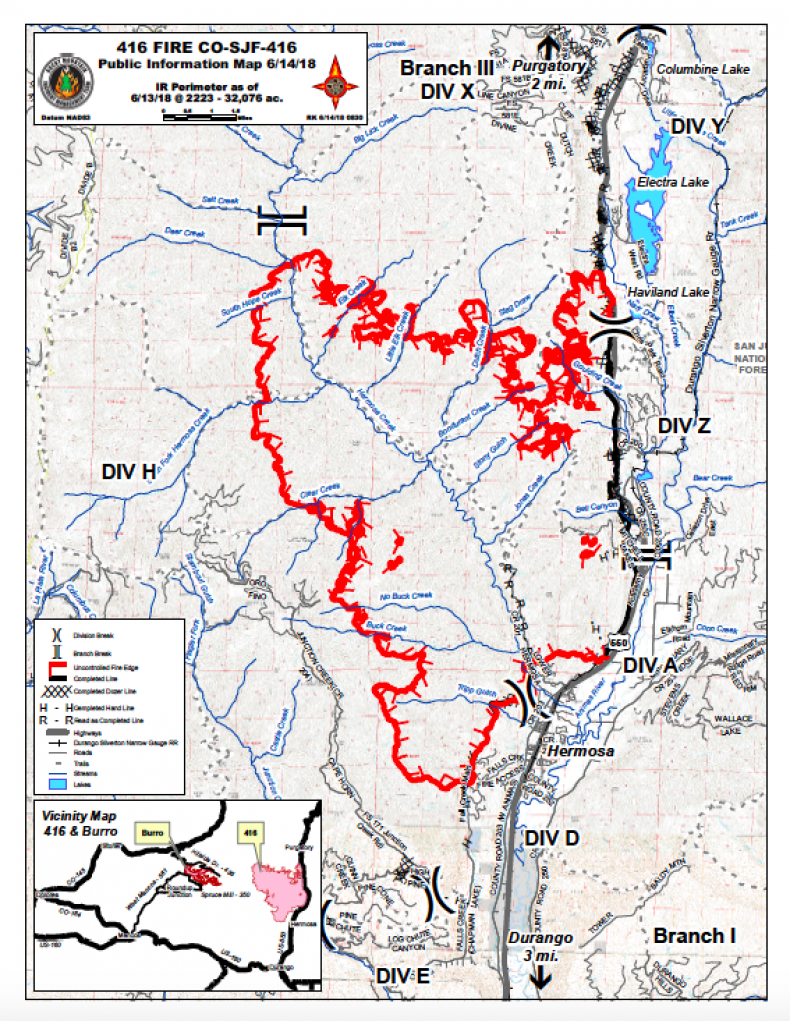 La Plata County officials announced Thursday that 998 homes had been evacuated because of the fire, with an additional 1,658 homes and businesses under pre-evacuation notice. A fire crew of more than 1,100 was assigned to combat the flames.
County officials said that Highway 550 would be open Friday from 8 a.m. to 8 p.m., with a law enforcement escort. The northern closure point remained at mile marker 49.5, just north of Purgatory, and the southern closure point was moved north to mile marker 39.5. Officials warned that the highway's opening hours were subject to change.
County roads 201 and 202 remain closed, while county road 203 is closed north of Trimble Lane.
A red-flag warning for dry lightning and gusty outflow winds was placed in the affected area from 10 a.m. to 9 p.m. Friday.
Fire crews are now focused on the incoming weather system. Remnants of Hurricane Bud are expected to move through the region, potentially bringing heavy rain and dangerous cloud-to-ground lightning. Rain could help put out the blazes, but lightning could exacerbate them.
A flood watch was issued for both the 416 fire and the Burro fire for Saturday. "Showers and thunderstorms become likely Friday night and Saturday, with locally heavy rainfall possible," InciWeb said. Rainfall could reach up to one inch.
"We can end up with catastrophic flooding in areas. Any time you put rain on [a] brand-new burn scar, you can end up with debris flows and debris dams that can back up water, and then those can release," Grand Junction NEW meteorologist Jeff Colton told KJCT.
Rocky Mountain Incident Management Team spokeswoman Jamie Knight told The Denver Post that firefighters had been warned about the storm and were asked to keep an eye on wind speed and directional changes. Gusty outflow winds reaching 40 mph and dangerous cloud-to-ground lightning are expected on Friday.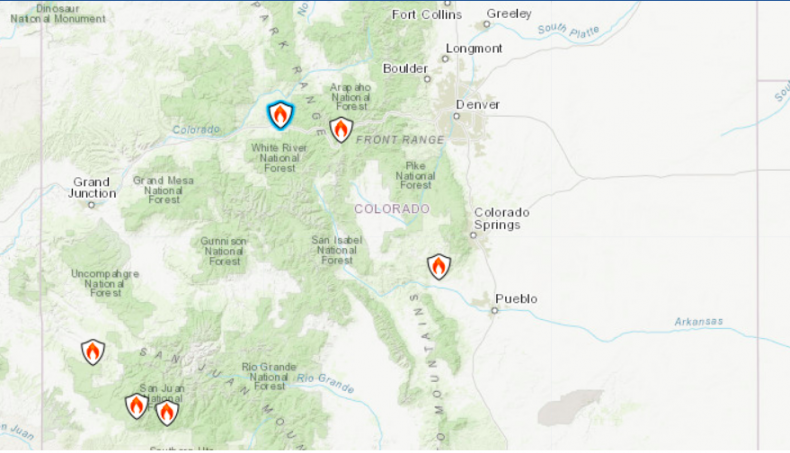 Burro Fire
The second-largest wildfire fire Colorado officials are dealing with ignited on June 8, approximately 14 miles south of Rico. The Burro fire was measured at 3,408 acres as of Friday morning. According to InciWeb, 181 responders were working to contain the wildfire.
Bocco Fire
Another fire three miles northwest of Wolcott, Colorado, has burned through 415 acres. As of Sunday the fire was 50 percent contained, InciWeb reported. Residents in the Alkali Creek neighborhood north of Wolcott were allowed to return to their homes over the weekend after being evacuated, and power was restored to the area, according to KMGH.
Buffalo Mountain Fire
The Buffalo Mountain fire near Silverthorne is 45 percent contained. The wildfire, which triggered 1,400 evacuations after igniting on Tuesday, has been kept within 91 acres, The Denver Post reported Thursday. The size of the fire decreased to 81 acres as of Friday morning.