Colorado GOP Shows Republicans How They Can Screw Up 2022 | Opinion
By every metric imaginable, Colorado Republicans should sweep most statewide races this year in a red wave. The state—which has elected only one Republican governor in nearly 50 years but has a history of split-ticket voting for other offices—is ripe for a GOP comeback.
However, last Saturday's state party assembly threatens to spoil it all, ringing alarm bells for Republicans across the country.
On Tuesday, Senate Majority Leader Mitch McConnell warned that things could still go wrong for Republican candidates in the midterm election. "From an atmospheric point of view, it's a perfect storm of problems for the Democrats," he said. "How could you screw this up? It's actually possible. And we've had some experience with that in the past."
McConnell is right. And last weekend, we saw in Colorado how it can happen. Republicans everywhere should take heed.
On Saturday, nearly 3,800 delegates (including me) gathered for the state GOP assembly. Going into the convention, Republicans had three particularly compelling candidates for U.S. Senate: Eli Bremer, Gino Campana and Deborah Flora.
Each of these candidates had a real shot at defeating Democratic incumbent Michael Bennet by emphasizing out-of-control inflation, energy independence, Bennet's partisan voting record and the growing threat of unpopular pseudo-academic dogmas on race and gender being taught in schools. These are among the numerous problems Democrats have caused under their one-party control, while ignoring the concerns of middle America that left everyday people feeling forgotten.
But the leader in the race for Colorado's GOP Senate nomination is neither Bremer, Campana nor Flora. In a shock to many, candidate Ron Hanks garnered 39 percent of the delegate vote and narrowly kept his five assembly opponents off the June primary ballot.
Hanks opened his speech declaring President Donald Trump won the 2020 election. He suggested that Trump even won Colorado, even though the state has been widely touted for the security of its election system, and Trump lost here by 13.5 percentage points. Hanks' Senate campaign is rooted in election conspiracy theories centered on Dominion Voting Systems—so much so that his first campaign video featured an exploding photocopier labeled "Dominion Voting Machine."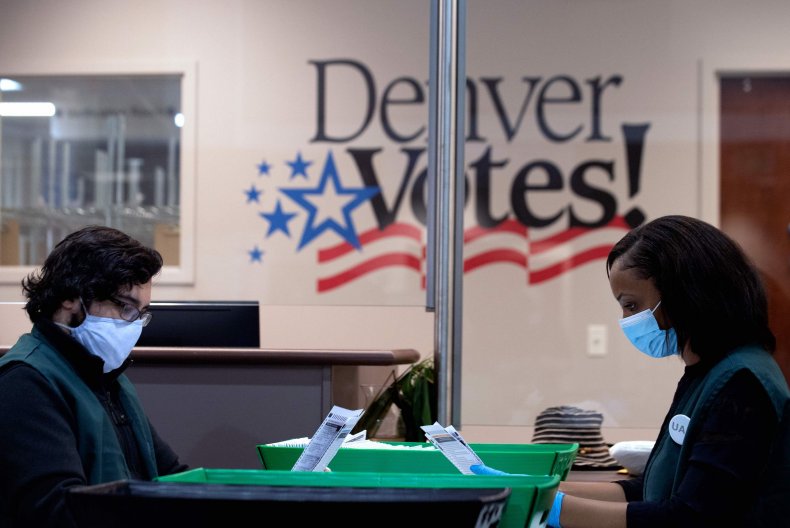 Hanks has campaigned closely with another 2020 election conspiracist, Tina Peters, who on Saturday won the Republican primary for secretary of state. If she wins the nomination, Democrats will undoubtedly portray Peters as a "felon" and "grifter" actively undermining election security while claiming to stand for election integrity.
That's because Peters, the current clerk of Mesa County, was recently indicted by a grand jury and Republican district attorney for her alleged involvement in a 2021 election security breach purportedly intended to "prove" the 2020 election was stolen through fraud.
Peters' charges include seven felony counts concerning an elaborate identity theft scheme. Her indictment is amplified by ethics complaints contending she violated Colorado ethics laws by receiving a private jet ride, weeks-long hotel stay and six-figure legal defense fund donations from MyPillow CEO Mike Lindell.
The assembly victories of Hanks and Peters put the Colorado GOP in a position reminiscent of 2010. That year, Republicans retook the U.S. House in a landslide thanks to a Tea Party-led surge. In Colorado, the GOP nominated Dan Maes for governor—a weak candidate plagued with ethical problems. His campaign cratered as Republicans fled in droves. Maes garnered a third-party challenge and won just 11 percent in the general election.
This year, as McConnell said, Democrats throughout the country face a perfect storm. Biden's pledge to serve as a "president for all Americans" has fallen flat. Democrats' one-party rule threatens the livelihoods of the people they claim to serve.
Middle America feels ignored when politicians badger that it's bigotry to believe biological males competing against women in women's sports is wrong. While the Biden administration and its allies pretend inflation is transitory and call it "Putin's price hike," voters aren't buying it.
On issue after issue, Americans increasingly believe Democrats have broken their promises. For middle America, this dilemma is especially acute. People feel like they've done everything they've been told to in life, yet to no avail. After years of government failure, they fear they'll be ripped off, get burned and be uncounted by the powers that be. They fear losing their farms and ranches, their businesses and their children's futures. They feel unheard, unappreciated and disrespected.
If Republicans focus on addressing these real-world concerns and day-to-day struggles—real issues impacting real people—they will help the forgotten men and women to feel heard. Then, they will win.
Conversely, if Republicans persist in relitigating 2020 election conspiracy theories rather than seize on a winning message that resonates in 2022, they'll turn off independents, frustrate middle America and squander the opportunity to give voice to the voiceless. In other words, they will screw this up.
Jimmy Sengenberger is host of The Jimmy Sengenberger Show on Denver's News/Talk 710 KNUS, and Jimmy at the Crossroads, a webshow and podcast in partnership with The Washington Examiner.
The views expressed in this article are the writer's own.