Colorado Governor Jared Polis came under fire this weekend after he called state residents who do not wear masks to curb the spread of the new coronavirus, "selfish bastards."
On Sunday, Polis posted on his campaign Facebook account to remind Colorado residents that scientific studies supported the use of face coverings and face masks in public places to help reduce the spread of the virus, adding: "So if you're a selfish bastard and wearing a mask to protect others isn't enough of reason to do so, then maybe protecting yourself is?"
The commentary angered anti-mask advocates, some of whom accused Polis of discriminating against those who suffer from asthma and cannot wear a face mask.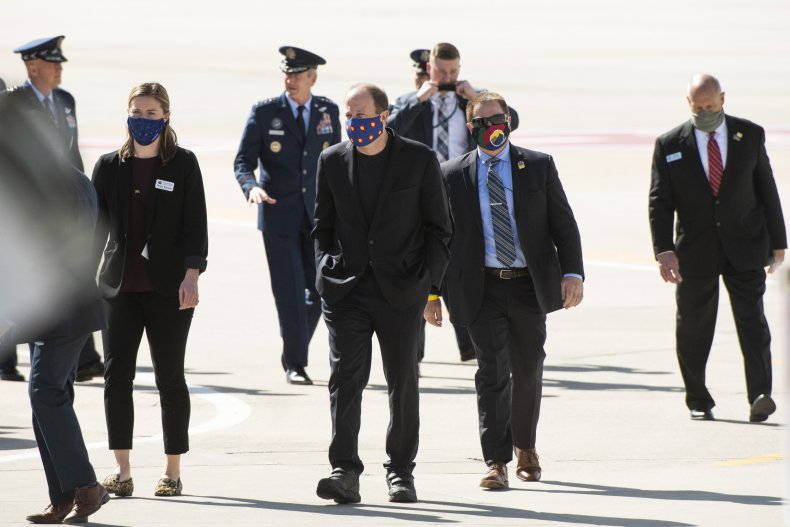 Polis' Facebook comments followed his weekend announcement extending executive and relief orders for 30 days to stem the increasing number of COVID-19 cases and to help Coloradans cope with the COVID-19 pandemic.
Those orders include limiting petition gathering for elections, rent relief to help those struggling to pay it, and requiring residents with a high risk of severe illness to stay home as much as possible, limit social interactions and wear face coverings.
At a July 9 news conference, Polis told announced the launch of a new interactive COVID-19 model that shows the change in total cases and spread of the virus if individuals do not wear face masks or practice social distancing.
During the announcement, Polis said Coloradans need to do their part to help and "wear a damn mask."
"If you want to lower the unemployment rate and bring professional sports back, wear a mask," Polis said.
Since the start of the COVID-19 health crisis, there have been 36,913 cases of the new coronavirus reported in 61 Colorado counties, resulting in 1,586 deaths, according to the Colorado Department of Health and Environment.
The majority of positive cases of the virus have occurred in Denver County where nearly 8,000 cases were reported as of July 11.
State health officials recorded its highest rate of hospitalizations on April 14, with 888 patients diagnosed with the new coronavirus.
However, the numbers dropped significantly through May with the lowest number of COVID-19 recorded on June 27 with 126 patients hospitalized. However, the number of patients hospitalized with the novel virus has steadily risen to 220 as of July 12, according to statistics from Colorado's health department.
Polis has not ruled out a statewide mask mandate, but he said during a press conference last week that local ordinances will have greater success at enforcing such orders than at a state level. According to Polis, nearly 60 percent of cities and counties in the state have some type of face-covering requirement in place.
"Don't wait until there's a mask-wearing ordinance in your area to wear one. Don't just wear one because you might get a $200 ticket if you don't," Polis told reporters at the press conference. "Wear one because you might save your life. You also might save your job. You might save your stock portfolio. You might keep your local businesses open. Lots of good reasons to wear a mask."
Newsweek reached out to Polis office for additional comment, but did not hear back before publication.