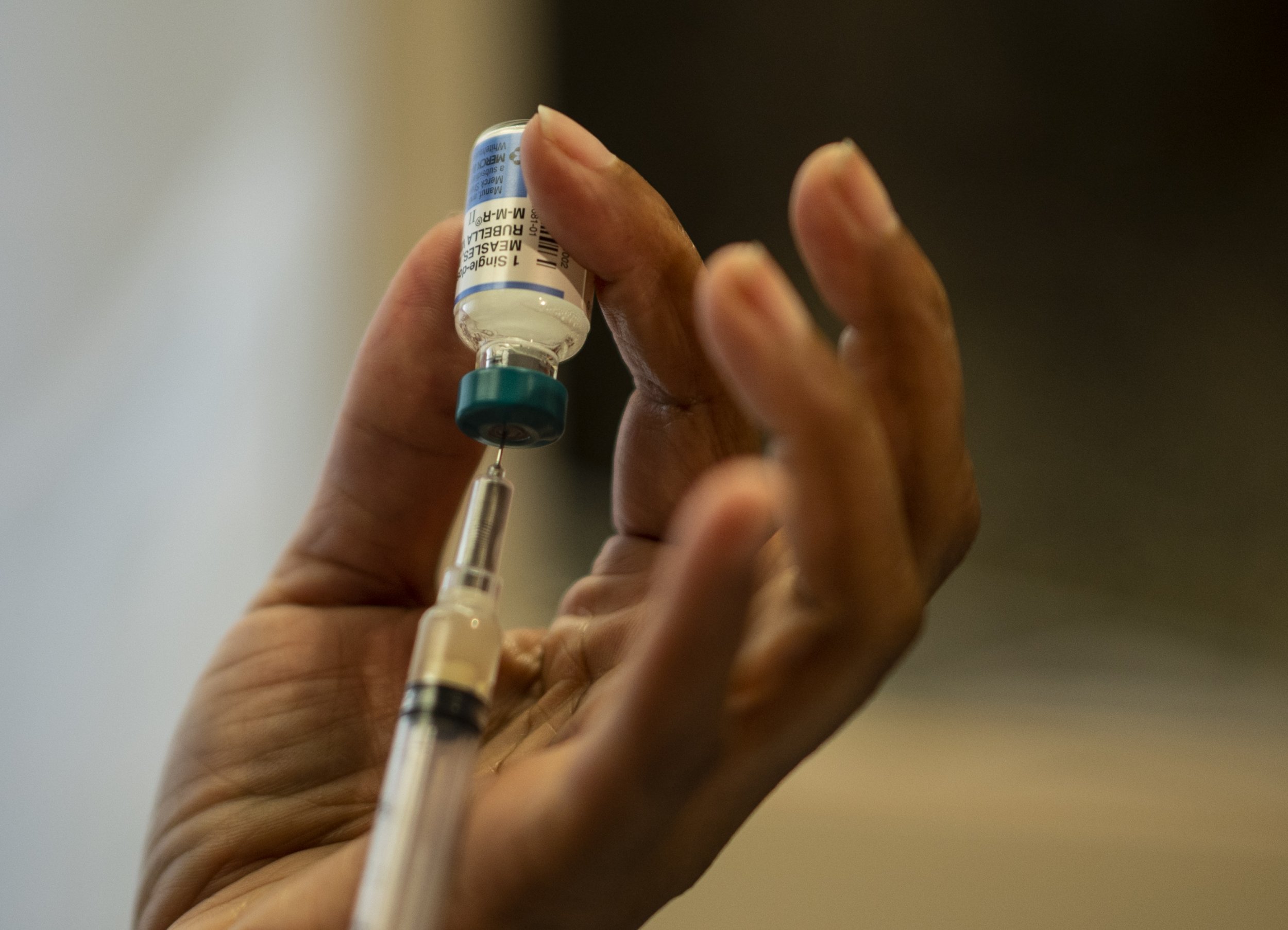 Amid quarantines and increased reports of measles outbreaks in parts of the country, a bill in Colorado intended to boost vaccination rates in children is at the center of a political standoff between the state's governor, lawmakers, and public health advocates.
Colorado House Bill 19-1312 would, among other things, require that parents or guardians of public school children who wish to exempt their child from required vaccinations file paperwork in-person at a state health department office. This would be a significant change from the current rules, which only mandate that the parent provide the child's school with a written notice of the vaccine exemption, according to the Denver Post.
However, Colorado Governor Jared Polis said this week that he would not sign the bill in its current form, claiming this new requirement is too strict.
"Of course we don't support things like requiring anyone to go in person and things like that," Polis said, per Colorado Public Radio, at a Wednesday town hall in Wheat Ridge, a suburb of Denver. "There's still of course some changes that are going to be made to the bill," he added.
In a subsequent statement to the Post, Polis's office said the governor was working with legislators to remove the in-person filing requirement, which he objects to because "he wants to ensure fairness for parents, especially those that live in rural areas that would need to drive up to an hour to get such exemption."
The bill's sponsor, state Rep. Kyle Mullica — an emergency room nurse — told the Post he has no intention of amending the measure any further.
"We made a lot of compromises," Mullica told the Post, arguing that removing the filing requirement "kind of keeps us at status quo and doesn't accomplish the goal of formalizing that process."
According to 2018 data from the Centers for Disease Control and Prevention, only 88.7 percent of Colorado kindergarten students had been fully vaccinated for measles, mumps and rubella — the lowest figure of any state. Nationally, the median vaccination rate for kindergarten students was 94.3 percent. For that same study, Colorado did not provide a total number of students exempted from vaccinations, but noted that 0.2 percent of all students were given medical exemptions, 0.3 percent were exempted for religious reasons, while 4.2 percent went unvaccinated for philosophical reasons.
Per the Colorado Public Radio report on Wednesday's town hall, the meeting went on until the very early hours of the morning and was attended my members of groups like Colorado Health Choice Alliance — which believes that parents should be free to choose whether their children are vaccinated — who cheered when Polis expressed his reluctance to sign the legislation.
However, physicians and public health advocates argue that vaccination is not a matter of philosophy; it's a matter of stopping potentially deadly diseases from spreading.
"We need to do more to protect our children and keep schools safe. Taking children to the doctor for vaccinations takes time and effort. Why should opting out be easier," Community Immunity co-founder Lindsay Diamond said in a statement to the Post. "We should not wait for an outbreak where innocent people suffer because the legislature failed to act."
In a statement emailed to Newsweek, Jessica Cataldi, MD, pediatrician and specialist in infectious diseases at Children's Hospital Colorado, said she was "disappointed" by the governor's comments.
"The multiple measles outbreaks across the country represent a public health crisis that must be addressed," said Cataldi. "I hope the Governor will reconsider his position based on the best available science and prioritize the health and safety of children in communities across Colorado."
"Immunization is not only a personal choice," said Jake Williams, executive director, Healthier Colorado in a statement to Newsweek. "Whether or not a parent vaccinates their child has very real impacts on the rest of the community. With the nation's lowest rate of immunizations for kindergarteners, we are putting Coloradans at needless risk for the spread of preventable, contagious disease."
Sean O'Leary, a pediatric infectious disease specialist at Children's Hospital Colorado, told Colorado Public radio that making it slightly less easy to exempt a child from vaccinations is a step in the right direction.
"A lot of what is going on now, is, what a lot of people call convenience exemptions," O'Leary told the radio station. "So right now in Colorado, if a child was going to school, and they're not up to date on their vaccinations, they can simply sign a form. They may not be against vaccinations. It's just easier to sign a form than to go into the doctor's office."
When it is so easy to be exempted, said O'Leary, "the lower the vaccination rates, the higher the rate of exemptions and the higher the likelihood for vaccine-preventable diseases like measles."