Colorado King Soopers Donates 1 Million Meals for Each Person Killed in March Shooting
The King Soopers grocery store in Boulder, Colorado, that became the site of a deadly mass shooting in March is donating 1 million meals to a local food shelter for every victim who was killed.
Over the next few weeks, the store is sending 14 semi-trucks full of food, vitamins and cleaning supplies to Community Food Share, a food bank in Louisville, Colorado. That food bank services Boulder and Broomfield counties.
"All this product was left resting on the shelves and we needed to do something with it. And so in order to make an impact, we've decided to donate it," King Soopers Corporate Affairs Manager Jessica Trowbridge told Fox31.
In total, Trowbridge said that 10 million meals will be donated to the food bank in order to honor the 10 lives lost in the shooting.
"Having this food do good and truly, truly honor these victims, their families and our associates," Trowbridge added, according to Channel 9 News. "When you think about COVID and what we've been through, hunger is on the rise in our community and 10 million meals can really make an impact."
Community Food Share Executive Director Kim Da Silva told Channel 9 News that the donation is the largest the food bank has received in 40 years.
"We are honoring those lives which were lost by accepting this food and bringing it out into the community and doing a great thing with it," Da Silva said.
The King Soopers store has been closed to the public since March 22, when a gunman opened fire in the market and killed 10 victims, including one police officer and several store employees. The store has since served as the site of a large community memorial, where people have left flowers, posters, and other objects to honor those who died.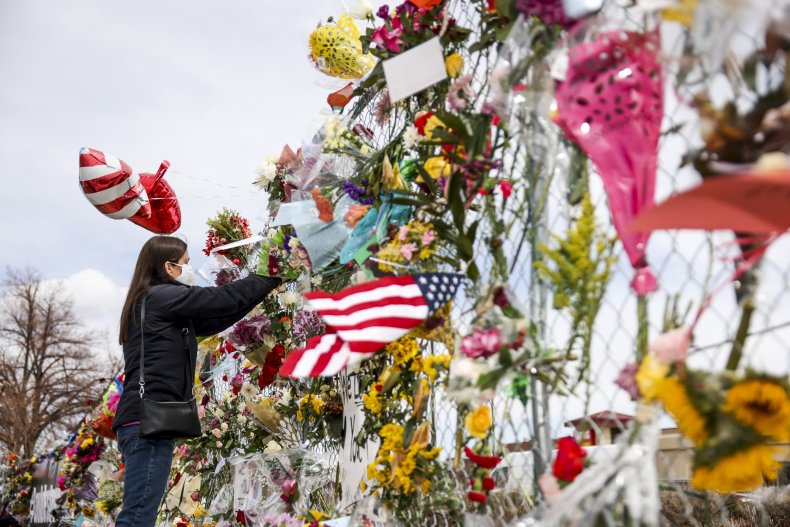 The victims killed in the shooting ranged in age from 20 to 65. They included Denny Stong, 20; Neven Stanisic, 23; Ricky Olds, 25; Tralona Bartkowiak, 49; Eric Talley, 51; Suzanne Fountain, 59; Teri Leiker, 51; Kevin Mahoney, 61; Lynn Murray, 62; and Jody Waters, 65.
The shooting suspect, 21-year-old Ahmad Al Aliwi Alissa, was taken into police custody that day after suffering a gunshot wound to his leg. Alissa was treated for injuries and charged in March for 10 counts of first-degree murder and one count of attempted murder.
A month later, Alissa was accused of trying to kill 19 others, including 11 police officers during the attack, and faced more than 40 additional felonies.
His first court appearance was on March 25, and his attorney requested a three-month trial delay before a preliminary hearing in order to "fully assess Mr. Alissa's mental illness."
If convicted of the 10 murder charges, Alissa will spend life in prison without the possibility of parole, NPR reported.
As of Thursday, it was unclear whether or not the King Soopers grocery store would eventually reopen to the public.
Newsweek contacted Trowbridge for additional comment, but did not hear back in time for publication.