Video: Bear Steals Entire Dumpster from Cannabis Shop—'He Knows the Good Stuff When He Smells It'
A determined black bear that failed to break into a Colorado cannabis shop's dumpster last week was captured on a surveillance camera deciding not to abandon a potential snack—instead choosing to steal the entire bin by carefully wheeling it from the store.
Footage of the incident, which took place in Lyons, was released yesterday by the Colorado Parks and Wildlife (CPW). Based on video timestamps, it occurred on July 17 shortly after 11 p.m.
In the recording, the bear can be seen bursting through a wooden fence and sniffing around the area before approaching a locked dumpster outside cannabis store The Bud Depot.
When the black bear fails to force its way into the dumpster it stands on its hind legs and slowly drags the entire bin through the fence. When it is unable to open the lid, the trash bin is eventually discarded. "No reward for this bear," the CPW wrote on Twitter. The Bud Depot store manager Nikko Garza told KDVR (Fox 31 Denver) that the dumpster had only contained boxes.
Garza joked: "[The bear] busted through like 'The Shining,' which is ironic because the Stanley Hotel is like 20 minutes up the road. He's all into the Rocky Mountain high and I don't blame him. He knows the good stuff when he sees it, or should I say smells it."
The shop manager said bears had been spotted in the local area about 10 times in recent weeks. He noted that staff at the cannabis store had nicknamed the dumpster thief "Cheeseburger."
According to state wildlife officials at the CPW, black bears are known to explore all possible sources of food, including from homes, vehicles, campgrounds and trash cans.
It says: "Much of what people throw away smells like food to a hungry bear. Standard metal or plastic trash cans won't keep out bears. Once bears learn where it's easy to get at the garbage, they'll come back again and again. Never leave trash or recyclables out overnight.
"Empty cans and boxes still smell like food. One study showed that simply putting trash out only on the morning of pick up cuts the chances of a bear visit from 70 percent to 2 percent."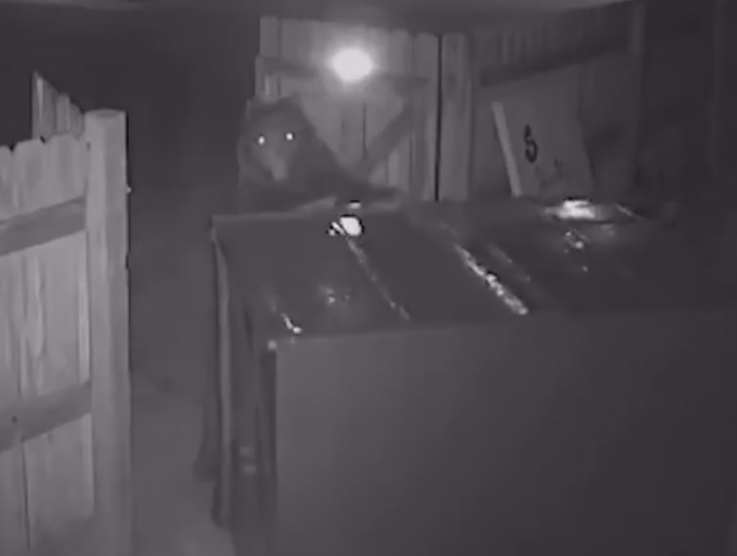 Last year, a bear was filmed opening a door and walking into a California Highway Patrol (CHP) building on its hind legs before inspecting several vending machines. It briefly snooped around and then left the area of its own accord. The curious animal was quickly followed by an officer with his handgun drawn.
"I guess he doesn't like your selection of snacks or he ran out of change," one user on Facebook noted after the surveillance footage was posted online by the Donner Pass division.
Video: Bear Steals Entire Dumpster from Cannabis Shop—'He Knows the Good Stuff When He Smells It' | News