A 75-year-old Colorado man is suing his local police department, claiming civil rights violations after an officer allegedly tased him, causing a stroke, in May.
The complaint was filed by Sarah Schielke, the attorney for the alleged victim, Michael Clark. It claims two officers, Nicholas Hanning and Ellie Summers, allegedly banged on Clark's door on May 30 and "physically assaulted" him. Corporal Richard Sonnenberg and the City of Idaho Springs are also listed as defendants.
Clark is specifically suing on grounds of unreasonable seizure, excessive force, failure to train and supervise the officers, municipal liability for unconstitutional practices, and due process violation.
"Two Idaho Springs Police officers banged on Mr. Clark's apartment door, stormed into his apartment without warning or warrant, physically assaulted him by kicking him in the leg and punching him in the head, and then—while he stood unarmed and in his boxer shorts 8 feet away from them in his apartment posing no cognizable threat whatsoever—they tased him," the complaint said.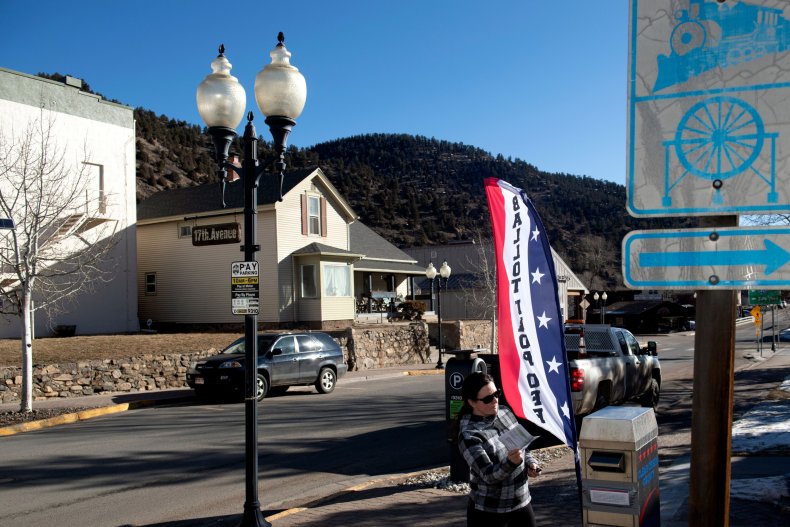 Clark allegedly lost consciousness and flew backward, striking his head on a dining room chair. "His head was split open and bleeding," according to the complaint.
The officers then allegedly dragged him into the hallway, where he was handcuffed while Hanning allegedly put "his knee over and onto Mr. Clark's head and neck, compressing his airway."
"He laid there, non-responsive, for 2 minutes and 23 seconds," the complaint said.
Clark was then taken to the hospital. The complaint alleges Officer Summers "falsely informed medical personnel" that Clark assaulted police with a machete.
Clark had apparently grabbed a "collectible sawfish snout sword" after being startled awake by the officers at his door.
A few days later, Clark had a stroke. He remains in a 24-hour nursing care facility, awaiting heart surgery.
"To deserve this, Mr. Clark had: done nothing. He had broken no laws. Minutes before this occurred, he had been sleeping in his bed," the complaint said.
The officers "stripped him of his independence, his security and his health."
Schielke also released body camera footage of the incident.
The attorney said in a statement that Clark sued the Idaho Springs Police "for their failures to train and supervise these officers, as well as Idaho Springs' unconstitutional practices and policies that made the officers' assault on him not just possible, but likely."
The complaint claimed that the officers' response reveals they're trained to "believe that they could reasonably charge an individual with a crime for holding a sword" in their home while answering an unidentified person at the door in the middle of the night.
Hanning has since been fired and charged with 3rd-degree assault, the Idaho Springs Police Department said in a statement. Police Chief Nathan Buseck "quickly initiated both a criminal investigation of the incident, to be done by an outside agency, and an internal review" following the incident.
"The actions of former Officer Hanning are not reflective of the culture of our organization," Buseck said. "ISPD is an agency that takes great pride in how we interact with our citizens and this incident was not acceptable."
An earlier statement from July 8 said police responded to his apartment after a woman claimed she was assaulted. The complaint denied that Clark had assaulted her.
Newsweek reached out to the Idaho Springs Police Department and was referred to the earlier statements.