High Returns: Colorado Pot Sales Over $100 Million a Month Is 'the New Norm'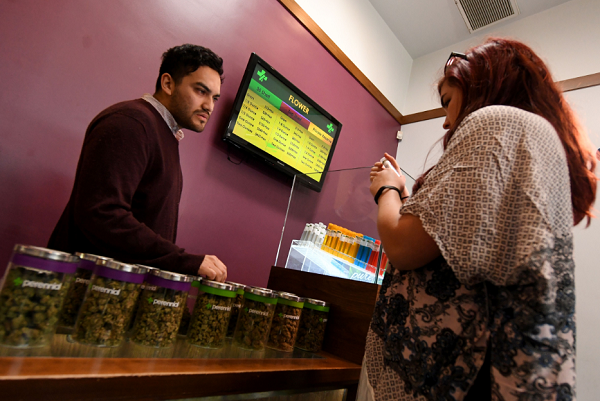 Marijuana sales in Colorado are soaring. The state, which legalized adult pot use in 2014, achieved a milestone in May, when pot sales topped $100 million for the 12th consecutive month, according to a Thursday report by marijuana news site The Cannabist.
Colorado sold over $127.7 million worth of cannabis flower, edible products and concentrates in May, according to The Cannabist's analysis of the state's marijuana tax data. More than $35.7 million of sales stemmed from medical marijuana purchases, and recreational-use items generated $90.1 million in sales.
Bethany Gomez, director of research for marijuana market research firm Brightfield Group, told the site that hitting the $100 million mark has become "the new norm" in Colorado, with some $1.4 billion in sales between May 2016 and May 2017. During that time, Colorado racked up over $233 million in taxes and license fees.
"What you're seeing in Colorado is similar to other industries: We're starting to see lower double-digit growth rates, rather than the triple-digit growth rates," said Gomez. "That time of massive growth expansion in Colorado, I think, is over."
Despite the expansion slowdown, the Continental State is still headed toward as big a year as 2016 for weed revenue. The industry as a whole reaped over $6.7 billion in sales last year, according to a December report by marijuana analytical firm Arcview Market Research, with Colorado sales topping $1 billion.
For the first five months of 2017, cannabis sales across the state were up 27 percent, compared to the same period the year before.
Although Colorado will remain an industry frontrunner—most likely until California launches recreational sales in 2018—some marijuana experts believe sales in Nevada could eventually give Colorado a run for its money.
Nevada started allowing adults 21 and up to legally purchase marijuana as of July 1; within the first four days, the gross sales revenue was about $3 million, and the state took in $500,000 in tax revenue, according to Nevada's Dispensary Association. In fact, demand for recreational pot was so high over the first weekend of sales that the state's governor, Brian Sandoval, decided to declare a state of emergency, allowing state officials to approve emergency regulations that would increase the number of marijuana distribution and transportation licenses to fight the shortage.
Derek Peterson, CEO of Terra Tech, a publicly traded cannabis agriculture company that has four dispensaries in Nevada, told Newsweek via phone that Nevada, which had about 42.9 million visitors in 2016, would probably become the third biggest marijuana market overall. Terra Tech, which owns a few medical dispensaries in California as well, is one of many marijuana companies to receive customers by the thousands during the first two weeks of recreational sales in Nevada.
"You've seen it in Colorado. You've seen it in Amsterdam. People will travel specifically for cannabis," he said. "They've done an interesting job of changing the climate in Vegas. It's not what it was six, seven, eight years ago, where it was [a place with] $1.99 steak and eggs. Now we have high-end restaurants, celebrity chefs, day clubs, nightclubs. People come for vice. People come to relax. People come to have a good time and let loose. And obviously alcohol's a component of that; day clubs and night clubs are a component of that. And I think cannabis is going to become a significant component of that as well."