Three mobile COVID-19 vaccination clinics in Colorado were shut down over the weekend after motorists jeered and threw garbage at staff, and ran over signs.
Jefferson County Public Health's executive director, Dr. Dawn Comstock, detailed the harassment in an interview the Denver Post on Tuesday.
She noted that at one clinic, someone threw unidentified liquid at a nurse.
"Additional cars drove by screaming obscenities at vaccine staff and throwing garbage at them," Comstock said. "I will not put the hard-working public health staff in harm's way."
In a statement to Newsweek, Comstock said the "hostility and abuse toward public health and medical workers over Labor Day weekend in Jefferson County is not new, and others around the country have unfortunately been dealing with similar traumatic experiences."
"While this behavior appears to be from a small group of radical-minded individuals who are empowered by disinformation and lies, these incidents appear to be occurring more frequently and with more intensity. This violence toward public health is unacceptable," Comstock said.
Jefferson County Public Health said the incidents over the weekend "are not the first incidents" that have happened at its vaccination sites or events. The organization's staff "has had live fireworks thrown into their space, people threaten to start physical altercations and people attempt to steal or destroy supplies," a spokesperson for Jefferson County Public Health told Newsweek.
"These events are unacceptable, but unfortunately are becoming more common."
The mobile vaccine sites—which had been closed on Saturday and Sunday— are running once again, "and the department is working to ensure security at each location."
Comstock told CBS Denver Thursday that Jefferson County Public Health's mobile vaccination clinics would continue with added security.
"We will be working with our law enforcement partners to try to ensure this handful of extremists are not able to infringe on the rights of those who want to get vaccinated," she told the news station.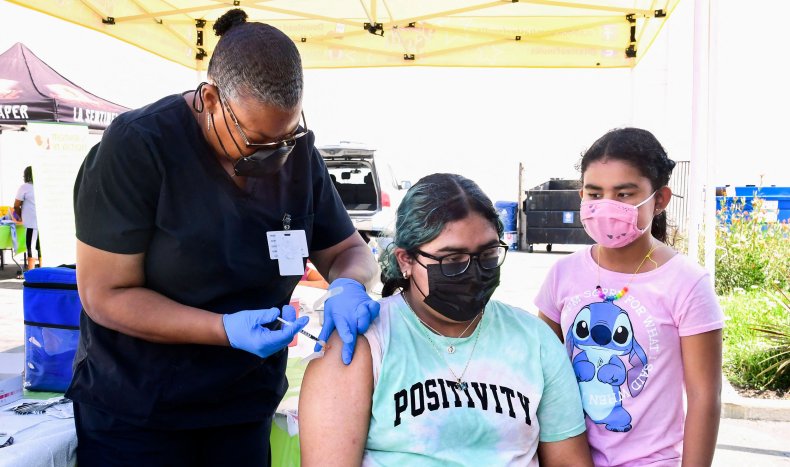 Colorado is currently seeing its highest COVID-19 hospitalization rates since January. On Tuesday, the Denver Post reported 957 people in the state were hospitalized with confirmed or expected cases of the virus.
The incidents at the mobile clinics in Colorado aren't the first examples of public health workers facing threats during the COVID-19 pandemic.
Public health officials in Georgia in August also had to shut down a mobile vaccination clinic after anti-vaccination activists harassed staff.
"This is wrong. This is absolutely wrong. These people are giving their lives to help others and to help us in this state. We in Georgia can do better," Dr. Kathleen Toomey, the commissioner of Georgia's Department of Public Health said according to WRDW.
"We should be thanking these individuals trying to get life-saving vaccines to our state," she added.
In California in August, a vaccination clinic run by Los Angeles County had to shut down after two of its workers were attacked.
On Saturday, a man who declined to get vaccinated in Germany allegedly attacked two health care workers after they refused to give him a vaccination card.
Updated 09/09/2021, 4:27 p.m. ET: This story has been updated with comments from Dr. Dawn Comstock.
Uncommon Knowledge
Newsweek is committed to challenging conventional wisdom and finding connections in the search for common ground.
Newsweek is committed to challenging conventional wisdom and finding connections in the search for common ground.
About the writer
Xander Landen is a Newsweek weekend reporter. His focus is often U.S. politics, but he frequently covers other issues including the latest developments in Russia-Ukraine war and health. Before starting at Newsweek in 2021, Xander was a reporter at VTDigger, Vermont's largest news outlet, where he wrote about the legislature and state government and worked on investigative projects. His work has also been published by PBS Newshour, Politifact and NPR affiliates including WNYC in New York. You can get in touch with Xander by emailing X.landen@newsweek.com.