Manhunt for Mountain Goat Poachers in Colorado Continues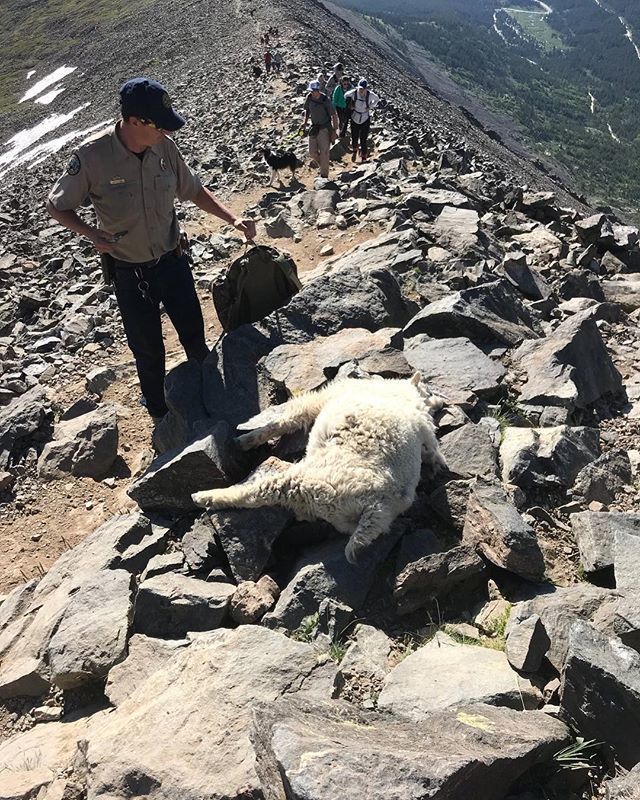 Two mountain goats were found shot dead, almost 3 miles up Quandary Peak in Colorado and 40 feet apart from each other over the July Fourth holiday weekend. They were killed by shots fired from a pistol the day before, Lyle Sidener, Colorado Parks & Wildlife's chief game warden, confirmed to Newsweek.
"I've been a wildlife officer for 28 years and I've never seen this type of crime," Sidener said. "I'm a hunter, and to me, these people stole a resource from me. That's a resource held in the public trust."
He continued. "It's as simple as going to your house and ripping a TV from your wall."
Now, a manhunt is underway to find the people or person responsible. Hundreds of hikers searched Quandary Peak, one of the scores of so-called "Fourteener" summits in the Rockies.
Investigators suspect the goats were killed around 3:30 p.m. on July 3.
Killing goats with a pistol is "not normal," Sidener said.
"Usually you would use a hunting rifle or a bow," he said, noting those weapons are considered more ethical.
And the close proximity to the shootings is worrisome.
"They were shot at point-blank range," Sidener said, adding that two officials made it up to the scene of the crime to perform a necropsy on both goats.
Sidener noted that the hunting season is later in the year and that there were no hunting licenses issued to anyone to hunt goats or any other game.
That means the hunting is "an illegal take," and Sidener suspects may be a potential "thrill kill."
"Either it was entirely spur-of-the-moment where they spot the goats on the trail and say to themselves, 'I got a pistol!' or it could be juvenile bravado," he said, citing that some youths may have given in to peer pressure.
The Colorado Parks and Wildlife raised a $5,000 bounty through the agency's Operation Game Thief fund to generate "information that leads to the capture and conviction of this crime," Sidener said.
So far, the agency has been flooded with tipster hikers, some of whom came forward to recount how they snapped photographs of the mountain goats before they died.
Investigators are poring over those images and also running down people who signed a registry earlier in the day that Sidener suspects drew "several hundred hikers on that trail."
He described Quandary Peak, near Breckenridge, as one of the most "easily accessible" of the Fourteeners, a designation signifying the area has an elevation reaching or surpassing 14,000 feet.
"They're iconic and visible," Sidener said about the goats. "Everybody loves them."
Sidener has studied the biology of the mountain goats and said that the herding animals are susceptible to cozying up to hikers. "They become very accustomed to people...almost domesticated to approaching hikers and getting snacks out of them," he said.
The goats are also known to trail humans relieving themselves to "lick their urine" because they lack nutrients and pine for its salt content.
Once caught, the poachers could be on the hook for tens of thousands of dollars for the hits on each mountain goat. They could get a year in prison for committing willful destruction of wildlife, a felony, which makes it illegal "to take and intentionally abandon wildlife" without salvaging their meat.
The charge is often used when some hunters in Colorado only purloin the antlers for a trophy and leave the rest of the beast to decompose, Sidener said.
The poachers also could get a misdemeanor charge of illegal possession of wildlife "that is the property of the state," for the illegal hunt.
While it's common to see hikers carrying weapons—Colorado is an open-carry state—it's completely forbidden to hunt goats or other game out-of-season.
There is only a finite time in the year to hunt, and Sidener said the season is months away.
What's more, the licenses to be able to hunt goats or other game lawfully in this part of the wilderness are both "hard to get" and "very sought after," and sometimes take multiple years of rejection until one is granted.
"Someone doesn't enter lightly into such an iconic hunt."