Colorado Police Department Faces Backlash After Officers Mistakenly Detain Black Family With Guns Drawn
The Aurora Police Department in Colorado is facing backlash and calls for officers to be fired after a Black woman and four children from her family were detained at gunpoint and made to lie down in a parking lot on their stomachs last Sunday.
"We're here today to say this is not only intolerable, it's unacceptable," Bishop Kevin Foreman with the Greater Metro Denver Ministerial Alliance said on Saturday, local NBC News affiliate KUSA 9 News reported. "We demand not just apologies. Apologies will not make up for what happened to these families."
In a news release, the ministerial alliance said that the Aurora police are plagued by "longstanding, systemic, intrinsic racism and injustice." Bishop Jerry Demmer, the alliance's president, told The Denver Post: "We don't want to talk about sensitivity training ... We been talking about that for 50 years."
According to a statement emailed to Newsweek, the police department said: "Chief [Vanessa] Wilson recently met with the Greater Metro Denver Ministerial Alliance to listen to their concerns, they had a respectful and honest discussion. She is committed to continue to work with them and other community leaders to rebuild trust between the Aurora Police Department and the community we serve."
Brittany Gilliam and four children – aged 6, 12, 14 and 17 – were asked to leave their vehicle in a parking lot and made to lie on the ground as officers had their guns drawn. Gilliam was driving the vehicle to a nail salon and was accompanied by her sister, daughter and two nieces.
A bystander captured a video of the incident, in which the children can be heard crying.
"Can I have my sister next to me?" one of the children cried as they laid on the ground with the officers around them. "Can I have my sister?"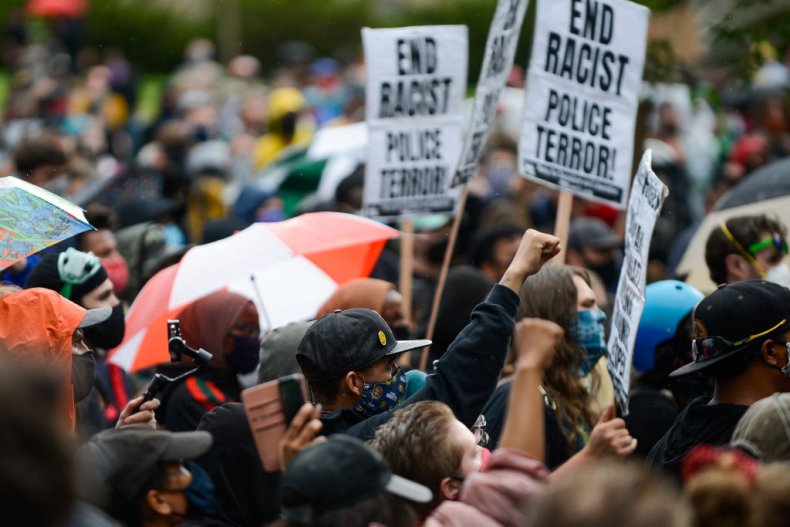 Officers stopped the family because their car had the same license plate number as a stolen motorcycle. However, they later admitted that the motorcycle and car were registered in separate states, apologizing for their error. The police department offered to cover the cost of therapy for the traumatized family.
"It was not only police brutality, it was injustice," Gilliam said, 9 News reported. "All I hear at night is my kids' screams. Twelve minutes of screaming. How do you shut that out? And you say therapy is going to help? These kids are going to need more than just a little bit of therapy."
Wilson apologized for the officers actions last Monday. "I have called the family to apologize and to offer any help we can provide," she said. Wilson has said an internal affairs investigation has been launched. She has also said she welcomes an investigation by District Attorney George Brauchler into whether the officers involved should face criminal charges.
The incident comes in the wake of protests over the August 2019 death of unarmed Black man Elijah McClain. The 23-year-old died after he was detained by Aurora police when they'd received reports of a "suspicious person." Although McClain was simply walking home from a convenience store wearing a ski mask, he was tackled and placed in a chokehold and injected with ketamine. He went into cardiac arrest and died several days later after he was taken off life support in the hospital.
McClain's case drew national attention following the May 25 death of George Floyd, another unarmed Black man, who was in police custody in Minneapolis. A video of that arrest showed an officer kneeling on Floyd's neck for several as he yelled: "I can't breathe." He was later pronounced dead at a nearby hospital.
Floyd's death set off a wave of nationwide protests, which spread around the world. Demonstrators have called for major police reforms and an end to systemic racism in the justice system.
Updated 11:47 a.m. E.T.: This article was updated with a statement from the Aurora Police Department.