Colorado Progressive Looks for Upset Win As Hickenlooper Stumbles in Key Senate Race
A progressive wave has helped insurgent candidates rise in Democratic primaries across the country in recent weeks—but can it extend to Colorado?
The state will be put to the test on Tuesday when John Hickenlooper and Andrew Romanoff face-off for the party's nomination. The winner will go on to challenge Republican incumbent Cory Gardner this fall in a race that will help determine which party controls the Senate in 2021.
Romanoff, the state's former House speaker, is looking to tap into the energy on the left in his long-shot bid against Hickenlooper. He called the positive returns for progressives like Jamaal Bowman in New York and Charles Booker in Kentucky "encouraging."
"John spent most of last year telling everybody he would be a terrible senator and wasn't cut out for the job. I believe him," Romanoff told Newsweek, referencing Hickenlooper's remarks during the presidential race that he had no desire to run for Congress. "We haven't detected any enthusiasm for his candidacy, including from him. We have, on the other hand, built a very broad grassroots coalition across the state."
He also criticized his opponents for rejecting policies like Medicare for All and the Green New Deal. Those policies were also championed by Senator Bernie Sanders, who won the Democratic presidential primary in Colorado against Joe Biden.
"In Gardner's case, he's called these plans socialism. In Hickenlooper's case, [he's called them] Stalinism. It's really pretty silly and outrageous," Romanoff said.
Hickenlooper, the state's former governor, has been considered a shoo-in to win the nomination and is the national party's first-choice to challenge Gardner. But his campaign has faltered ahead of the primary, creating a closer race than many had expected.
"His recent stumbles open the door wide open," said Steve Welchret, a Democratic strategist and former adviser to Barack Obama's presidential campaigns in Colorado. "I think this was not a race until John stumbled and stumbled."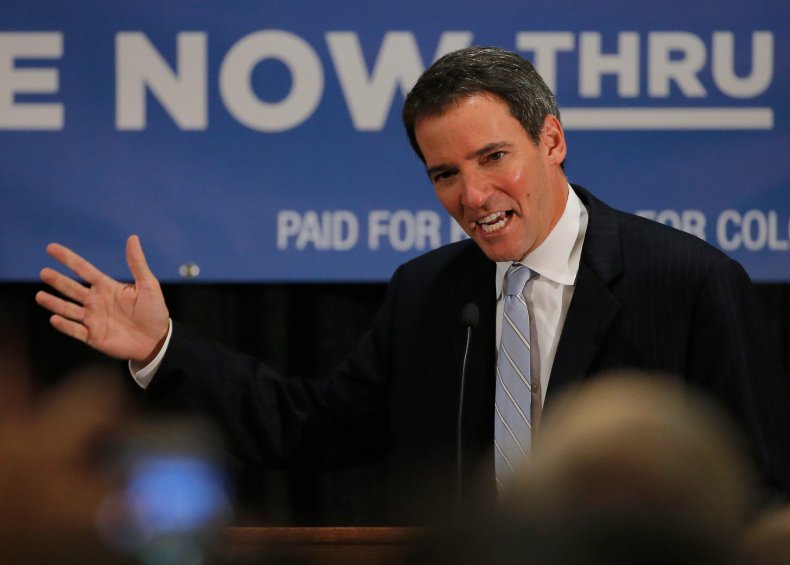 Earlier this month, Hickenlooper made headlines for an ethics violations he incurred during his time as governor. The Colorado Independent Ethics Commission found he was wrong to allow corporations to cover the costs of a private jet, expensive dinners and limousine rides out of state.
Another mistake was his remark that "every life matters" during a racial justice forum in late May. During the debate, Romanoff slammed the former governor for "not understanding the moment." Hickenlooper later apologized and said he "stepped on my own words around Black Lives Matter."
The missteps prompted a last-minute surge of campaign advertising attacking Hickenlooper. Romanoff released an ad that rattled off Hickenlooper's recent struggles, stating that Democrats "can't take this kind of risk if we're going to beat Cory Gardner." Gardner and his national Republican allies also launched television ads slamming him for the ethics violation.
Still, Hickenlooper is considered a favorite to win Tuesday's election. Recent polling has found him ahead by as much as 30 points, though an internal survey from Romanoff's team found his lead to be reduced to 12 points.
The former governor also has the cash advantage. Campaign finance filings showed he had as much as $5.9 million in the bank as of June 10, while Romanoff had $795,000. Plus, a lot of outside money has been poured into the race to boost Hickenlooper in the final weeks. The Democratic Senate Majority PAC spent nearly $1.5 million on ads supporting him and the new group known as Let's Turn Colorado Blue has spent nearly $1 million attacking Romanoff, according to the Center for Responsive Politics.
Other positive signs for Hickenlooper was an endorsement from national figures such as Senators Elizabeth Warren and Cory Booker. He also had nearly two dozen current and former elected officials and civic leaders recently switch their allegiance from Romanoff to him. According to the New York Times, during a local television interview last week Hickenlooper said he felt "like the momentum has changed in the last few days."
While Romanoff and Hickenlooper battle for the nomination, experts say either candidate would be poised to take down Gardner in the general election. The Colorado race is one of the half-dozen contests that will determine majority control of the Senate, where Republicans currently have a narrow 53-47 advantage.
"Regardless of who wins the Democratic primary this week, I would totally expect the Democratic nominee to be a strong favorite against Gardner," said Michael Berry, an associate professor in political science at the University of Colorado-Denver. "It's difficult to see a scenario where Gardner is able to overcome the unpopularity of Donald Trump in Colorado to win reelection."
Newsweek reached out to Hickenlooper's campaign but did not receive a response prior to publication.