Colorado Schools Issuing Buckets, Kitty Litter For Students to Go to the Bathroom During Lockdowns, School Shootings
Parents and teachers in a Colorado school district were surprised by some new additions to the list of necessary back-to-school supplies—including kitty litter, buckets and trash bags.
The products are part of Jefferson County's "Emergency Go Bucket," a way for students to relieve themselves in the event of a prolonged lockdown because of an active shooter.
Lockdowns are increasingly becoming a fact of life in American schools, which have seen at least 22 shootings so far this year.
Typically, if there's a threat reported in a school teachers are instructed to turn off the lights, lock classroom doors and hide students before getting out of sight themselves.
"It's very sad that they have to live in fear," Stacy Weiland, the mother of a child at Evergreen Middle School, told KUSA.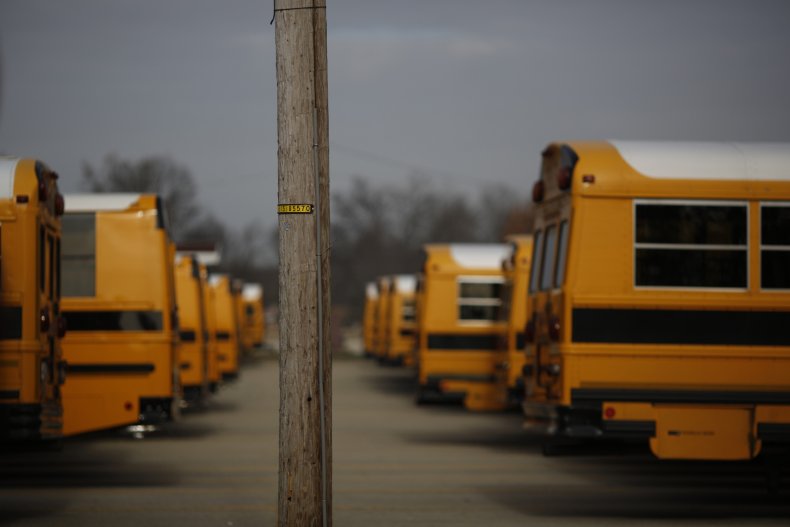 Jefferson County public schools knows better than most the importance of such safety measures—Columbine High School, where seniors Eric Harris and Dylan Klebold, murdered 12 students and one teacher in a 1999 mass shooting, is located in the district.
A few years ago, emergency management director John McDonald, a lockdown at a high school went on for nearly five hours. Students and teachers resorted to using closets and wastebaskets as toilets.
"We want to give our kids dignity in the middle of this type of crisis," McDonald told Chalkbeat.
The Emergency Go Bucket was suggested a few years ago by a school resource officer, McDonald said. About half of the county's 158 schools have them now.
But not all teachers are pleased with the innovation. "We were doing [professional development], and it was like, 'Oh, get your buckets, and this is what your buckets are for,'" Jefferson County teacher Cassie Lopez told Chalkbeat. "It was shocking. I was pretty upset afterward."
The buckets are just one strategy teachers are being taught to respond to lockdowns and school shootings. Lopez says she was also given a Sharpie marker to indicate what time a tourniquet was applied to a bleeding student, and candy to give diabetic students to maintain their blood sugar during a long lockdown.
Lopez insisted it wasn't the resources themselves that were troubling, but the state of affairs in American schools that they were indicative of. "It feels like as a whole, America doesn't care about our school children, which I don't even have words for how awful that is."