Colorado Secretary of State Jen Griswold filed a lawsuit to bar Mesa County Clerk Tina Peters from working in the 2022 election, according to a Tuesday news release.
The lawsuit requests that a judge remove Peters as the designated election official (DEO), the release said. The release said that neither Griswold nor the county is able to stop a sitting county clerk from being the DEO under state law, thus the necessity for the lawsuit.
"Every eligible Coloradan – Republican, Democrat, and Independent alike – has the right to make their voice heard in safe and secure elections. As Clerk Peters is unwilling to commit to following election security protocols, I am taking action to ensure that Mesa County voters have the elections they deserve," Griswold said in the release. "I will continue to provide the support and oversight needed to ensure the integrity of Colorado's elections."
The lawsuit asks to appoint Brandi Bantz as the DEO for Mesa County. Bantz's appointment is supported by the Mesa County commissioners and Griswold's office, according to the release. Griswold said she will also appoint Mesa County Treasurer Sheila Reiner and former Secretary of State Wayne Williams as election supervisors to advise and assist Bantz, the release said.
Reiner and Williams assisted in running the 2021 election in Mesa County when Peters was restricted from overseeing the election, according to the Colorado Sun.
Peters told the Associated Press on Tuesday that Griswold "does not want the light shown on her for the election irregularities we uncovered here in Mesa County. Only the people can remove me."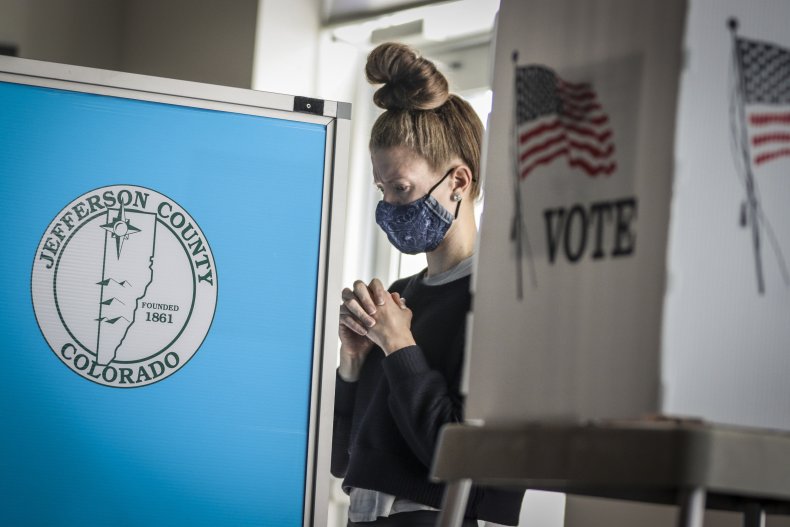 The lawsuit comes after Peters refused an offer from Griswold last week, the Denver Post reported. Griswold said that that in exchange for certifying documents with new election security protocols that would limit Peters' authority and rescinding statements she made about getting "those machines so that they are transparent to the people and they are not able to do what they're designed to do," Peters would be allowed to return to again work as DEO.
Peters' legal defense fund said the protocols were a "gag order," according to the Denver Post. The fund announced Peters' decision to run for re-election instead.
A judge removed Peters from her position as the DEO for Mesa County last October, the release said, effectively barring her from overseeing the 2021 election. In August, Griswold sued Peters, alleging that Peters gave someone access to an authorized elections area amid a Dominion Voting Systems software update, the Denver Post reported. After the alleged incident, passwords for the equipment were shared online.
The judge found that Peters had been "untruthful with the Secretary and her staff," "failed to follow the rules and orders of the Secretary" and "failed to take adequate precautions to ensure that confidential information would be protected," the release said.
Williams was appointed DEO to oversee the 2021 coordinated elections, according to The Daily Sentinel.