In Colorado Senate Race, Democrat Opens 14-Point Lead Over GOP Incumbent: Poll
Democratic Senate candidate John Hickenlooper has opened a 14-point lead over Republican incumbent Cory Gardner in Colorado with only weeks to go until polling data, a new survey has found.
The latest poll released by RBI Strategies and Research on Sunday suggested that 53 percent of likely voters in Colorado intended to vote for Hickenlooper on November 3, or were leaning toward backing him at the ballot box.
Nearly four in ten Coloradans (39 percent) said they would vote for Gardner to have another term in the upper chamber, while just 4 percent said they were undecided—giving him little room for a comeback.
Pollsters also found Hickenlooper outstripped Gardner's favorability rating in the state. A combined 52 percent of voters said they either had a very or "somewhat" favorable view of the Democratic challenger, while 41 percent said they had an unfavorable opinion of him.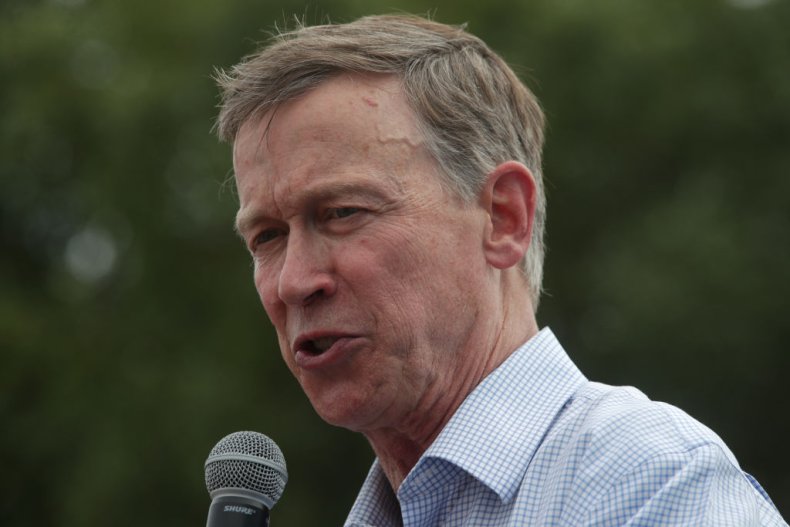 By comparison, 49 percent of Colorado voters said they had an unfavorable view of Gardner, and just 42 percent said they liked the incumbent senator. Ten percent told pollsters they did not know how they felt about the Republican.
While the poll's results did not look good for Gardner, they looked worse for President Donald Trump.
Fewer than four in ten voters (38 percent) in Colorado said they would vote for Trump on the presidential ballot, while a majority (55 percent) said they would back his Democratic challenger Joe Biden.
Meanwhile, 60 percent said they viewed the commander-in-chief unfavorably, while a majority said they had a positive view of Biden.
The pollsters surveyed 502 likely voters by telephone between October 12 and October 16. Its margin of error stands at 4.3 percentage points.
The poll's findings align with two polls published last Wednesday that suggested Hickenlooper had a double-digit lead over Gardner.
A Civiqs poll of more than 1,000 likely voters in Colorado found the Democratic challenger 11 points ahead of Gardner on 53 percent of the vote. The corresponding poll from Keating Research showed Hickenlooper with a 10-point lead over the Republican incumbent on 51 percent of the vote.
The majority of state polls published between July and September showed Hickenlooper with high single-digit leads over Gardner—suggesting the Democrat is solidifying his chances of flipping the battleground seat on November 3.
According to analysts at The Cook Political report, the head-to-head for Gardner's seat has moved from a "toss up" contest to "leaning Democrat" with only a few weeks to go until polling day.