Colorado Senator Michael Bennet Says He'll Run For President—But Only If He Overcomes Cancer: 'Idea Was to Announce Sometime in April'
Colorado Senator Michael Bennet has said he is poised to make a bid for the 2020 Democratic presidential nomination—but first he needs to overcome prostate cancer.
Speaking to the Colorado Independent, Bennet, a U.S. senator since 2009, explained that following a cancer diagnosis two to three weeks ago he was postponing a formal announcement of his candidacy for 2020.
The Colorado senator said the cancer was discovered during check-ups to confirm he was in good health before taking on the physically grueling challenge of running for the White House.
"The idea was to announce sometime in April," Bennet was quoted as saying. "That was the plan. We hired some staff. We interviewed people for positions in New Hampshire and Iowa. And then I went for the physical. In my last physical, my PSA was high. They did a biopsy, and it was clear. But this time, it was not clear" he explained referring to prostate-specific antigen, a protein produced exclusively by prostate cells.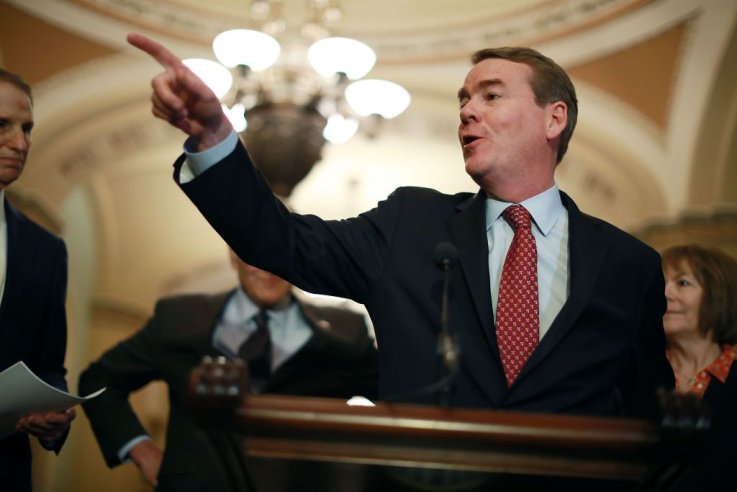 "Then the question became: Is this still something I wanted to do? I could answer the question in two ways. Maybe this would be a good time to give it up and go do something else. And the other was whether I could continue to run. I found myself hoping that I could run. That's what the doctors have said," he added.
Bennet has compared his situation to that of John Kerry, who was diagnosed with prostate cancer and underwent surgery during his own successful bid for the Democratic nomination in 2003. Bennett has been told his risk of further cancer is low following surgery, which his family has decided, at his age, is the best course of action.
However, if following the surgery some of the cancer remains, he may reevaluate his situation. "I'm 54," Bennet said. "That's relatively young. It seemed to make sense to have the prostate removed … I'd be recuperating for 7-10 days and would need some rest after that. The hope is then I'll be cancer-free and able to move on. If I'm not cancer free, then I'd have to make another decision," he added.
As stated by sources like The Hill, Bennet is considered a moderate. He was thrust into the national spotlight earlier in 2019 when he hit out at Texas Senator Ted Cruz for backing a bill that would pay members of the Coast Guard during the partial shutdown without reopening the government.
If he does announce his candidacy, Bennett will join a crowded and diverse Democratic field in the 2020 race. "I think, like everyone else does, it's a long shot," the Colorado Senator said, adding that he was not discouraged by his competitors who include Senators Kamala Harris and Bernie Sanders and former Texas Congressman Beto O'Rourke. "I think everyone in the field is a longshot," he explained.
Colorado Senator Michael Bennet Says He'll Run For President—But Only If He Overcomes Cancer: 'Idea Was to Announce Sometime in April' | U.S.