Douglas County Sheriff Tony Spurlock has released video footage of a suspect, who was killed in a confrontation with officers over the weekend, firing an AK-47 at deputies before he was fatally shot near Interstate 25 south of Denver, Colorado.
The video, which the sheriff's office posted to YouTube, shows the suspect, who was identified as 23-year-old Samuel Yeager by the coroner's office, holding a rifle bag as an officer telling Yeager to "set it down" approaches him.
"When the first deputy arrived on the scene, the suspect was holding, which we later identified as, an AK-47 in a soft rifle case," Spurlock narrated.
"After several attempts to get the suspect to put the gun down, the suspect walked over to the northbound on-ramp with his hand in the rifle case," he added.
Deputies first responded to the scene at Happy Canyon Road after a 911 dispatcher received a call on Saturday around 6:13 p.m., alerting authorities about an individual carrying a gun at the intersection.
The caller can be heard telling the dispatcher that there is a "suspicious individual with a gun who's, I don't know, he's acting crazy."
"He has an AK-47 and I had to keep him out of my car because he was scaring me and he almost—he grabbed it and started looking at me and he pointed at me," the caller said.
"Deputies were dispatched and immediately responded to the location," the sheriff said.
Officers are heard in the video repeatedly telling Yeager to put the gun on the ground. At one point, Yeager, chest-down on the ground, removed the rifle from the case. He then aimed the AK-47 and began firing at the deputies.
"Deputies returned fire and unfortunately, killed the suspect at the scene," Spurlock said.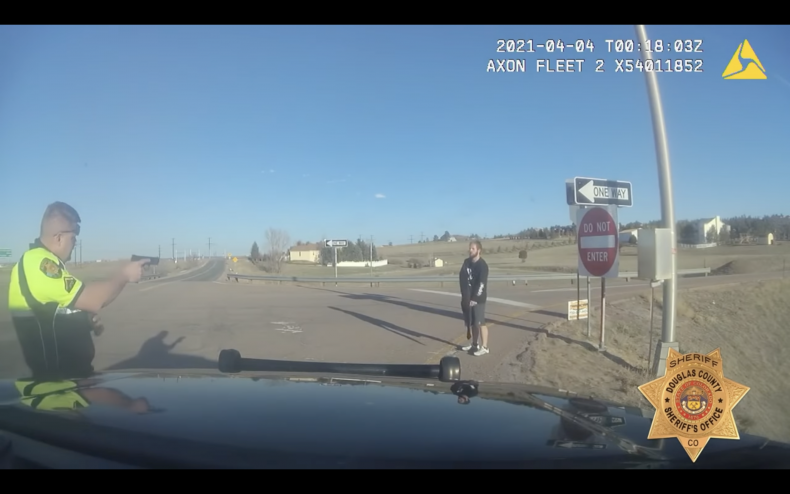 The sheriff stated that the police will not be showing the full video, specifically the part in which the suspect was killed by shots fired by one or more deputies, out of respect for Yeager's family.
"As per our protocols, we will make the videos available after the investigation from the 19th judicial district critical incident response team is completed," Spurlock said. "We will not be sharing any additional information to the press at this point, while the investigation is going on.
"We wanted to make sure that the citizens of Douglas County had as much information as possible so they could understand what occurred," he added.
No deputies were injured in the shooting. The members of the department who fired their weapons will be placed on administrative leave as standard department policy.