De'von Bailey: Colorado Springs Mayor Urges Patience as Police Killing of Black Teenager Shot in the Back Sparks Protests
The mayor of Colorado Springs has appealed for calm following protests against the police in the wake of the fatal shooting of a black teenager.
Colorado Springs Mayor John Suthers was reacting to the dozens of people who marched to the police operations center on Monday demanding answers into the circumstances of the death of 19-year-old De'Von Bailey.
At around 6.45 p.m. on Saturday, officers stopped two young men in connection with a robbery near the 2400 block of East Fountain Boulevard.
Witnesses said Bailey was shot multiple times in the back as he tried to flee and he later died in hospital, the Colorado Springs Gazette reported.
But in a statement, the El Paso County Sheriff's Office said that "during the encounter, one suspect reached for a firearm. At least one officer fired a shot at the suspect."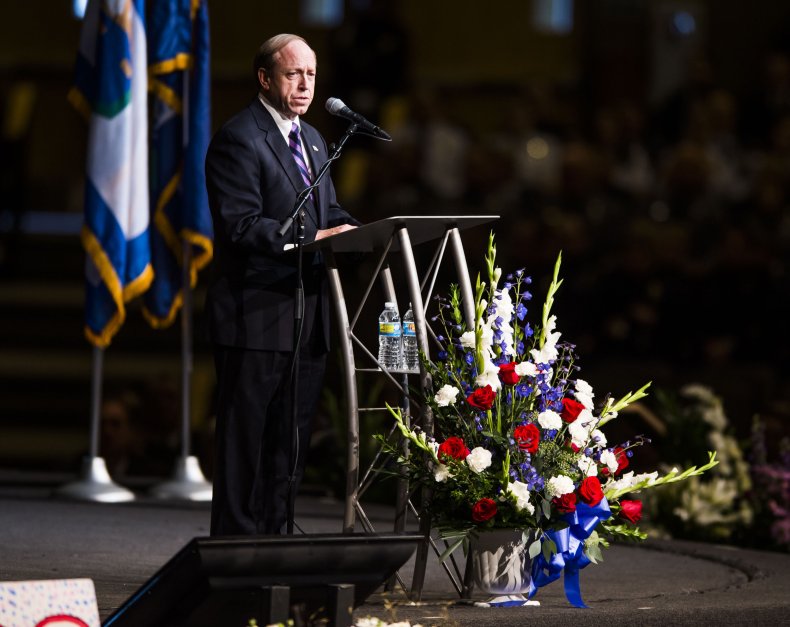 Bailey's cousin, 19-year-old Lawrence Stoker, said he was the second suspect arrested by the police at the time, and insisted they were simply walking to Stoker's girlfriend's house when officers stopped them, and they had nothing to do with the robbery. Stoker said his cousin did have a gun, but officers did not see the weapon before firing.
"He didn't pull his weapon, they didn't know. When he ran and they shot him, they took off his pants and it fell out of his pocket and they noticed," Stoker told Colorado Public Radio.
Surveillance video obtained by the Gazette shows two white officers chase Bailey, who then falls after being shot in the back. Monday's action escalated when two men on motorcycles stopped at the protest and pulled out their guns and a riot team had to disperse the crowd.
Suthers said in a statement that City Hall will work on an investigation with police and the El Paso County Sheriff's Office.
"We know that there can be frustration with the time this takes, but we cannot compromise the investigation by failing to spend the appropriate time gathering the facts; that would serve no one. A credible investigation and charging decision takes time and I ask the community to exercise patience as we allow the investigative and judicial process to work," Suthers said.
Black men are 2.5 times more likely to be killed by police than white men. For black women, the rate is 1.4 times more likely, according to a new study published in the Proceedings of the National Academy of Sciences.
Protester Tyescha Clark called for the crowd at Monday's action to keep up pressure on the authorities over the Bailey's death.
"It needs to be tomorrow, it needs to be Saturday, it needs to be Sunday. It needs to be every single week until they stop killing black men," Clark said, according to CPR.