Colorado Teachers Told Students to Tape Masks to Faces
A school district in Colorado said teachers at a middle school instructed students to use tape to help their face masks stay in place.
Academy District 20 in Colorado Springs told local media outlets on Tuesday it completed an investigation following reports last month that students at Chinook Trail Middle School were being told to attach their masks to their faces with tape or were having the teachers tape the masks to their faces directly.
A letter the school's principal, Tom Andrew, sent to members of the middle school community said an internal investigation found teachers did not tape the masks to students' faces themselves but did violate school policy. Andrew's letter was obtained by the Colorado Springs-based news station KKTV.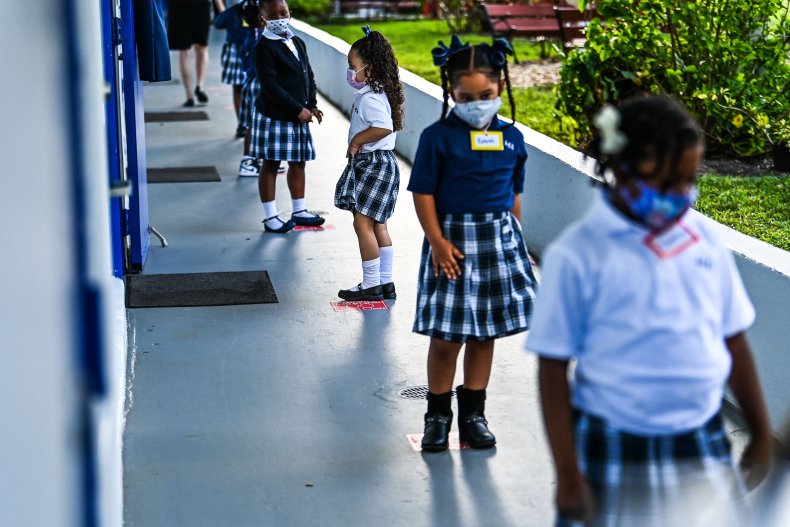 "While we found that the teachers did NOT affix any student's mask to their face, we did learn teachers directed students to affix their mask to their face with tape; and students believed they were required, by a teacher, to use tape to affix their mask to their face," Andrew wrote.
The letter said the investigation involved obtaining interviews with and statements from more than 100 students and more than 10 employees. Andrew said school officials were "disappointed" by "the decisions made and the outcome of the investigation."
Andrew's letter went on to say specific information regarding the investigation was not available due to personnel information being "confidential."
"But I can share our teachers and school leadership met with the student pod to address the issue and answer any questions this morning," he wrote, adding counselors would be available to speak with students as needed.
In another letter Academy District 20 provided Newsweek Tuesday afternoon that the teachers addressed to middle school parents, they said they were "terribly sorry for the disruption this has caused."
"It was never our intent to cause anxiety, fear, confusion, or physical or emotional harm," the teachers' letter said. "Our greatest desire was to keep students in our classrooms and prevent quarantines due to COVID exposure. To follow district policy and keep students engaged with in-person learning, our team made a mistake in our methods."
The letter went on to request acceptance of the teachers' "deepest and most heartfelt apologies" and said the last few weeks have been "a time of deep reflection."
"As a team we made a decision that was not best for our students," the letter added. "We will learn from this situation and moving forward we will strive to do better and always do what is best for kids."
At the start of the fall semester, Academy District 20 did not require students to wear masks in classrooms but did recommend doing so. Those rules changed at the end of September when the district announced all students enrolled in preschool through high school would be required to wear masks "while in indoor classroom settings or other large group indoor gatherings." The new mask requirement went into effect on September 27.
The decision to require masks in indoor school settings was made after more than 2,000 of the district's students and employees were required to quarantine due to exposure to COVID-19 during the first six weeks of school. Students and staff members are required to quarantine for at least 10 days if they come into close contact with an individual who has tested positive for the virus, according to the district's website.
Updated 11/09/21, 6:09 p.m. ET: This article has been updated to include additional information teachers shared in a letter addressed to parents.