Colorado Town Raises Over $90,000 From Stimulus Checks, Other Contributions to Keep Local Businesses Open
As small local businesses across the nation struggle to remain open during the coronavirus pandemic, people in one Colorado town have decided to help keep their neighbors afloat.
Residents of Holyoke banned together to create the Help Holyoke campaign, which distributed over $90,000 to local businesses that were forced to shutter during statewide lockdowns, as well as workers who lost their jobs.
"I kind of looked at my husband and both of us have our jobs. Let's donate our stimulus checks," Trisha Herman, Phillips County's executive director of economic development, said.
Herman said one of the local bank presidents, Tom Bennett, first came to her and the executive director of the Holyoke Chamber of Commerce, Holly Ferguson, with the idea to form into an initiative.
Together, they made a list of all the nonessential businesses in Holyoke that were mandated to shut down, including restaurants, salons, theaters and gyms. They also recorded how many employees were left without work due to the global health crisis.
Looking at the full-time equivalency of the businesses, the team aimed to distribute the donation funds equally, cutting larger checks to bigger businesses for expenses. The campaign also handed out money to each of the employees that lost their jobs as a result of the closures.
While several people donated their stimulus checks, others dug into their own pockets to help lift Holyoke up financially. Students from the town volunteered to phone residents asking for their support, and many in Holyoke were happy to pitch in.
Collecting donations ranging from $50 to $3,000, the town of almost 2,300 people was able to distribute over $90,000 to those in their community hit hardest by the COVID-19.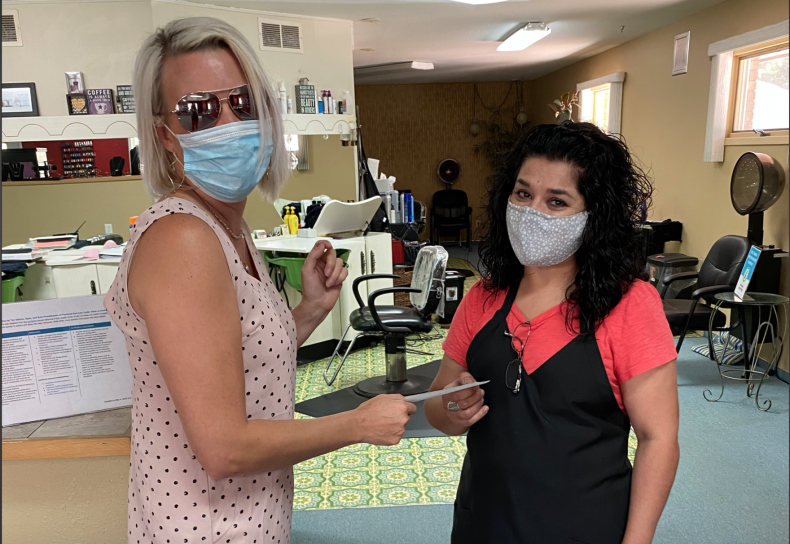 Herman said it's important to come together in spirit at these times when they cannot physically be together.
Herman, herself, runs a small gym, the Holyoke Fitness Club. She said that being a business owner in a small town has less to do with making a profit and more to do with creating a community.
"The Holyoke Fitness Club is a break-even business. I make no money running that business whatsoever, but I do it because it's a community service," she said. "Knowing it's an economic drive for new families to move to our community."
"If these small businesses shut down on Main Street, then our money is not going to be staying local. If we don't keep our money local, these businesses won't continue to be able to remain open and we won't have this community to live in," she added.
The kindness of the Holyoke community turned out to be contagious, inspiring the nearby town of Haxtun to do the same for their residents.
Although Haxtun only raised $25,000, Herman said the same percentage of donations was raised because the town is smaller in size than Holyoke.
"We were able to give almost the same exact type of checks to all of the individuals and businesses in Haxtun," she said. "Just because it's a smaller town, the impact was just as great."