Colorado's 416 Wildfire: Durango Warnings Issued As Lightning Storm Threatens New Blazes
Firefighters tackling the huge 416 wildfire in Colorado are bracing themselves for a change of weather, including high winds and lightning storms. This could accelerate the blaze, which has been burning for the last two weeks.
The fire, north of Durango in the San Juan National Forest, has spread to more than 27,000 acres since it started on June 1. A total of 1,029 firefighters are tackling the 416 wildfire, which is currently 15% contained, according to La Plata County officials.
More than 500 evacuation notices previously handed to residents and businesses in the area have been lifted as firefighters continue to tackle the blaze.
However, officials said that as a result of "anticipated weather-related challenges," such as potential lightning storms, strong downdrafts, and high winds, a new pre-evacuation notice has been issued as a precaution for 163 residences and two businesses along the west side of County Road 203.
A Red Flag Warning—meaning there is a chance weather conditions could lead to especially dangerous wildfire growth—has been issued for Thursday (June 14).
The National Weather Service Grand Junction warned that new fire starts and extreme fire behavior are possible as a result of the combined threat of gusty winds, low humidity and dry thunderstorms.
Forecasters stay there is a chance of rain sweeping over the area on Saturday.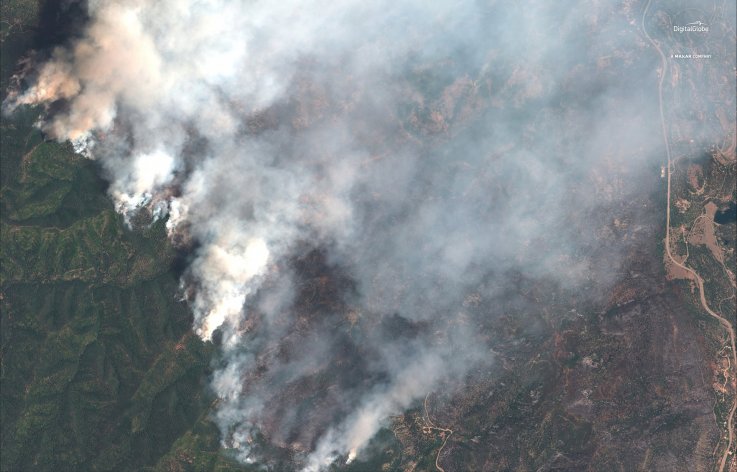 "Weather is going to continue to play a role over the next few days, continuing to influence some of our decisions and the fire behavior," Jamie Knight, a 416 fire spokeswoman, told the Denver Post. "That's the big picture story right now—firefighters making challenging decisions about tactics and strategies."
Giving an update at a press conference, incident commander Todd Pechota said the upcoming unsettled weather will not help the firefighters
"Folks on the ground have not caught a break since the day this fire started," he said, reports the Durango Herald.
"They've faced really tough and challenging conditions, and they know they've got probably another 48 hours of really, really tough work ahead of them. And then there is a glimmer of hope on the weekend, but I'll believe when I see it."
Despite the scale of the 416, there still has been no reports of any deaths or injuries and no homes have burned down.
Elsewhere, the San Juan Basin Public Health is advising people to remain indoors if the smoke from the fire becomes too thick and to limit outdoor activity, especially among those with heart disease, respiratory illnesses, the very young and the elderly.
Colorado's 416 Wildfire: Durango Warnings Issued As Lightning Storm Threatens New Blazes | U.S.