Colorado's Largest Hospital System Bars Unvaccinated From Receiving Organ Transplants
Colorado's largest hospital system is allowing only vaccinated people to receive or donate organs, citing concerns about health complications from COVID-19.
In defending its decision, UCHealth in Colorado pointed to the potential for "serious complications" from organ transplant surgeries, noting that physicians have to consider both short- and long-term health risks. The hospital system said transplant centers already have requirements in place for donors and recipients, including vaccinations for hepatitis B as well as measles, mumps and rubella.
"In almost all situations, transplant recipients and living donors at UCHealth are now required to be vaccinated against COVID-19 in addition to meeting other health requirements and receiving additional vaccinations," UCHealth told Denver TV station KDVR in a statement.
The hospital system explained that people who receive an organ are at "significant risk" from COVID-19, should they become infected. It's possible donors could pass COVID-19 to an organ recipient even if they test negative for the coronavirus, which the hospital said puts the patient's life at risk.
Compared with the 1.6 percent overall mortality rate, UCHealth told KDVR, the mortality rate for transplant recipients ranges from 18 to 31 percent. This makes it "essential" that both people involved in the transplant be vaccinated and take precautions to reduce their risk of getting COVID-19 before the surgery takes place, according to UCHealth.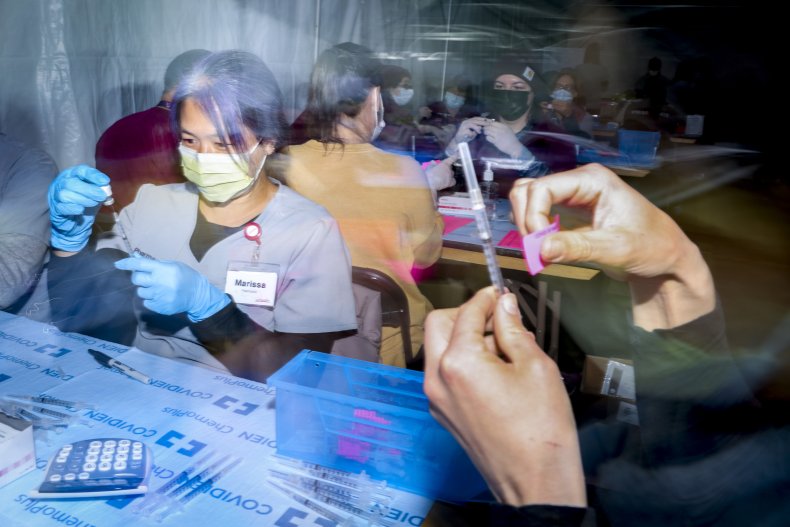 Leilani Lutali, a patient on the kidney transplant list at UCHealth's University of Colorado Hospital, told KDVR she received a letter telling her she would be removed from the list if she did not begin her vaccination series within 30 days. Until she's fully vaccinated, the hospital said, she would be put on "inactive" status and unable to receive a kidney if one becomes available.
Lutali told KDVR she's "not certain" getting vaccinated is the best choice for her, citing religious concerns and her worries about its effectiveness after surgery.
"I feel like I'm being coerced into not being able to wait and see and that I have to take the shot if I want this life-saving transplant," Lutali said.
Newsweek reached out to UCHealth for comment but did not receive a response in time for publication.
Some organ transplants were put on hold last year as hospitals were overwhelmed with patients during the early days of the pandemic. During the latest surge of coronavirus cases, elective surgeries were once again paused, which includes organ transplants in some cases that are not considered urgent.
In September, Charlie Callagan, a 72-year-old man in Oregon, was on his way to the hospital when he received a call that his bone marrow transplant had been postponed. A man in Arizona said he was unable to get a kidney transplant because of strains on hospital resources, and doctors have warned that while not immediately life-threatening, postponing surgeries can affect people's health.
Lutali's donor, Jaimee Fougner, also won't get vaccinated against COVID-19, meaning she can't donate her kidney to Lutali even if Lutali decides to get vaccinated. Fougner told KCNC her decision to be a direct donor doesn't affect other patients on the list and accused the hospital of killing her friend by refusing to allow her to donate her kidney.
The two women told KCNC they haven't found a hospital in Colorado that will allow the transplant to go forward if they're unvaccinated and are looking at going out of state to get the surgery.