The University of Colorado Boulder's two-way college football star Travis Hunter will be out for three weeks with an injury he sustained on Saturday against Colorado State, head coach Deion Sanders told 247Sports.
Hunter took a brutal hit while playing wide receiver in the first quarter of Colorado's 43-35 double-overtime win over Colorado State. The 20-year-old remained down on the field after the hit while receiving medical attention. Hunter returned to the game and made a tackle in the second quarter. But eventually, the sophomore left the game for good.
Medical personnel took Hunter to the hospital for evaluation and he has since been discharged. Sanders has not publicly specified the injury Hunter is dealing with.
Hunter has been one of the biggest stars in college football this season because of his rare ability to excel on offense and defense.
Coming into Saturday's game, Hunter had seven tackles, two pass breakups, and an acrobatic interception while playing cornerback for the Buffaloes. On offense as a wide receiver, he had caught 14 passes for 192 yards across Colorado's first two wins of the season. Through two weeks, Hunter had played 274 snaps as a starter at multiple positions.
How will Hunter being out of the lineup impact Colorado? And what does this do to Hunter's Heisman hopes? Here's what we know.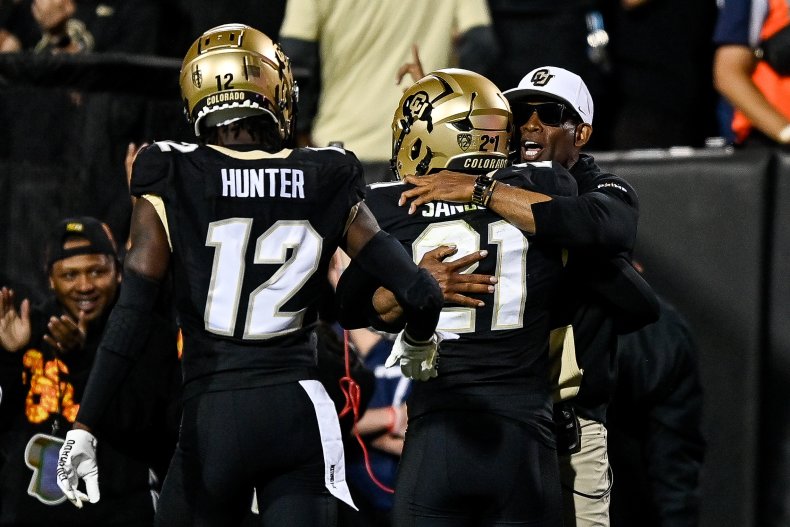 What Happened to Hunter?
Colorado quarterback Shedeur Sanders tried to connect with Hunter on a deep pass along the sideline during Saturday's game. Colorado State safety Henry Blackburn lowered his shoulder and laid out Hunter moments after the football had already hit the ground.
Blackburn was called for an unnecessary roughness penalty for the hit.
"Coach Prime" initially said after the game that Hunter would be out for several weeks.
"We're going to do what we've got to do to take care of him," Sanders said at his press conference. "So I know Travis like a book, he probably is going to want to be out for two weeks, but we've got to make sure his health is more important than this game."
Colorado Star to Miss Oregon, USC Games
Hunter being out for Colorado's next three games means that the two-way player will be out of the lineup for the team's first three Pac-12 contests of the season. That includes two matchups against top-10 teams.
No. 19 Colorado plays No. 10 Oregon, No. 5 USC, and Arizona State over the next three weeks.
The Buffaloes will be without their top cornerback against two of the top quarterbacks in all of college football—Bo Nix of Oregon and Caleb Williams, USC's reigning Heisman Trophy winner. And to double-down on the bad news, Colorado will also need to overcome not having Hunter on offense against two high-scoring teams.
Oregon and USC ranked third and fourth, respectively, in yards per game this season. Shedeur Sanders not having Hunter as a target will make it even tougher for Colorado to keep up.
Hunter's Heisman Odds After Injury
So much for Hunter's Heisman Trophy chances.
At halftime of Colorado's Week 1 game, Deion Sanders said that the Heisman Trophy would be "in [Hunter's] crib chilling right now" if Shedeur Sanders had hit him on a pair of deep throws.
Hunter's Heisman chances have plummeted now that he will miss time. DraftKings Sportsbook has taken Hunter off Heisman Trophy watch in light of his injury. Below are DraftKings' odds for Hunter to win the iconic award throughout the season.
Odds After Week 3: Off the board (injury)
Odds After Week 2: +3500
Odds After Week 1: +3000
Preseason Odds: N/A
Athletes Criticize 'Dirty' Hit on Hunter
Several current and former athletes weighed in on what they believed to be a dirty hit on Hunter. Hall of Fame wide receiver Michael Irvin said on Undisputed on Monday morning that, "It was dirty, no place in this game for that kind of play." Irvin said Blackburn should have been ejected for the hit.
LeBron James shared similar thoughts on X, formerly known as Twitter, during the game. James questioned why the hit wasn't ruled targeting, saying he's seen players thrown out of a game for doing much less. The NBA's all-time leading scorer then sent out a prayer for Hunter.
J.J. Watt, the former three-time NFL Defensive Player of the Year, on X called the hit "absolutely ridiculous," and also questioned why Blackburn wasn't ejected.
Uncommon Knowledge
Newsweek is committed to challenging conventional wisdom and finding connections in the search for common ground.
Newsweek is committed to challenging conventional wisdom and finding connections in the search for common ground.
About the writer
Robert Read is a Newsweek writer and reporter based in Florida. His focus is reporting on trending sports stories. Robert joined Newsweek in 2023. He is a graduate of the University of Iowa. You can get in touch with Robert by emailing r.read@newsweek.com. Languages: English.