Detecting Cancer: Colonoscopies Before 50 May Be Key for Early Diagnosis, Study Indicates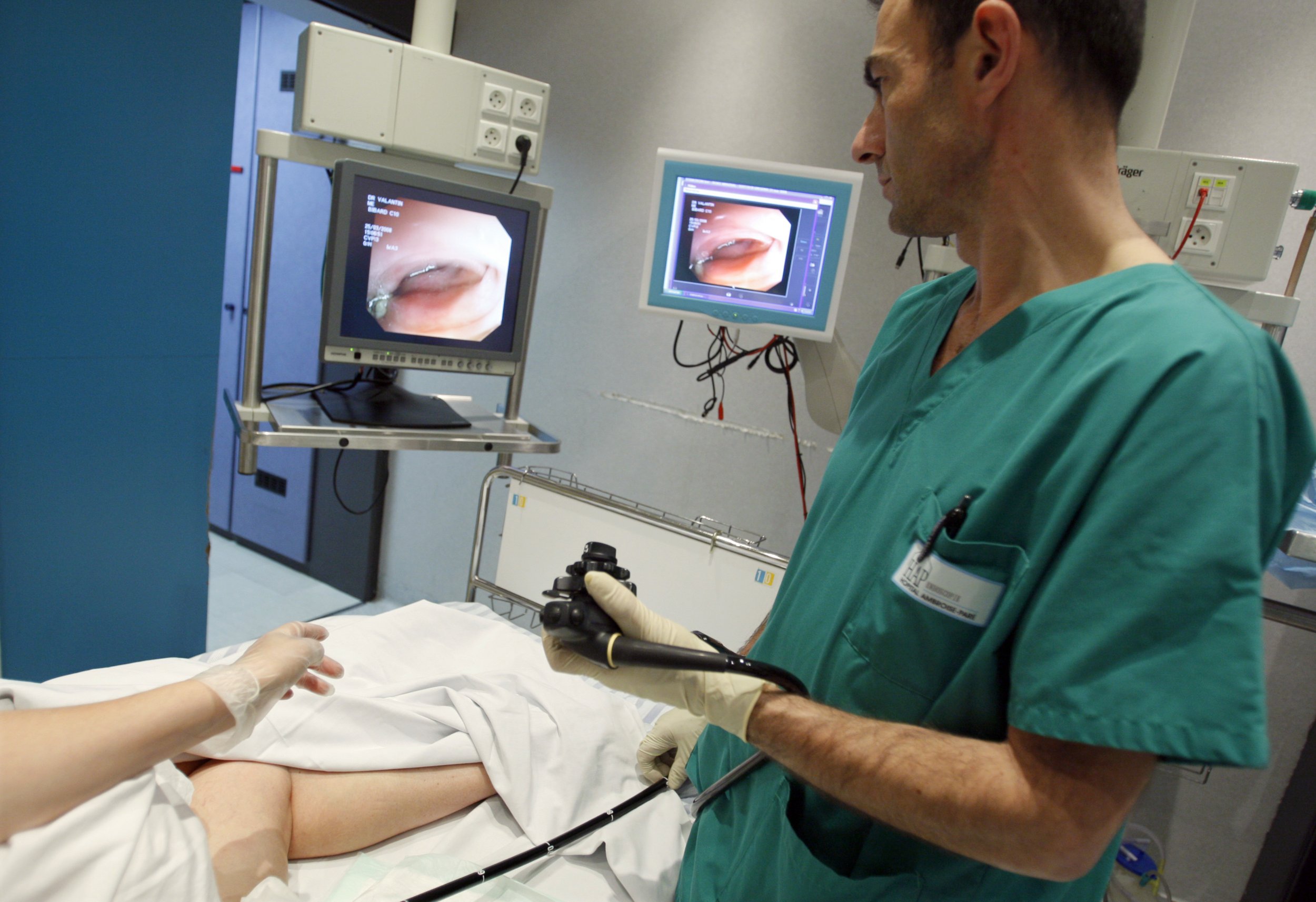 Colorectal cancer is primarily viewed as a disease of aging, which is why most doctors tell young adult patients they don't need to think about colonoscopies until turning 50. But that appears to be changing, as more patients far younger than the recommended screening age find themselves facing this scary diagnosis. It appears that colorectal cancer is a disease that is becoming more prevalent—and deadly—among younger adults. And doctors aren't completely sure why.
A new study published Tuesday in JAMA shows the number of deaths from the disease are increasing in the U.S. in adults younger than age 55. This finding is alarming, since the average age of a colorectal cancer patient is 72. Though the report points out that overall colorectal cancer is on the decline in the country, "trends for all ages combined mask patterns in young adults." In other words, the demographic of the disease is shifting. Some experts say if this change continues, revisiting current standard screening guidelines could be warranted.
According to the report, which is based on data from the National Cancer Institute, the number of colorectal cancer patients ages 20 to 54 who die from the disease has increased 1 percent annually since 2004.
Experts say there is not enough information to pinpoint exactly what is driving this disconcerting trend. Lifestyle and behavioral factors such as eating a diet high in red and processed meat, not being physically active, smoking cigarettes and drinking alcohol in excess are already found to significantly raise risk for colorectal cancer. There's no evidence that younger adults are engaging in these risky behaviors more in recent years than in the past, although studies have not yet delved into this issue.
The new study also pinpoints a racial disparity in survival among young people. While colorectal cancer mortality rates have declined since 1970 in black individuals 20 to 54 years of age, they have increased in white individuals since 1995 and among white people ages 30 to 39 since 2005. Overall, death rates for whites under age 55 increased by 14 percent in the last decade, according to the report. "Rates are higher in blacks, but they're declining. If that continues then rates could reverse," says Rebecca Siegel, an epidemiologist with the American Cancer Society and lead researcher on the report. "The reason is, we don't know," says Siegel.
Siegel does point to one obvious culprit: obesity. "Surely, it would make sense that the rise in excess body weight would contribute to the increase," she says. The rising rate of obesity is hard to ignore. In the U.S., the percentage of adults ages 20 and older who are obese has increased from 23 percent in 1988 to 1994 to 38 percent in 2014, according to the U.S. Centers for Disease Control and Prevention.
Is earlier screening the answer?
The concern about the rising rates of colorectal cancer in younger adults is worsened by the fact that many of these patients are not surviving the diagnosis. The increasing mortality rate among this population means the disease is often found too late.
At its early stage, colorectal cancer is highly treatable. Patients who are diagnosed and treated early have a survival rate of 92 percent. But young people with the disease are more likely to be diagnosed at a later stage, when treatment is less effective. The 5-year survival rate for Stage 4 cancer, an advanced form of the disease, is shockingly low: only 11 percent.
Earlier screening could catch the disease at its less aggressive stages, when survival rates are highest, but the surest screening method—colonoscopies—are not part of routine health care for people under age 50.
Nor are colonoscopies for younger adults recommended by leading authorities. The American Cancer Society and the U.S. Preventive Services Task Force (USPSTF), a panel of government-appointed independent physicians that sets guidelines on preventive care and screenings, recommends that people ages 50 and over have colonoscopies to screen for colorectal cancer. (The frequency depends upon what doctors find. If the test is normal, a patient isn't required to follow up with a subsequent test for 10 years. If doctors remove any growths, most will recommend repeating a colonoscopy in five years.)
The USPSTF, which last reviewed evidence of colorectal cancer screening in 2016, concluded that "the greatest benefit to screening the general population starts at age 50 years," says Stanford University professor Doug Owens, a physician at the VA Palo Alto Health Care System and vice chair of the USPSTF. The decision, says Owens, was based partly on the modest gain from starting screening earlier, "as well as mixed results on extending the screening interval if a patient starts screening earlier than age 50."
Owens said the panel will review the recent research that looks at trends in young patients when drawing up new recommendations. But the task force revisits screening recommendations roughly every five years, meaning updated recommendations for colorectal cancer screening won't be published until at least 2021. "We hope there will be more substantial evidence on screening this population in the future for us to make a conclusive recommendation," says Owens.
The problem with this lag time is that health insurance companies typically base coverage decisions on guidelines from health panels such as the USPSTF. This means more young people are likely to be told they will need to pay as much as several thousand dollars out-of-pocket for a colonoscopy that may be seen as medically unnecessary.
Some physicians worry the set guidelines may result in more unnecessary loss of young lives, which is why cancer centers are starting to take this epidemiological trend more seriously. This fall, for example, Andrea Cercek, an oncologist at Memorial Sloan Kettering Cancer Center, will lead the creation of a new dedicated program for young-onset colorectal cancer to improve care for this patient population and conduct research on the pathology of the disease in younger patients.
She and her colleagues are puzzled by cases seen in younger patients. Cercek agrees with other experts in the field who suspect environment and behavior are behind the trend, but it's still hard to know for sure. There's often not a genetic difference in these cancers compared to the ones found in older patients. However, colorectal cancer in patients under 50 is a far more aggressive form of the disease. "Some of us do believe that there is a different biology with young onset colon cancer," she says. The trouble is that it's hard to get the medical and research community to address the problem with more urgency. "I think the problem is that although it's rising, it's still rare," she says.