What Colors Can Cats See? How Feline's View the World
Cats are often lauded for their many amazing abilities, but the feline's fascinating eyes can sometimes be overlooked.
Whether your pet perceives the very brightest color or simply see everything in black and white was until relatively recently a long-standing subject of debate.
Newsweek presents everything we know about the amazing abilities of cats' eyes—but first, a little physics.
When light hits an object, the object absorbs a little of the light and reflects the rest of it with the wavelengths reflected or absorbed dependent on the object's properties.
The nerve cells in the eyes of both cats and humans boast specialized photoreceptors, allowing some of us to gaze at the world in gorgeous color thanks to this light being bounced back.
The retina of the eye has two main types of cells: rods and cones, with the latter solely responsible for us viewing an enviable spectrum of color.
With our eyes and those of our kitties each sharing three types of cones that can identify combinations of color, we possess approximately 10 times more cones than cats.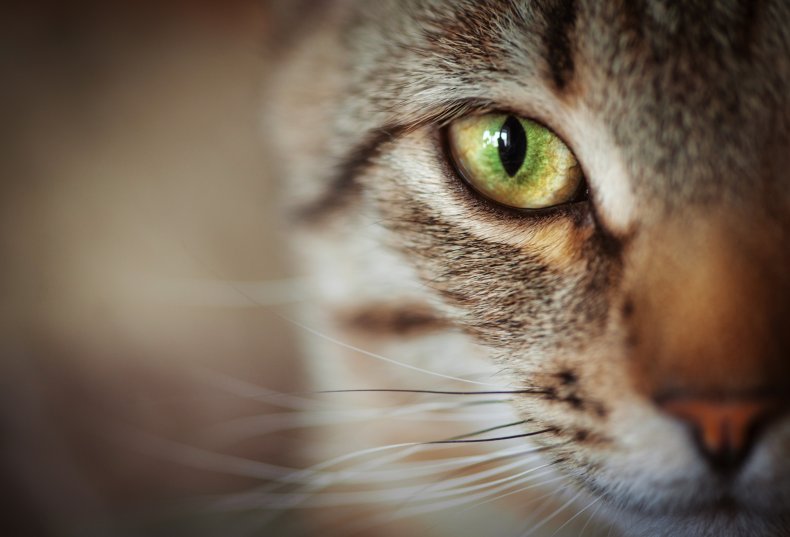 As a result, humans appreciate more color variations than their cat counterparts, with some experts arguing cats see only blue and gray, while others are convinced they see also see yellow like dogs.
A 2016 National Library of Medicine paper appeared to admit this, stating: "Despite extensive study, the basic nature of feline spectral sensitivity is still unresolved."
However, scientists are unequivocally confident cats' eyes are armed with some exciting secret weapons.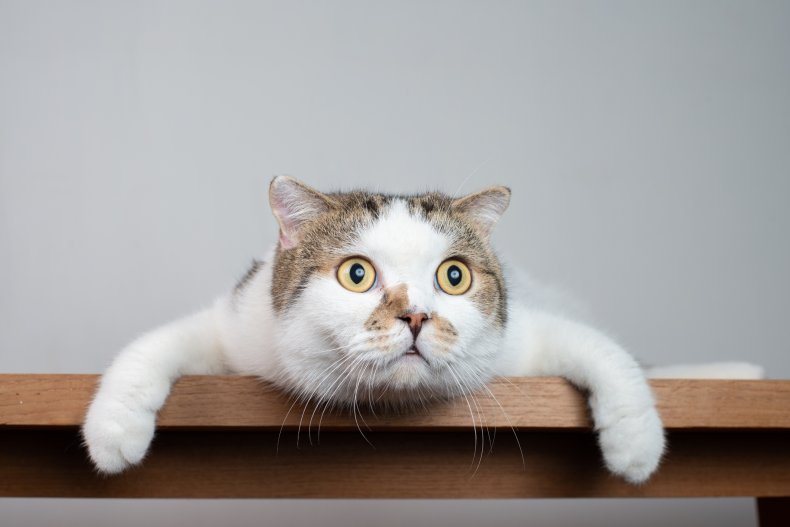 The visual fields of cats are significantly broader than humans, spanning roughly 200 degrees, compared to the 180 degrees of their owners, giving the animals superb peripheral vision—an ability exacerbated by having eyes set more on the sides of their head.
And although this means objects viewed at distances no greater than 20 feet (6m) by cats are likely extremely blurry, it comes with a distinct advantage—they reportedly require just one sixth as much light as humans.
Because of the rod photoreceptors parked in cats' retinas, they are so much better than humans at seeing in low light—a useful ability since cats are crepuscular, meaning they are most active from dusk and dawn hours.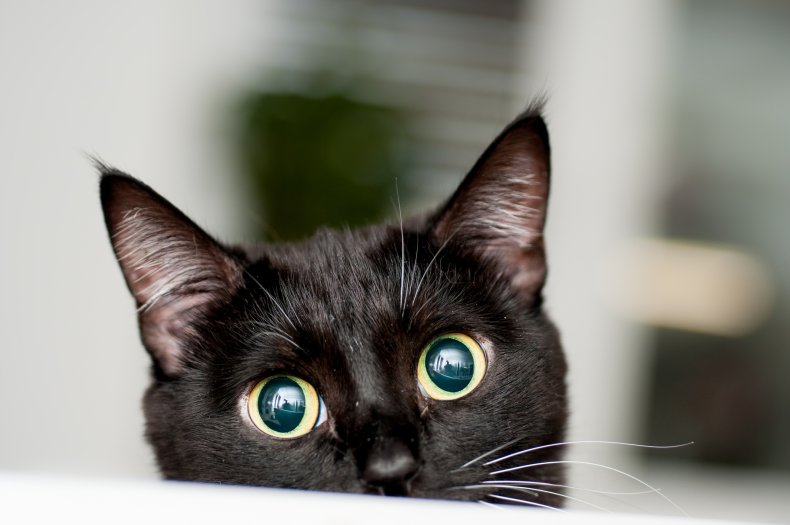 Teresa Keiger, Creative Director of The Cat Fanciers' Association, tells Newsweek: "This time is also when their prey is most active (and why your own cat at home becomes very active at those times as well). So much of their eye physiology evolved to make them successful hunters."
Keiger adds the cats' distinct pupil provides another distinct advantage. She says: "It can go from a narrow vertical slit (to filter out very bright light) to completely round and covering most of the iris.
"The latter allows much more light in and enhances the cats' ability to see at night even more."
As an added advantage, rod cells have the added benefit of refreshing more quickly, which lets cats trace rapid movements with consummate ease.
And finally, Alicen Tracey, DVM at Den Herder Veterinary Hospital in Waterloo, Iowa, told Daily Paws cats have a "tapetum lucidum, a thin reflective layer along the back of their eye both bouncing and magnifying light in dark places."
Such a reflective layer is now known to explain why both cats' and dogs' eyes appear to shine in the dark.