Colson Whitehead Wins Fiction Prize at National Book Awards, Ibram X. Kendi Wins in Nonfiction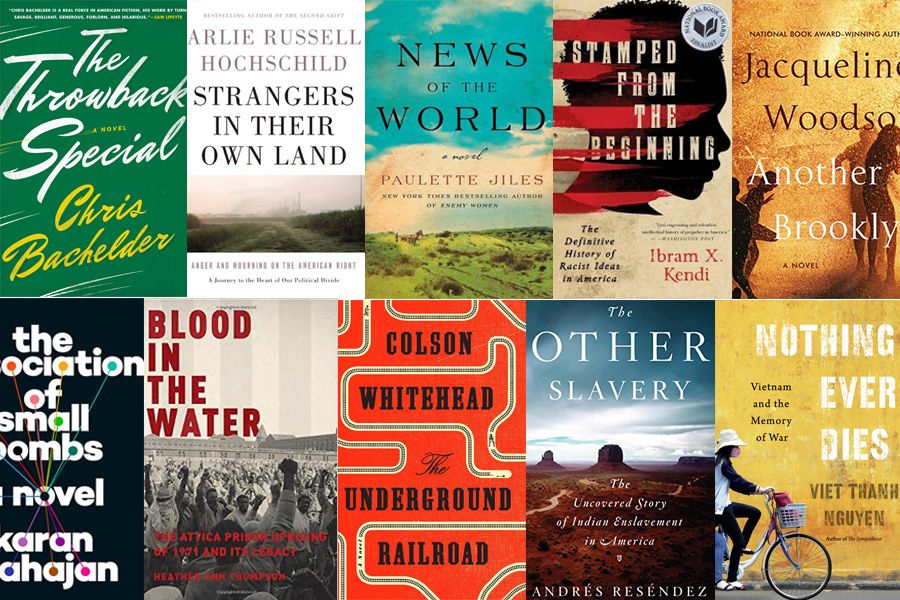 Colson Whitehead won the National Book Award in fiction on Wednesday for his best-selling novel and Oprah Book Club pick The Underground Railroad. His fellow winners that evening were Ibram X. Kendi in nonfiction for Stamped From the Beginning: The Definitive History of Racist Ideas in America; Daniel Borzutzky in poetry for The Performance of Becoming Human; and John Lewis, Andrew Aydin and Nate Powell in young people's literature for March: Book Three.
The winners were selected from a pool of nearly 1,500 books, with hundreds of submissions in each category. In addition to the winners, the finalists were:
Fiction: Chris Bachelder for The Throwback Special; Paulette Jiles for News of the World; Karan Mahajan for The Association of Small Bombs; and Jacqueline Woodson for Another Brooklyn.
Nonfiction: Arlie Russell Hochschild for Strangers in Their Own Land: Anger and Mourning on the American Right; Viet Thanh Nguyen for Nothing Ever Dies: Vietnam and the Memory of War; Andrés Reséndez for The Other Slavery: The Uncovered Story of Indian Enslavement in America; and Heather Ann Thompson for Blood in the Water: The Attica Prison Uprising of 1971 and Its Legacy.
Poetry: Rita Dove for Collected Poems 1974–2004; Peter Gizzi for Archeophonics; Jay Hopler for The Abridged History of Rainfall; and Solmaz Sharif for Look.
Young People's Literature: Kate DiCamillo for Raymie Nightingale; Grace Lin for When the Sea Turned to Silver; Jason Reynolds for Ghost; and Nicola Yoon for The Sun Is Also a Star.
Last year's prizes went to Adam Johnson in fiction for his short story collection Fortune Smiles; Ta-Nehisi Coates in nonfiction for Between the World and Me; Robin Coste Lewis in poetry for Voyage of the Sable Venus; and Neal Shusterman in young people's literature for Challenger Deep.
The National Book Foundation also honors and awards a $1,000 prize each year to five emerging fiction writers under 35, selected by previous National Book Award winners, finalists and "5 Under 35" honorees. The 2016 cohort includes Brit Bennett, author of The Mothers (selected by Jacqueline Woodson); Yaa Gyasi, author of Homegoing (selected by Ta-Nehisi Coates); Greg Jackson, author of Prodigals (selected by Lauren Groff); S. Li, author of Transoceanic Lights (selected by Karen Bender); and Thomas Pierce, author of Hall of Small Mammals (selected by Amity Gaige).
"We've had a tough week, I'd say. No matter where you stand on the political spectrum, we have realized that the country is divided," said Lisa Lucas, executive director of the National Book Foundation, at the annual finalists' reading on Tuesday evening. "But I think that the literature that we're here to celebrate tonight unites us, no matter who we are. All 20 of these books," she added, interrupted mid-sentence for applause, "are profoundly impactful. Some of them let us laugh, some of them let us think about how we love, some of them let us think about how we ignore one another, some of them think directly about history and how politics have shifted and evolved, but each and every one of them is important and meaningful and beautiful."
Indeed, several of the selections among the final 20 candidates resonate loudly following a divisive and emotional 2016 presidential election. In the nonfiction category alone, titles like Strangers in Their Own Land: Anger and Mourning on the American Right and the winning Stamped From the Beginning: The Definitive History of Racist Ideas in America address questions that are begging to be answered in the election's aftermath. The remaining three books in the category—about memories of the Vietnam War, the legacy of a lesser-known story of slavery in America and the conditions that spurred a famous prison uprising—are also relevant to exploring history and explaining the forces that have shaped our society.
So are the volumes in every other category, which include a work of historical fiction that explores the meaning of slavery, escape, freedom and race (the fiction winner The Underground Railroad); a book of poetry about violence, politics and abuse, including by governments against their citizens (the poetry winner The Performance of Becoming Human); a novel that looks at both sides of a terrorist attack (The Association of Small Bombs); a story set against the backdrop of a family's deportation (The Sun Is Also a Star); and the third and final installment of a graphic memoir about the civil rights movement (the young people's literature winner March: Book Three). This last work was co-authored by U.S. Representative John Lewis.
Luis Jaramillo, director of the creative writing program at the New School in New York City, where the finalists' reading was held, expressed his "personal gratitude" to Lewis at the Tuesday evening event. "I want to thank you for your decades of civil rights activism and for your service as a congressman," Jaramillo said. "And thank you in advance for the necessary work you'll do when you get back to Washington. I promise and I hope the rest of us promise that we'll do the work too."
A few days of events culminated in the National Book Awards ceremony on Wednesday evening at Cipriani Wall Street in Manhattan, hosted by comedian and writer Larry Wilmore. In addition to the winners in fiction, nonfiction, poetry and young people's literature, the foundation presented its Medal for Distinguished Contribution to American Letters to Robert A. Caro. Caro, a Pulitzer Prize winner, is famous for his biographies of Lyndon B. Johnson and Robert Moses, and won a 2002 National Book Award in nonfiction. The foundation also honored Cave Canem, a writing center in Brooklyn dedicated to African-American poetry, with the Literarian Award for Outstanding Contribution to the American Literary Community.
When introducing Caro, the New York Public Library's William Kelly spoke of the power of language, citing "its capacity to make us present, to feel, to engage with actors across time and space," encapsulating the evening's importance in just a few sentences. Language, and words, he said, have the power "to change the way we see and to inform the way we live."