Andrew Luck Hears 'Boos' As He Leaves Field During Preseason Game After Announcing His Retirement
The news of Indianapolis Colts quarterback Andrew Luck's sudden retirement sent shockwaves through the NFL and its fans Saturday night. Then the "boos" hit Luck, from his home fans.
After Luck's recent news of pending retirement hit social media Saturday night, Luck was escorted toward the tunnel of Lucas Oil Stadium, where he was met by a paparazzi of cameras in front of him and chorus of boos from the crowd.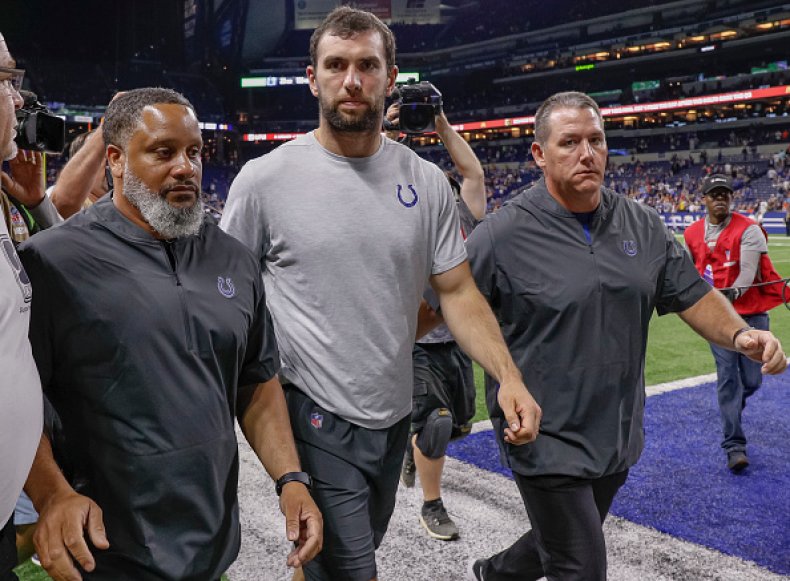 ESPN broke the news Saturday night that Luck would officially announce his retirement from the game at a news conference on Sunday. Not long afterward, this video surfaced of Luck getting booed while walking away from the game.
ESPN's Adam Schefter wrote Saturday night that ESPN had been contacted by a source that Luck was stepping down.
"Filed to ESPN: Andrew Luck has informed the Colts he is retiring from the NFL, per source," Schefter wrote. "There will be a press conference Sunday to make it official, but Luck is mentally worn down, and now checking out."
Luck was the overall first pick of the 2012 NFL Draft by the Colts as longtime signal-caller Peyton Manning began to reach the later years in his career. Luck played at Stanford University and was a two-time runner-up in 2010 and 2011 for the Heisman Trophy, given annually to college football's best player.
Luck played seven seasons with the Colts, passing for 23,671 yards and 171 touchdowns in his six full seasons — he missed all of one season with an injury. He was a four-time Pro Bowl selection who led the NFL in passing touchdowns in 2014 with 40.
He led the Colts to the playoffs four seasons, compiling a 4-4 record in that span. He led the Colts to the 2014 AFC Championship game, where they lost to the New England Patriots.
Luck sat out the 2017 season with a shoulder injury, and returned in 2018 but got out to a rocky start before a stellar year in which he won the Comeback Player of the Year.
The quarterback who played high school in Texas is the son of former Houston Oilers quarterback Oliver Luck. Andrew has dealt with a nagging leg injury all of fall camp and throughout the preseason in 2019.
For his career, Andrew Luck completed nearly 61 percent of his passing attempts, but he threw at least 12 or more interceptions in five of the six seasons he played. His performance in eight playoff games was even worse, as he threw 12 touchdowns with 13 interceptions, according to pro-football-reference.com.