Columbia Accused of Silencing Sexual Assault Protest as Prospective Students Watch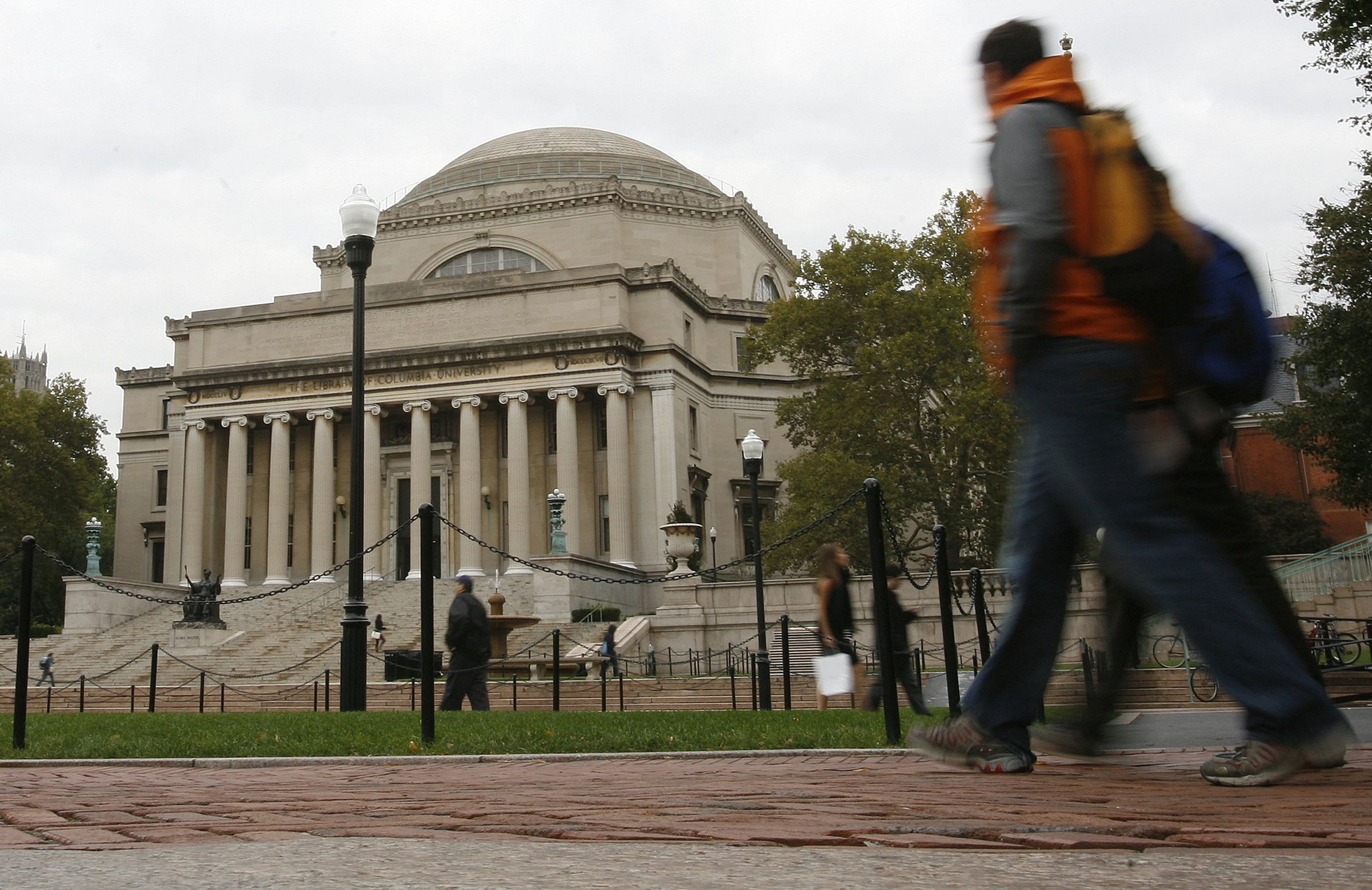 Members of a Columbia University student group called No Red Tape say they were blocked Sunday from distributing information about sexual violence on campus to prospective students at an activities fair. The altercation took place as admitted-students month coincides with renewed interest in sexual assault policies at several Ivy League universities.
Nine members of the group entered the admissions-sponsored gathering bearing letters addressed to admitted students and with red tape covering their mouths—an emblem of the bureaucratic red tape that they say silences survivors of assault on campus.
They say their silent protest was cut short by admissions officers and public safety officers, who pushed the students back and closed auditorium doors to what had been an open event.
The students were kept from handing out their fliers to prospective students, or "prospies," and officers were assigned to guard entrances. But the irony was not lost on observers.
"Columbia administrators chose to silence a silent protest about the silencing of campus survivors," wrote George Joseph, a sophomore sociology major, in a report for the youth-focused news site Youngist.org.
Joseph said he was shocked by the administrative reaction.
"It was really hostile," he told Newsweek. "This was literally a silent handing out of pieces of paper. It's not like they were trying to occupy a building."
The university's apparent touchiness likely stems from a heated series of discussions on campus in recent months. In December, the school was accused of mishandling several different rape complaints. Columbia President Lee Bollinger agreed to release data on how the school adjudicates assault incidents the following month and promised a campuswide town hall meeting, which took place in March.
Even more recently, two of Columbia's closest competitors, Dartmouth and Harvard, have had to grapple with rape scandals on their campuses. The topic has become particularly fraught as colleges race to woo admitted students before May 1.
In a statement provided to Newsweek, a Columbia spokesman denied any censoring of speech or public protest.
"The students who have now expressed concern about their treatment originally were standing at an entryway to the fair, blocking the entryway," the statement read in part. "Despite not being registered for the event, they were offered the opportunity to distribute their materials and talk to guests at the table of a registered student group that some were connected to."
The statement said some students accepted that offer, while others "declined and were asked to move to a different building entryway that was less congested, where they distributed fliers and talked to the invited guests without restriction. Columbia remains steadfast in its commitment to protecting the rights of all in our community to express their views."
But a senior No Red Tape member who participated in the demonstration gave a different account. The student, who asked not to be identified by name for fear of disciplinary retaliation, said the group was also ejected for handing out letters in the lobby, "even though it's our own student center."
The student said she thought the goal wasn't to scare prospective students away.
"We want people who care about these issues to matriculate," she said. "We just wanted to let them know that basically this is an issue. We don't want to cover it up, we want to fix it. Whereas the university's response has been, 'Don't talk about it, don't talk about it, if anyone's trying to talk about it, push them out of that space.'"
That message is reflected in the group's letter to prospective students, which emphasizes that the issue is a national one but hasn't been adequately addressed at Columbia.
"Here on our campus, we have completely inadequate prevention and education programming regarding consent, rape culture, and bystander intervention," the letter states. "Many survivors have had trouble accessing the professional help and counseling resources they need."
It goes on to propose questions that concerned students might ask any college before matriculating—for instance, whether 24-hour, professionally staffed resources are available for students who have been assaulted.
"We are not anti-Columbia, we are anti-violence," the group added in a collective statement.
Bollinger hasn't acknowledged the group's actions. But in an email to students the following day, the president announced the creation of an executive vice president for student affairs position. He said this will be a primary point person for issues involving sexual violence, and he vowed to address student complaints about the school's Rape Crisis/Anti-Violence Center that were raised at the town hall gathering.
Whether the timing of the email was related to the protest is unclear. But concerns stemming from that town hall meeting have driven student activism in the weeks since.
"They couldn't answer the question 'Are we Title IX compliant?'" the No Red Tape member said, referring to the federal law that governs equal access in education. "That was really, really freaky."
Erik Campano, a Columbia grad student and a survivor of sexual assault at a different institution, said he was optimistic about the steps the school was taking.
"I think Columbia is poised to become a national leader among universities in developing responsible gender-based violence policy and response," he said. "That's thanks in great part to the actions of these very courageous activists."
But he was disheartened by the scene he witnessed on Sunday.
"Closing the doors specifically and only to No Red Tape was a very concrete symbol that there are still forces in the administration of the university afraid of having Columbia's reputation hurt because of our sexual assault problem," he said.