Columbia Deans Blame Rolling Stone, Not 'Jackie,' for Rape Story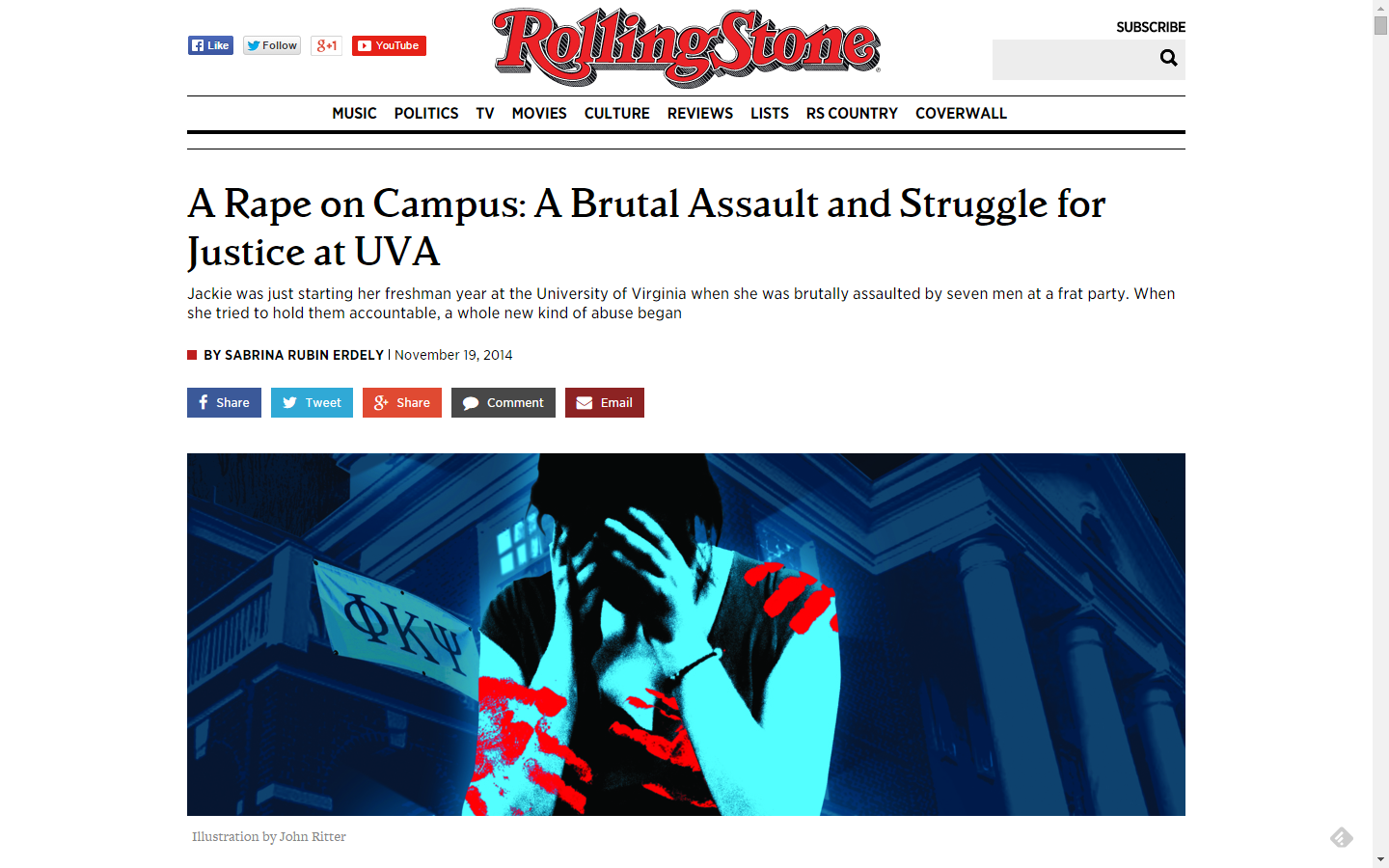 In a press conference Monday at the Columbia University School of Journalism, deans Steve Coll and Sheila Coronel laid the blame for the spectacular failure of Rolling Stone's article about campus rape at the University of Virginia (UVA) on the collective shoulders of "the reporter, the editor, the editor's supervisor and the fact-checking department."
In the magazine's December 2014 issue, Sabrina Erdely told the story of "Jackie," a UVA freshman allegedly gang-raped by seven men, including "Drew," who was said to have worked with Jackie as a lifeguard. Erdely's article went on to describe the cold, self-serving reactions of three of Jackie's supposed friends after they discovered their friend, bloody and distraught, outside the Phi Kappa Psi fraternity house. The article also took the university to task for failing to provide adequate support to students who claimed to be victims of sexual violence.
Subsequent reporting, chiefly by T. Rees Shapiro of The Washington Post on December 5, found major holes in Erdely's reporting. For one, she never verified the existence of Drew, and follow-up reporting seemed to indicate no such person existed. Second, she never contacted the three friends who she wrote were dismissive of Jackie's trauma. Finally, she never gave Phi Kappa Psi, whose members, she wrote, had raped Jackie, a chance to respond to that allegation.
After several more weeks of questions and accusations, Rolling Stone announced it had asked the Columbia Graduate School of Journalism to conduct an independent review of the story, the results of which were released Sunday evening. Rolling Stone has retracted the article, and Coll and Coronel took questions from reporters on Monday.
"Our first objective was to lay out what had happened at Rolling Stone, how it happened and why it happened," said Coll, who wrote the report along with Coronel and Columbia research scholar Derek Kravitz.
Asked repeatedly if Erdely or her editors should face repercussions—up to and including being fired—Coll and Coronel said they will "leave it up to Rolling Stone to decide how to solve these problems."
Asked by ABC News's David Wright what he would do if he were in charge of Rolling Stone, Coll demurred, saying, "I don't have the information I would require as a boss" to decide how to deal with Erdely and the editors and fact checkers. Coll called such hypothetical questions "unhelpful." Rolling Stone publisher Jann Wenner has said he doesn't plan to fire anyone.
Virginia Governor Terry McAuliffe sharply criticized the magazine. "The abject failure of accountability in journalism that led to Rolling Stone's 'A Rape on Campus' article has done untold damage to the University of Virginia and the Commonwealth as a whole," he wrote in a press release. "More importantly, this false account has been an unnecessary and dangerous distraction from real efforts to combat sexual violence on our college campuses."
During the press conference, news broke that the UVA chapter of Phi Kappa Psi plans to file a lawsuit against Rolling Stone.
"The report by Columbia University's School of Journalism demonstrates the reckless nature in which Rolling Stone researched and failed to verify facts in its article that erroneously accused Phi Kappa Psi of crimes its members did not commit," Stephen Scipione, UVA chapter president of Phi Kappa Psi, told the Post.
Coll and Coronel both said they disagreed with Wenner's assertion in an interview with The New York Times that the lion's share of the blame rests with Jackie, whom he called "a really expert fabulist storyteller."
"The problems were problems of methodology, newsroom standards and procedures. Those were the key issues of our report. We don't believe in this case that Jackie was to blame," they said.