Columbia Ex-Studio Head Calls Debra Winger 'A League Of Their Own' Comments 'Sour Grapes'
It's a tale as old as Hollywood, involving large sums of money, accusations of jealousy and alleged threats of disruption if a star doesn't get what they desire.
In this case, it's Debra Winger who stirred a hornet's nest when she criticized A League of Their Own and claimed she quit the production due to her principled objection to the casting of Madonna, suggesting the pop star would turn the pro-feminist movie into an "Elvis film."
While late director Penny Marshall cannot defend her now-iconic movie, and the film's stars—Madonna, Tom Hanks and Geena Davis—have so far chosen not to engage publicly with Winger, the head of Columbia Pictures at the time, Frank Price, tells Newsweek he is compelled to set the record straight, given he's the one who "released" the actress and replaced her with Davis.
As Price tells it, Winger was bitter about the hiring of Madonna because she was jealous that a woman other than her would be attracting the bulk of attention, given Madonna's stature as one of the biggest pop stars in the world back then. He also says she "threatened" not only Marshall but essentially the entire crew, and that it was his decision to get rid of her, not the other way around.
"After we hired Madonna, Debra told Penny to expect 'a long, hot summer' of production, which the director took as a not-so veiled threat," Price recalled. "There's a lot of ways an actor can screw up a director, beginning with being late to the set and refusing to leave the dressing room. You can't have someone with an axe to grind working on the picture."
After Marshall took her concerns to Price, he says he called a meeting with Winger.
"I agreed to let her make her case, and she showed up with her agent and her lawyer. For an hour she spoke, and when she finished, I hadn't heard one word of apology to Penny, nor did she say she wouldn't make the production difficult, so we settled out her contract," he said.
Price said he first hired Winger because he was satisfied with her performance six years earlier in another of his films, Legal Eagles, starring Robert Redford and Daryl Hannah, and he knew she was "trouble" because of the way she interacted with Hannah.
"Winger is a terrific actor, but she proved very difficult with anything having to do with Daryl. So when the thing with Madonna came up, I realized there was a jealousy factor—that she didn't like it when another woman might draw more attention than she would. That's what she had against Madonna."
Price left Columbia just prior to A League of Their Own's opening and created his own studio, Price Entertainment. Despite his past dealings with Winger, he again cast her for a lead role in 1993's Shadowlands, starring Anthony Hopkins and directed by Richard Attenborough.
"I decided to cast her because there were basically no other women in the picture, and I figured that the presence of Sir Anthony and Sir Richard was enough incentive to keep her from displaying any difficult behavior. And I was correct. She did a great job. But in all of my other cases with her, I think she has had a problem with specific women," Price said.
Newsweek has reached out to Winger and will update this story should she respond.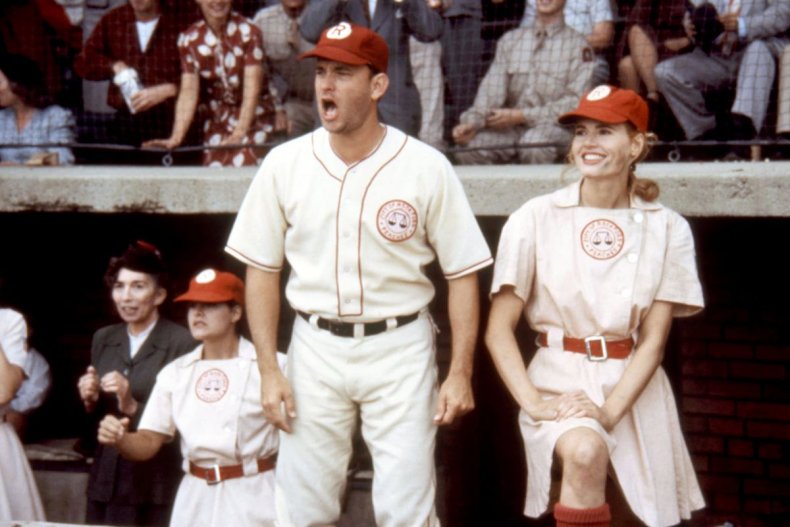 Winger's comments regarding A League of Their Own, a fictionalized account of the All-American Girls Professional Baseball League that sprang up during World War II while men fought overseas, came via an interview with The Telegraph to promote her Apple TV+ show, Mr. Corman.
In the Telegraph interview, Winger doubles down on her "Elvis film" assessment of A League of Their Own that she first made in her 2012 autobiography by telling the British newspaper that "the studio agreed with me because it was the only time I ever collected a pay-or-play on my contract. In other words, I collected my pay even though I did not play, and that's very hard to get in a court."
According to Price, this, too, is misleading, as he told Newsweek that he agreed to pay Winger an undisclosed amount of money to bow out of the movie on his own accord. The amount was small enough that he was able to hire Davis without paying any more for the role than he had arranged to pay from the get-go, so, in essence, Davis agreed to play the part for less than what Winger would have charged.
Winger told the Telegraph that Davis "did okay" in the role originally meant for her, and that Madonna's "acting career has spoken for itself." She also said the movie overall was entertaining, but disparages it because audiences didn't walk away asking, "Wow, those women did that?"
"It was a sour-grapes putdown of an iconic picture that has certainly held up over the years, and she's probably sorry she's not in it," Price said.
In 2012, A League of Their Own was preserved in the U.S. National Film Registry by the Library of Congress, which called it "culturally, historically and aesthetically significant."