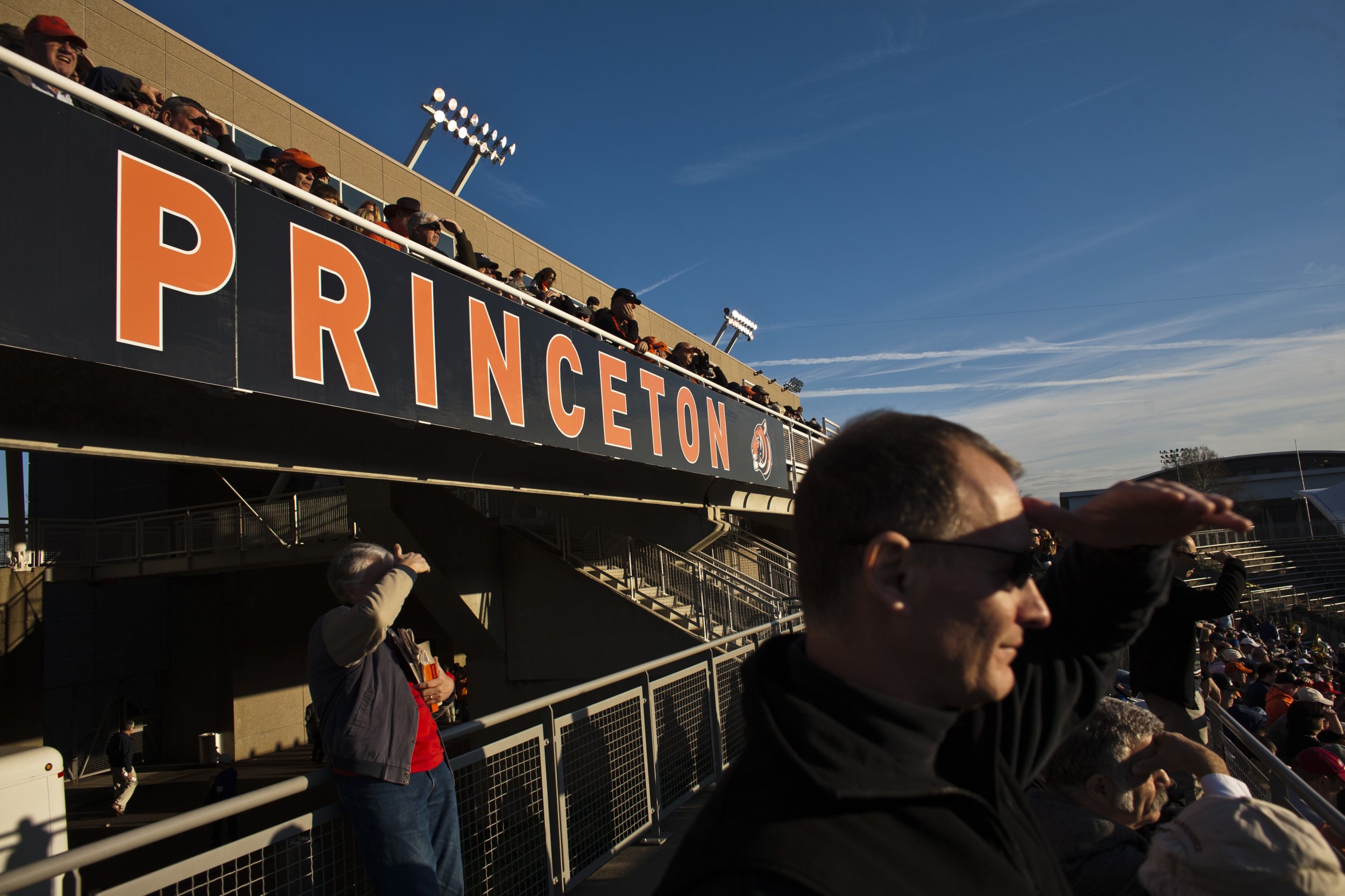 At Amherst College, a member of the men's cross country team referred to a woman online as "a walking STD." At Columbia, after the university canceled an annual event because of concerns about sexual misconduct, a student on the men's wrestling team wrote to his teammates, "I hope someone actually gets sexually assaulted." And at Harvard, men's soccer players circulated a "scouting report," assigning women's soccer recruits number rankings based on their appearances and guessing their preferred sexual positions. In the past two months, players on those and other teams have faced athletic suspensions because of comments they wrote, which opponents say reveal the culture of misogyny in college sports. Free-speech advocates, meanwhile, say the schools could be going too far.
Since October, at least five top institutions—Amherst, Columbia, Harvard, Princeton and Washington University in St. Louis—have suspended male athletes or entire teams from competing because of allegations about lewd messages or online postings. (Teams at three of the schools have admitted to writing them; investigations are ongoing elsewhere.) The fallout has unfolded in a similar way at the schools: in the majority of cases, a student publication learned of private messages or online documents written by the athletes and released them, prompting school administrators to launch investigations and suspend the players from competing.
Related: Baylor president replaced, football coach fired over botched sexual assault cases
While colleges and universities have in recent years focused largely on investigating sexual assault cases, the recent athletic punishments suggest that schools could be taking sexually offensive language, which research shows can lead to sexual violence, more seriously. This comes at a time when the Department of Education could face roadblocks in investigating schools for their handling of sexual misconduct under President-elect Donald Trump, who has dismissed his own lewd comments as "locker room talk." The Republican Party said in its 2016 platform that current Department of Education directives for how colleges should handle sexual assault cases "must be halted" because they interfere with law enforcement investigations and lack due process protections for the accused.
Some have applauded the recent college team repercussions. Others say that schools do not have a right to police the private messages that students exchange, even if athletic codes of conduct tend to hold team members to higher standards than general student codes do. "Universities, even public universities, do have greater leeway to regulate the conduct of their athletes as athletes," says Samantha Harris, vice president of policy research at the Foundation for Individual Rights in Education (FIRE), a nonprofit that defends the rights of students. "But I think that when they start delving into students' private or small-group communications, they're really betraying their mission as free institutions and, as I've said, sort of acting as a totalitarian state."
The first instance in the recent spate was at Harvard. In late October, The Harvard Crimson leaked details from an online document that members of the men's soccer team had circulated in July 2012. The nine-page "scouting report" contained photographs of recruits for the women's soccer team and assessed them based on their appearances. The document assigned each recruit a number ranking ("she seems to be very strong, tall and manly so I gave her a 3") and an offensive nickname. Its author labeled one woman "Gumbi" because of "her gum to tooth ratio." The author also guessed each woman's favorite sexual position.
Members of Harvard's 2012 women's soccer team responded in an op-ed to the Crimson, saying the ordeal made them feel "embarrassment, disgust and pain." When the school learned that the men's team had written similar documents as recently as this year, it canceled the rest of their season. The men's team later apologized, writing in a statement that "no woman deserves to be treated in this manner" and that it would "confront the issues of sexism and misogyny within our own locker room."
Two days after that apology, in early November, the Crimson reported that the men's cross country team had written similar comments in online spreadsheets about the women's cross country team, some of them "sexually explicit." Those dated to at least 2012. After an investigation, the school placed the team on athletic probation, though its season would continue, according to the Crimson. University President Drew Faust said in a statement that it was possible that these sorts of documents were a tradition on multiple teams.
Similar events began unfolding at Columbia on November 10, when an online student publication, Bwog, published screenshots of messages that members of the men's wrestling team had exchanged on the group messaging app GroupMe. The messages contained obscenities and anti-Semitic and misogynistic language. One mentioned a girl who "gives head to everyone," prompting another person to respond, "Can I get her number?" And when someone wrote that they all should have gone to state schools, others responded, "Dude no lie we would run the town of any state school fuck those feminist bitches," and, "Columbia bitches feel entitled to something when in reality they are all ugly socially awkward cunts." Another message: "People in Africa still can't tell time and that's why even if we gave [them] free aids medicine they wouldn't be able to use it properly." Other messages included homophobic and racial slurs.
In a statement to Bwog, the university said the messages were "appalling, at odds with the core values of the University, violate team guidelines and have no place in our community." Columbia opened an investigation and suspended all upcoming wrestling team events. Students protested outside of a fraternity house where some of the wrestling team members lived, holding a sign that said, "White supremacy lives here." A petition calling for the academic expulsion of the wrestlers garnered more than 1,000 signatures.
The team later apologized in an open letter. "We understand the fact that these offensive text messages are inexcusable," the athletes said. "These messages are not just words or playful jokes between teammates. This has been a wake-up call for our team."
Later in November, Columbia said it had completed its investigation and suspended some of the wrestlers from the team for the rest of the academic year and others until spring semester. "We recognize that free speech is a core value both of the University community and of our nation," the school said. "However, the group text messages that have been brought to light do not meet the standard of behavior we expect from our student-athletes."
There were more punishments handed down last week. On December 11, Amherst suspended its men's cross country team after The Indicator, a student publication, published a report about offensive emails that team members exchanged between 2013 and 2015. One email contained photographs of eight women and details about "their sexual histories and supposed sexual proclivities," The Indicator wrote. The author of the email called one woman a "stuck up, snobby bitch; AKA the perfect formal date for the desperate members of our team." The school hired a legal expert to investigate, and the team has apologized.
Days after the Amherst announcement, on December 15, Princeton said it had suspended its men's swimming and diving team after it received a complaint about comments team members had written that were "vulgar and offensive, as well as misogynistic and racist." The following day, Washington University suspended its men's soccer team after members of the women's team accused the men of writing "degrading and sexually explicit comments" about them in an online document, according to a school statement.
The offensive messages and postings reveal what some have said is a culture of misogyny and sexism in college athletics. Male college athletes tend to be more dismissive of situations that could be considered rape or sexual assault than non-athletes, according to a study published in May in the journal Violence Against Women. The researchers found that male college athletes were more accepting of such attitudes, scoring on average a 47.76 on a questionnaire, compared to male non-athletes, who scored on average a 43.17. (The higher the score, the higher the acceptance.) Those findings correlated with how many male college athletes and non-athletes said they had pressured or forced someone into unwanted sexual activity, suggesting that such beliefs are a risk factor for committing sexual violence.
While the First Amendment, which protects free speech, does not necessarily apply to private institutions, FIRE's Harris points out that the student codes at those schools claim to protect it. Columbia's regulations, for example, say, "Every member of our community therefore retains the right to...express opinions on any subject whatsoever, even when such expression invites controversy and sharp scrutiny," and that the school "does not limit discussion because the ideas expressed might be thought offensive, immoral, disrespectful or even dangerous."
Harris says that private messages not intended to be seen by the people they are about would likely not constitute harassment. Even though "a lot of protected speech is deeply unsympathetic," she says, "I don't think institutions that claim to value free speech have carte blanche to take action against student athletes for what those students believed to be private communications."
An expanded version of this article was published online on January 26, 2017 and appears in Newsweek's February 3, 2017 print edition.