Columbia Psychiatry Chair Suspended After 'Racist' Tweet About Black Model
Jeffrey Lieberman, the chair of the Columbia University Department of Psychiatry, has been suspended from his role due to a tweet that others have labeled as "racist."
Newsweek obtained an email sent to Columbia University faculty and staff stating that Lieberman was suspended from his role as chair of the Department of Psychiatry at Vagelos College of Physicians and Surgeons, as well as removed as Psychiatrist-in-Chief at CUIMC/New York Presbyterian Hospital, effective immediately.
The email was signed by Dr. Anil K. Rustgi, interim executive vice president and dean of the Faculties of Health Sciences and Medicine, and Dr. Steven J. Corwin, president and chief executive officer of New York-Presbyterian.
The pair said they would be meeting today with Department of Psychiatry faculty, staff and trainees, with an announcement "soon" regarding a new psychiatric interim chair.
On Monday, Dr. Jeffrey Lieberman retweeted another user's Twitter post regarding South Sudanese model Nyakim Gatwech. "It is not a work of art made of black stone or granite," read the original tweet, published by a user with the handle @zg4ever. "She is Sudanese model Nyakim Gatwech. The most beautiful among the black beauties."
User @zg4ever also said that Gatwech "is in the Guiness Book of World Records" for the darkest skin on Earth. But in 2020, Guinness tweeted and clarified that it does not monitor skin tone.
In the now-deleted tweet from Lieberman that was published by NewsOne.com, he apparently stated: "Whether a work of art or freak of nature she's a beautiful sight to behold."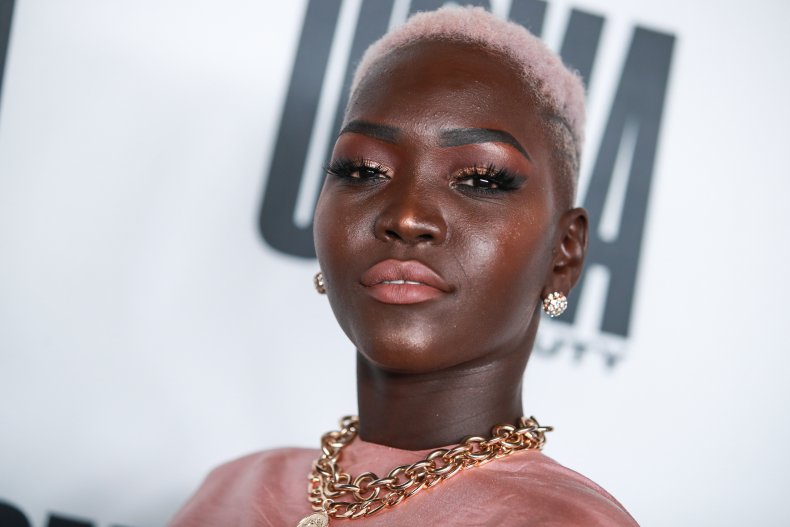 Lieberman was previously the director of the New York State Psychiatric Institute and Psychiatrist-in-Chief for the Columbia University Medical Center of New York-Presbyterian Hospital.
He has since either deactivated or deleted his Twitter account.
Gatwech responded to Lieberman's tweet in a Tuesday Instagram post. She said her manager first notified her of the alleged skin tone remark in correlation with Guinness World Records, unaware of how the rumor originated.
"Clearly (the rumor's) still floating around even after Guinness World Records stated that it does NOT monitor skin tones," she wrote. "I can't imagine it's even possible to know who's the lightest or darkest person on the planet!
She also said that the rumor has "negatively" impacted her Instagram account.
"I have worked really hard to build my page and use it as (a) platform to promote self acceptance, body positivity, and of course, my brand partnerships, but it's about self love above anything else," Gatwech wrote. "I don't buy followers, and to those who believe otherwise, I do not need to manufacture lies for likes. It's not my style. I love my dark skin and my nickname 'Queen of Dark,' but I've never said I'm the darkest person on earth."
Lieberman also received criticism from others, including Black women in the medical community, for his Twitter posting.
Dr. Nicole Christian Brathwaite, whose Twitter profile describes her as a child and adult psychologist from Boston, tweeted that "this is why representation in medical education/leadership is essential. This is why training racism/bias/social determinants of health must be incorp. into medical training. Chair of a dept comfortably calling another human being "freak of nature" b/c of skin color is unacceptable."
Dr. Stella Safo is an HIV primary care physician from New York City who founded Just Equity For Health, described as a health care improvement company working to rethink how to deliver equitable healthcare. The company "specifically targets the realities of racism and sexism that harm Black and people of color patients, health care practitioners and communities." Safo tweeted that Lieberman's comments, even if labeled as a "compliment," are "problematic and reads as racist."
"Your role as a clinician providing care for patients is the only reason I and others are asking you to please delete and rephrase," she wrote. "It's anti-Black; may not be your intention but that's how it's coming off."
Lieberman eventually deleted his original tweet and apologized, saying he was "living and learning."
Safo published a series of other tweets, saying that "antiracism trainings...without action will not save us. Not when ppl hold ingrained racist beliefs."
"This is why Black people tell you not to touch our hair, our skin, just nothing," she said. "Exoticizing us is too close to seeing us as 'freaks of nature.'"
Other women in the medical community chimed in.
"Having dark skin is not a 'freak of nature,'" said Dr. Oni Blackstock, a primary care and HIV physician and founder of Health Justice. "This term is racist and stigmatizing. It is incredibly disturbing that someone in an institutional leadership role would find this appropriate to say especially out loud on Twitter."
Dr. Kim Sue, medical director of the National Harm Reduction Coalition, said "what disturbs me about the chair of a medical school dept's racist tweet is that not only is it public, and that's actually how he thinks and acts, then says 'live and learn' (shrug?), leaves Twitter, maybe +/-consequences, when there are many possible harms to others."
A 2020 op-ed published by Michigan Medicine physician Ryan Huerto, titled "Minority Patients Benefit From Having Minority Doctors, But That's a Hard Match to Make," stated that minority patients "have markedly worse health outcomes than white patients."
"The differences are greatest for black Americans: Compared to white patients, they are two to three times as likely to die of preventable heart disease and stroke," Huerto said. "They also have higher rates of cancer, asthma, influenza, pneumonia, diabetes, HIV/AIDS and homicide. For many of them, structural racism and unequal treatment remain a contributing factor to disease and death."
Pennsylvania's physician general, Dr. Denise Johnson, who is Black, has focused on reducing inequities in healthcare for not just Black and minority patients but also those who are poor or live in rural areas and inner cities.
"I have sought healthcare as an educated professional and not been heard and been discounted," Johnson said per a report by Penn Live. "That's something that many patients report and it's some of the things that we're trying to dismantle in our healthcare system right now."
Newsweek reached out to both Lieberman and the Columbia University Department of Psychiatry for comment.
Updated 02/23/2022, at 3:04 p.m. ET: This story has been updated with additional information and background.