Columbia University Bans 70 Students From Campus for COVID Violations as NYC Deals With Case Surge
Columbia University temporarily banned 70 students from campus after they violated the college's coronavirus travel policies. The move comes as New York City faces a surge in COVID-19 cases.
The ban followed an unauthorized trip to Turks and Caicos by students from Columbia's Business School.
The trip was in direct violation of Columbia's COVID-19 public health protocols and the Columbia Community Health Compact—which all students, faculty and staff were required to sign at the start of the 2020-2021 academic year.
The compact and protocols both restricted most domestic and international travel and banned group gatherings.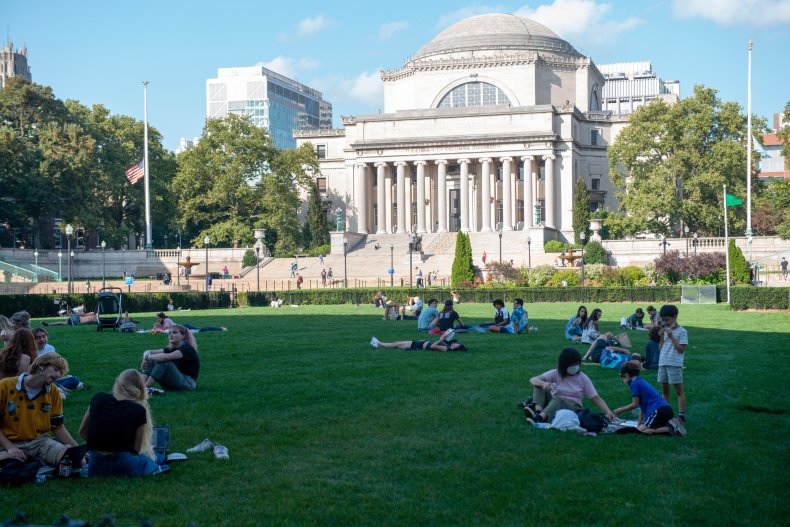 "An important part of Columbia's public health protocols is that there are consequences for community members who violate the university's Health Compact," a university spokesperson told The Columbia Daily Spectator.
The students in violation of the university's travel policies will be banned from campus through December 1. However, if the students violate the policy again, they could face harsher charges said the spokesperson.
The Business School offered a hybrid model of instructions for the fall semester. This means that students had the option of "HyFlex" or complete online classes, according to The Columbia Daily Spectator.
In the HyFlex model, students had access to a combination of in-person and remote classes that alternate each day. Business students also had access to facilities in the university, including Warren Hall and Uris Hall, even if they choose to learn remotely.
The students in violation will now only be able to learn remotely without access to the university's facilities.
Columbia's COVID-19 positivity rate of students and faculty live both on and off-campus was 0.12 percent for the majority of the semester, according to the university's website as of Sunday. However, during the week of November 9, the positivity rate rose to 0.22 percent with 24 students in isolation and 39 in quarantine.
New York City, like many other areas around the country, have reinstated COVID-19 restrictions ahead of the holiday season in response to a surge in cases.
New York was once an epicenter for the virus during the early stages of the pandemic, but the area since curbed its cases in the summer. However, since students returned to classrooms during the final weeks of September, New York City has seen a steady uptick in cases once again.
On Saturday, New York reported over 5,970 new cases and 41 new deaths, according to data from The New York Times. Over the past two weeks, there has been an average of 4,896 daily cases. It is an increase of 89 percent compared to the previous two weeks.
Columbia University didn't respond to Newsweek's request for comment in time for publication.