Columbia University Renames Medical School Dorm Over Its Ties to Slavery
The president of Columbia University announced Friday that the school would rename one of its campus dormitories over concerns that its namesake had significant ties to slavery.
Lee C. Bollinger wrote in a letter addressed to students and faculty members that the dorm, Bard Hall, would be renamed this fall with one that "represents our University's values." The decision comes as colleges and universities across the U.S. are reckoning with their past, many of which are intertwined with enslavement.
At Columbia, Bard Hall was named after its construction in 1931 for Samuel Bard, a founder of the university's medical school, a pioneer in obstetrics and President George Washington's personal physician.
"Of course, we cannot, indeed should not, erase Samuel Bard's contributions to the medical school," Bollinger wrote in his letter. "But we must not recall this history without also recognizing the reason for our decision to rename Bard Hall."
This reasoning has to do with the fact that Bard had enslaved three people, according to the 1790 census. In a 1776 New York Gazette advertisement, Bard offered a $10 reward for James, an enslaved man who was believed to have escaped toward the eastern end of Long Island.
Bard Hall currently serves as a dorm for clinical students at Columbia's Irving Medical Center. Given this particular context, the "contradiction between the egalitarian health service norms they cherish and slavery's denial of full human standing is starkly blatant and offensive," Bollinger wrote.
"We all understand how careful we need to be in shaping the environment, symbolic as well as physical, in which we ask our students to live and to call home," he wrote.
The president added that he felt a sense of urgency to act not just for the dorm's current occupants, but for everyone else within Columbia's broader community.
The efforts to rename Bard Hall and possibly other buildings on campus began in 2015, when Bollinger asked students and faculty members to research Columbia's connections to slavery and how slave-trade profits benefited the school, The New York Times reported.
The project gained momentum once again in June, following the May 25 police-involved death of George Floyd in Minneapolis. The incident sparked a resurgence of the Black Lives Matter movement, with protests erupting around the world speaking out against police brutality and systemic racism.
Dr. Raymond Givens, an assistant professor of medicine at Columbia, started an online petition in the wake of Floyd's death calling for Bard Hall to be renamed. The Change.org petition received more than 1,000 signatures, with Givens providing an update Friday that their mission was successful.
"Columbia University President Lee Bollinger announced today that the name of Bard Hall will be changed. No longer will Black students and staff have to live and work in a building that reminds them to know their place," Givens wrote, adding that this was "just the prelude to more substantive changes."
Bollinger wrote that he had assembled a team in June to consider all campus names and symbols associated with matters of race and racism. It is unclear if this team is different than the one convened in 2015, but Bollinger said that their work is a long-term process that would continue into the academic year. The committee had unanimously recommended that Bard Hall be renamed, Bollinger said.
The president did not immediately reveal what Bard Hall's new name would be, writing that he would share more as the semester advances. Newsweek contacted Columbia for further comment, but did not hear back in time for publication.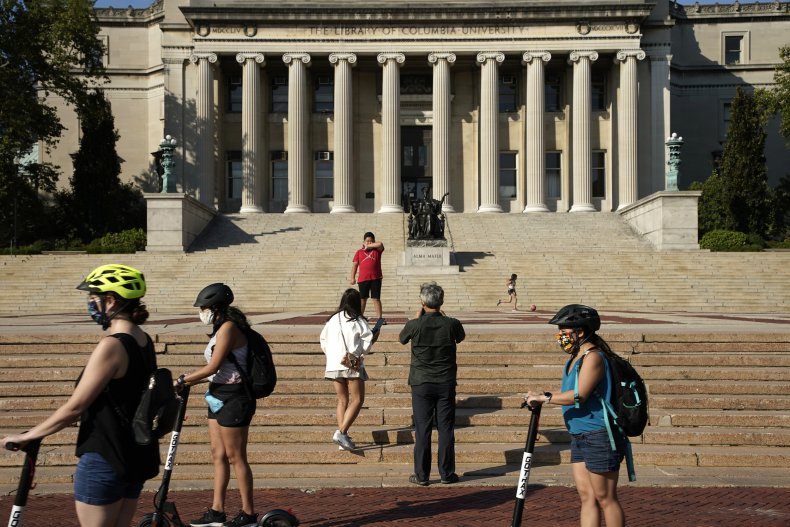 Givens told the Times that he and others were frustrated that it had taken this long for Columbia to rename the building, as Bard's ties to enslavement were detailed in 2017. But this renewed call to action has been seen at other top U.S. universities amid an entire summer filled with protests concerning racism.
The Teachers College at Columbia University voted in July it would remove Edward L. Thorndike's name from one of its buildings. Thorndike promoted eugenics policies and sexist, racist and anti-Semitic ideas, according to a statement.
Meanwhile, Princeton University announced in June change one of its campus buildings named for President Woodrow Wilson, citing his racist policies.
And Davidson College President Carol Quillen apologized last week in a video message for the school's complicity in perpetuating enslavement, an apology recommended by its Commission on Race and Slavery.
Similar to Columbia, Davidson's commission was first created by the college in 2017, but its board of trustees announced last week that it was now in the process of establishing a committee to review naming policies on campus.
The board unanimously supported the commission's recommendations, which include a proposal to rename the Chambers Building. The building is named for Maxwell Chambers, a local cotton trader and planter whose wealth came largely from the labor of enslaved people, according to the report.