On Columbine Anniversary, Former Principal Says U.S. 'Desensitized' To Mass Shootings
On April 20, 1999, two students gunned down 12 of their classmates and a teacher at Columbine High School before turning their guns on themselves.
The massacre in Littleton, Colorado, shocked the nation, and prompted years of news coverage seeking to piece together the truth about what drove the killers and tell the stories of those who survived their rampage.
At the time, it was the deadliest school shooting in U.S. history, inspiring copycat attacks, but it has since been surpassed by several others—the shooting at Sandy Hook Elementary School in 2012 and the Marjory Stoneman Douglas High School shooting in 2018 among them.
The 22-year anniversary of the Columbine massacre comes as a spate of mass shootings have put the spotlight on tightening gun regulations once again. And Frank DeAngelis, who was the school's principal at the time of the shootings, is worried that the nation has become "desensitized" to them.
DeAngelis told Newsweek said every mass shooting triggers emotions in him, but last month's shooting in Boulder, Colorado, hit a little harder because of how close to home it was.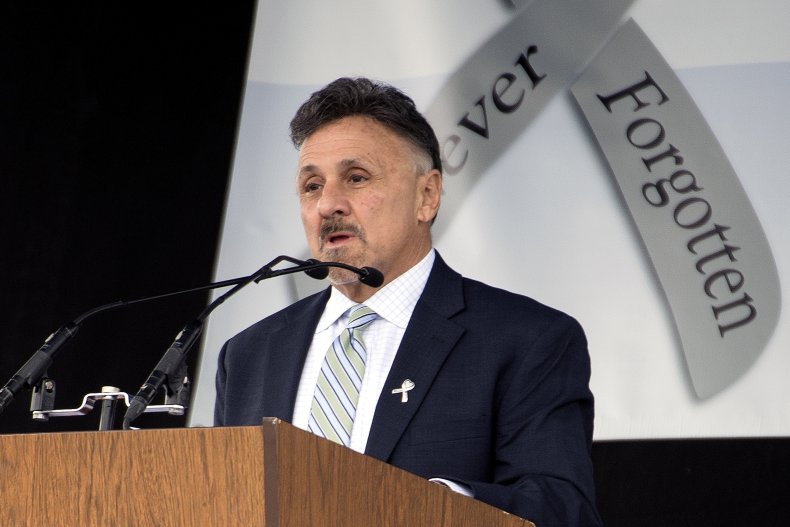 When he found out that a gunman had opened fire inside a supermarket, DeAngelis was at Columbine High School planning the memorial service for Tuesday's anniversary.
He had been in the school's library—built in honor of the victims to replace the one where most of the killings had taken place—when text messages offering him support started rolling in.
"Whenever that happens, my heart starts racing because I know there's another event, another shooting," he said. "Once I left the meeting and started watching some media coverage, it definitely takes you back to that time at Columbine."
Ten people were killed in the shooting at the King Soopers supermarket in Boulder on March 22. Around a week earlier, shootings at three Atlanta area spas left eight people dead, six of them women of Asian descent.
The shootings prompted President Joe Biden to announce several executive actions to combat gun violence on April 8, describing it as an "epidemic and an international embarrassment." But he urged Congress to do more.
"Our flag was still flying at half-staff for the victims of the horrific murder of 8 primarily Asian American people in Georgia when 10 more lives were taken in a mass murder in Colorado," Biden said in a news conference.
A week later, a man shot and killed eight people at a FedEx facility in Indianapolis.
In response to that shooting, Biden again urged Congress to "hear the call of the American people" to enact legislation, like universal background checks and a ban of "weapons of war" and high-capacity magazines.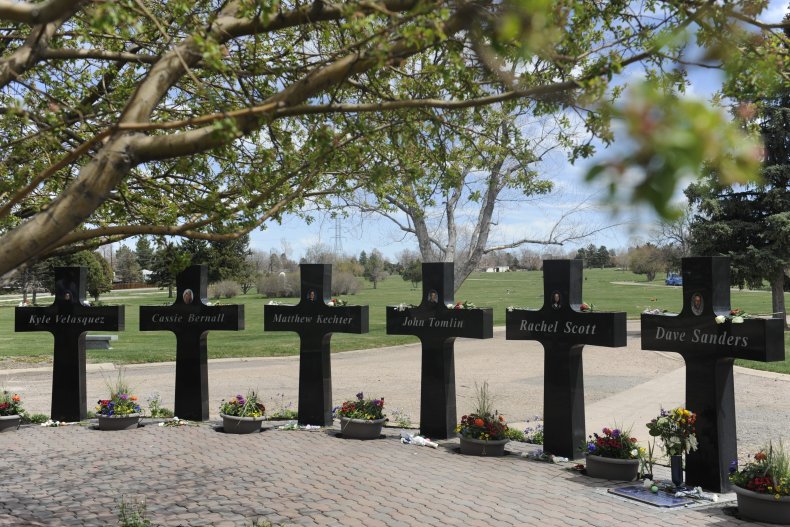 DeAngelis agrees that common sense gun laws are needed.
"Why someone would need an automatic weapon for hunting, why someone would need a 30-round magazine for a self-defense, [it] does not make sense," he said.
He noted that students had "really called out" adults when they said "enough is enough" following the shooting at Marjory Stoneman Douglas High School in Parkland, Florida, on Valentine's Day in 2018,
"But three years later, and we're having the same discussion," he said. "How do you change that?"
DeAngelis added that he believes people are "looking for one set answer" in how to stop shootings, while he views it as a jigsaw puzzle—of which gun laws are one piece.
He also noted that the Columbine killers had purchased several weapons illegally. "How do you stop that?" he asked.
DeAngelis said he is concerned when he hears about school districts taking away funds from resources like counseling. "That's another piece of the puzzle," he said. "People that are seeing post on social media... are these red flags? So that's another piece of the puzzle."
But DeAngelis says he also fears that Americans have grown accustomed to seeing mass shootings in the news.
"One of the things that I worry about in our country right now is people seem to be desensitized," he said. "And that scares me."
He added: "We as a country cannot come together just accepting this as a way of life... we've got to figure out ways to stop it."