Columbine Survivor Calls on Mass Shootings to Be Politicized After Uvalde
One of the survivors of 1999's mass shooting at Columbine High School wrote an op-ed published on Wednesday. In it, he argued that in the wake of last week's school shooting in Uvalde, Texas, such events should be politicized.
Writing for NBC News, Craig Nason described how he "was forced to process the murder of my friends" while receiving the "unique attention" of the world. Nason was 17 years of age when the events occurred at his Colorado high school on April 20, 1999. During that massacre, two 12th-grade students murdered 12 students and one teacher before taking their own lives.
Authorities have named Salvador Ramos, 18, as the suspected gunman in May 24's mass shooting at Robb Elementary School in Uvalde, Texas. Ramos allegedly killed 21 people—including 19 children—with an assault rifle before he was killed by law enforcement.
Nason noted that public officials have since offered "thoughts and prayers," but he said more steps need to be taken.
"First, politicize it. Politicians love to tell us not to 'politicize these tragedies' following mass shootings. But that statement itself is a political demand—one that protects the status quo," Nason wrote.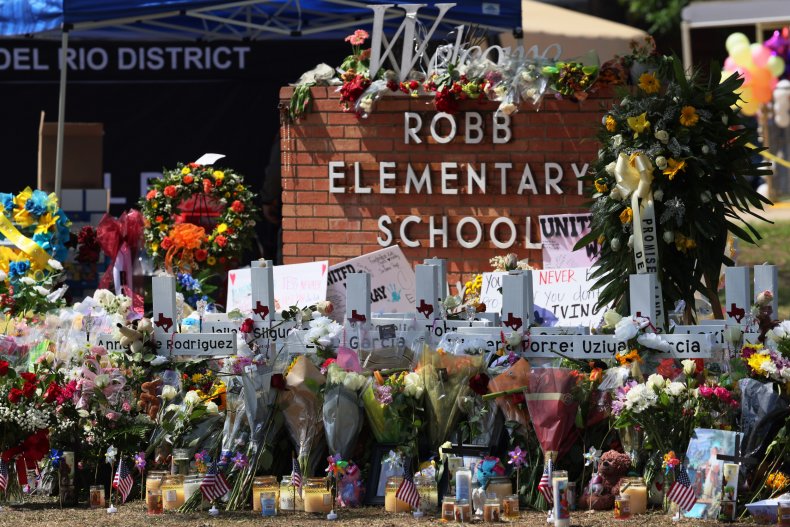 He added, "We should expect political solutions from our leaders immediately. We should demand that evidence-based policies are heard. We should march for our lives."
Nason continued by saying he felt that not getting political in regards to gun violence only perpetuates more such events.
"Ask a parent who lost a child to gun violence a simple question: Would you care if an earlier tragedy was politicized if it meant getting your son or daughter back? Of course not," he wrote, adding, "Grief doesn't have a political affiliation."
Nason stated he feels that policies need to change in order to address gun violence, as well as the culture that has led to many Americans owning firearms. His argument contrasts with the message put out by some Republican leaders, such as Texas Senator Ted Cruz, who has argued that mental health should be prioritized over more gun control measures.
Nason, who works with the Denver-based nonprofit organization Laboratory to Combat Human Trafficking, acknowledged that warning signs are often present in shooters before they act. He also wrote that issues such as white supremacy, misogyny and extremism contribute to gun violence.
Along with suggestions for helping prevent violence by volunteering at local violence prevention programs or getting involved with youth mentoring programs, he encouraged people to contact elected officials.
"Ask them what they're doing to prevent and end gun violence in your community. And demand answers," Nason wrote.
"This time can be different, but it takes the participation of us all," he wrote in conclusion. "Will we as a society be complicit? Or will we say, finally, enough death. The time for action is now."