The majority of college students support a long talked about a measure to replace Columbus Day with Indigenous Peoples' Day.
Celebrated annually on the second Monday in October, Columbus Day honors explorer Christopher Columbus' discovery of America. However, the federal holiday, which will take place on October 14 this year, drew criticism because of how settlers treated Native American people and that, despite receiving credit for the accomplishment, Columbus didn't discover America.
Some cities and states have opted to celebrate those who were here before Columbus instead, including South Dakota, Alaska, Minnesota and Vermont, through Indigenous People's Day. In April, New Mexico Governor Michelle Lujan Grisham signed legislation approving the swap, as well.
On Friday, College Pulse, a data and survey analytics company, polled college students about their feelings on the holiday and overall, they agreed it was time for a change.
Seventy-nine percent of the 1,500 students polled supported replacing Columbus Day with Indigenous Peoples' Day, including 34 percent who strongly supported the replacement. Only 21 percent opposed the change and 9 percent strongly opposed it.
While the majority of both men and women supported getting rid of Columbus Day, support fluctuated when broken down by political party. On average, 88 percent of students who identified as Democrats, supported or strongly supported the change, although strong Democrats were 22 percent more likely to strongly support it.
Among Republican students, support faltered. Only 22 percent of students who identified as Republicans agreed with swapping the holidays and only 16 percent of strong Republicans supported it.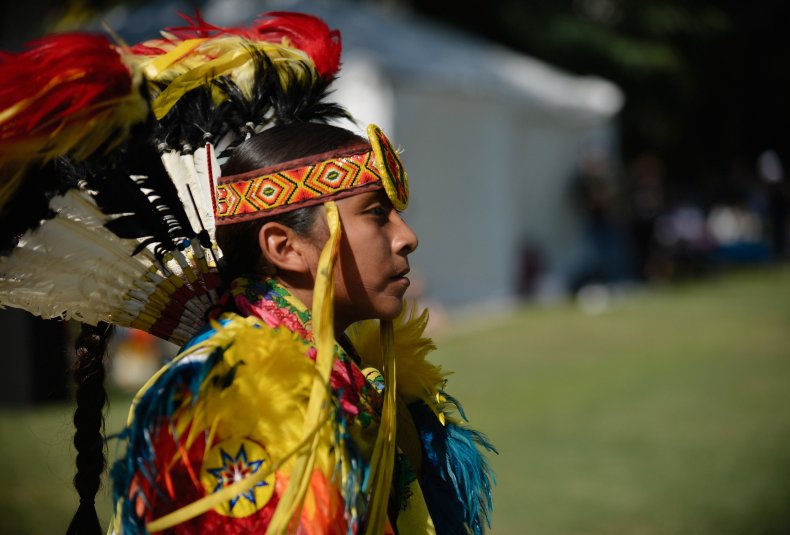 The first Columbus Day celebration took place in 1792, according to the Library of Congress, and commemorated the 300th anniversary of Columbus' landing. In 1892, then-President Benjamin Harrison issued a proclamation recommending people observe the 400th discovery of America, but Columbus Day didn't become a national holiday until 1934 when then-President Franklin D. Roosevelt was in office.
Originally, Columbus Day was celebrated each year on October 12, but in 1968 Congress passed the Uniform Monday Holiday Act, which moved certain holiday observances to Mondays. Columbus Day was included in the bill and, in 1971, the year the law took effect, celebrations moved to the second Monday of October, regardless of the date.
Navajo Nation President Jonathan Nez praised New Mexico for celebrating Indigenous Peoples' Day instead, posting on Facebook that the federal government decided to make Columbus Day a holiday without input from Native Americans. The holiday, Nez said, celebrates "colonialism, oppression, and injustice inflicted on Indigenous peoples."
Observing Indigenous Peoples' Day was a step toward "healing and growth," while giving citizens a chance to recognize Indigenous People's rich heritage.