Columbus to Pay $150K to Women Arrested at Nightclub Along With Stormy Daniels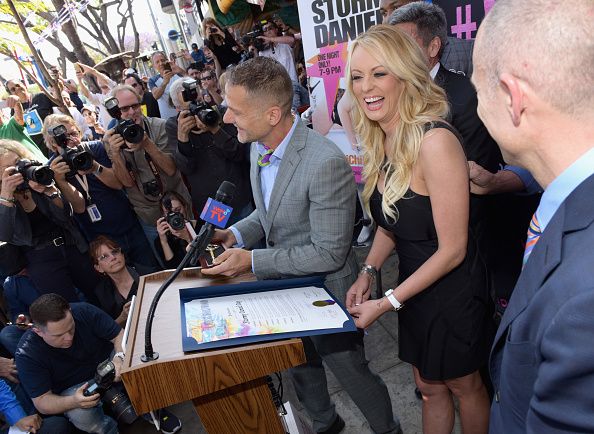 Two women thrown into jail and a political maelstrom after a prostitution and human trafficking bust settled with the city of Columbus, Ohio, for $150,000.
Miranda Panda and Brittany Walters were named alongside adult film actress Stephanie Clifford (better known as Stormy Daniels) for being arrested during a performance at Sirens Gentlemen's Club back in July 2018.
Panda's attorney, Edward Hastie, wasn't celebrating the legal détente.
"Miranda, she went to work one day, and she was arrested for not breaking the law," Hastie told Newsweek.
Panda was arrested for, among other things, being nude and touching someone. But Hastie said Panda, who served cocktails at the jiggle joint, was actually "wearing a dress."
"She was not dancer and not naked—it was all literally made up," said Hastie. "Our stance was she was arrested to somehow give credence to the arrest in connection with Steffanie Clifford, aka Stormy Daniels.
"And my clients were used to make it look like the officers weren't only arresting Daniels."
The women filed a lawsuit in federal court in October 2018 and named several Columbus Police Department vice unit officers for dragging their names through the proverbial mud alongside Daniels, who was booked for violating a state law prohibiting performers from having improper contact with patrons at a gentlemen's club.
Daniels followed suit, and on January 14 filed a $4 million civil lawsuit of her own.
In Panda and Walters's complaint, Columbus cops on July 11, 2018, cuffed them "without probable cause and initiated prosecution in order to further their civil conspiracy to retaliate against the political expression of Stephanie Clifford by concealing their retaliatory motive…and falsely insinuated to the media and the public that Ms. Panda and Ms. Walters had been engaged in prostitution, human trafficking, or vice-related violations."
In a statement, city attorney Zach Klein confirmed that resolving the matter made legal and fiscal sense.
"Based on the potential legal exposure to the city, including the risk of paying out attorneys' fees, we believe this settlement is in the best interest of the taxpayers of the city of Columbus," he said.
The six-figure amount will have to be voted on by city council on Monday, according to their agenda, which was "deemed to be acceptable" in exchange for the city's release from their unlawful arrest claims.
The lawsuit contended that the vice officers who arrested Panda and Walters "were strong Trump supporters," and buttressed the claim with revealing their Republican voting registrations and some social media screeds praising the 45th president.
On the "controversial" night of Daniels's performance, the complaint suggested, the vice officers "entered into a conspiracy to arrest Ms. Clifford at her performance in Columbus as an act of revenge for her statements made about President Trump."
And they apparently didn't stop there.
The document directly called out the officers' conduct of preemptively deciding to reel in other Sirens workers in a twisted effort to shield the department from accusations of having a vendetta by solely targeting Daniels.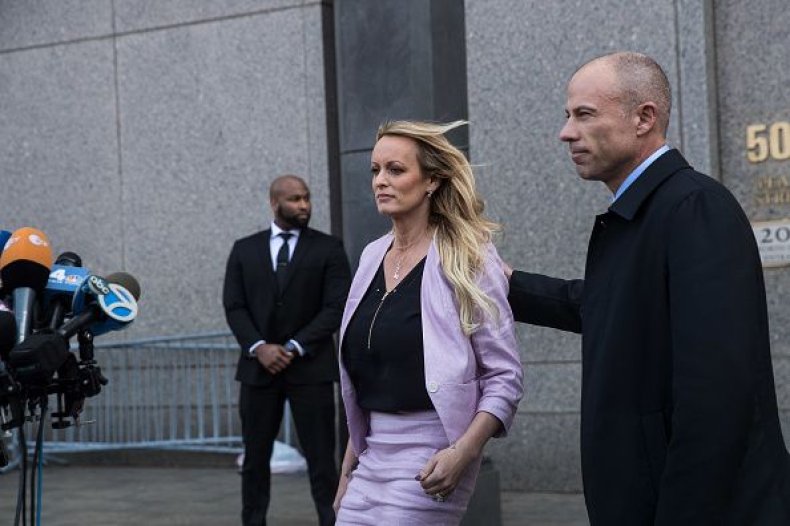 The complaint read: "Defendant Officers also determined in advance they would arrest at least two individuals working at Sirens on July 11 for a violation… as a cover for their arrest of Ms. Clifford… by arresting at least two other employees, they could deny that they arrested Ms. Clifford for political reasons."
The officers that night swilled drinks together in a booth and allegedly "commented on Ms. Panda's breasts, comparing the respective size between Ms. Panda's and one of the female officer's breasts," according to the document.
Panda, the papers say, was attired in a "large bra...Underwear, leggings and a high-waisted skirt."
The cops then took to cajoling Walters, who was wearing a bodysuit "akin to a women's bathing suit" that covered her body.
"You [Ms. Panda] have the tits, and she [Ms. Hall] has the ass," the officers allegedly joked and grabbed Hall's buttocks.
When Walters was dancing, the complaint suggested the officers adjourned to seats by the stage and "began waving money in Ms. Walters face and reaching out to intimate contact" with her.
Hastie is still bothered by the entire incident.
"I know my clients didn't break the law," he said, adding that there was no connection, until that night, to Daniels.
The settlement brings some closure.
"They're glad to put this behind them," he said.
But that doesn't mean they are free from the stain on their names.
"You can, for the rest of your life, look on the internet and type someone's name and find something like this…and all these nefarious things."