Christopher Columbus Statue Vandalized With Red, Blood-Like Paint and #SomethingsComing Warning in Central Park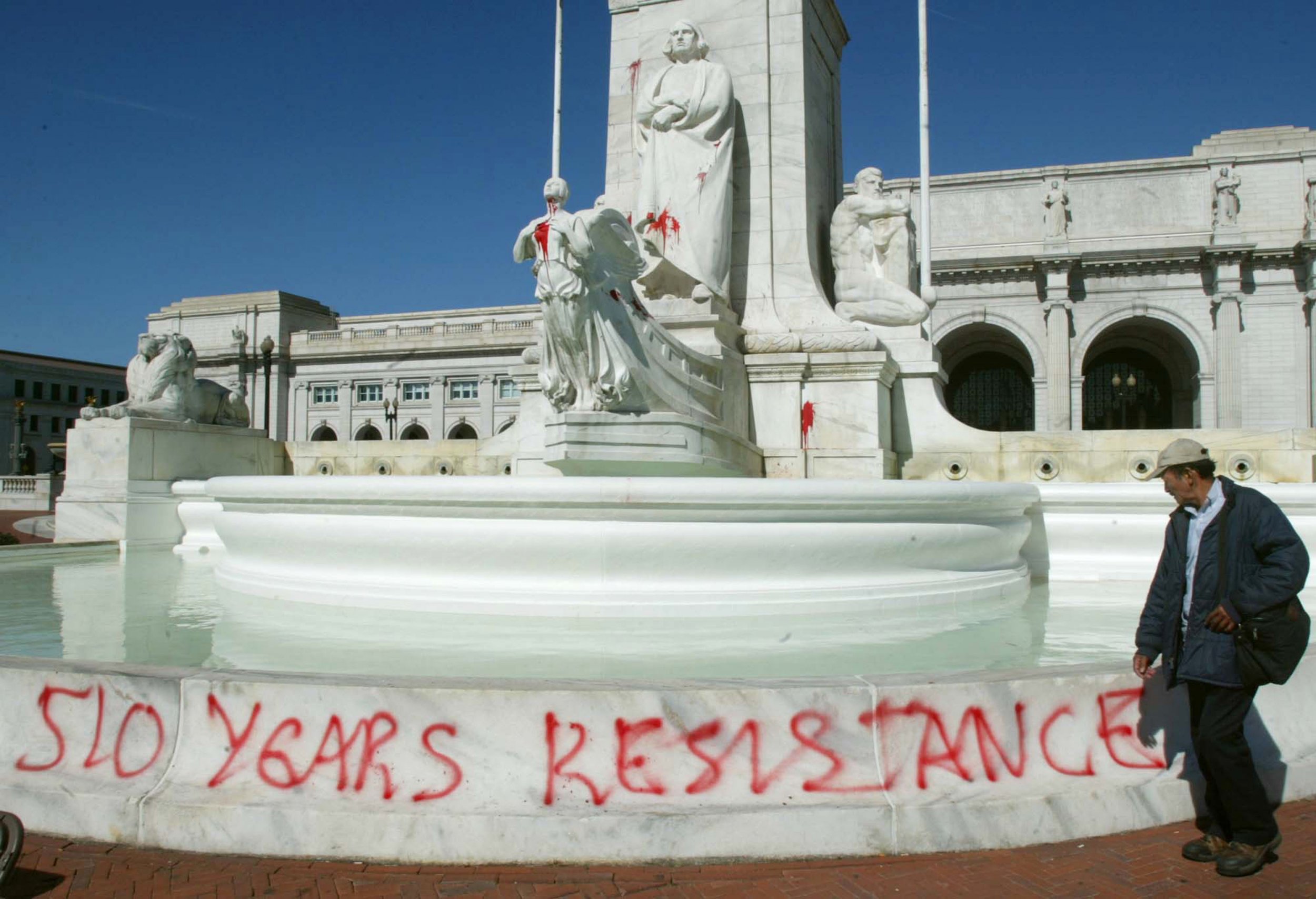 A 125-year-old statue of explorer Christopher Columbus in New York City's Central Park was defaced Tuesday as local politicians debate whether it should stay up.
A New York Police Department spokesman tells Newsweek the vandalism report came from an employee with the Central Park Conservancy, an organization that manages the park, at about 7 a.m. Eastern time. Someone covered the bronze Columbus's hands with red spray paint that looked like blood, writing in white on that statue's pedestal "Hate Will Not Be Tolerated." Underneath was graffiti reading, "#SOMETHINGSCOMING." WABC reported that a sign saying "Save Your Soul" was also found nearby.
The incident is now under investigation, and the New York Post reported workers were already trying to clean the statue. The conservancy and New York City's Department of Parks and Recreation referred Newsweek to the police for comment.
In recent years, public opinion has turned against Columbus, who introduced the Americas to Europe in the 15th century, amid allegations that he enslaved and killed natives. As a result, cities like Denver, Phoenix and Seattle have stopped their October Columbus Day celebrations and instead have begun to recognize Indigenous Peoples Day.
Also, monuments of historical figures, like the one of Columbus in Central Park, have become points of contention of late. After white supremacist Dylann Roof fatally shot nine black churchgoers in Charleston, South Carolina, in 2015, several cities took down Confederate flags and toppled statues of rebel generals. A white nationalist protest against the removal of one such statue in Charlottesville, Virginia, turned violent last month and reignited the discussion about public monuments to controversial figures.
In New York City, Mayor Bill de Blasio recently announced he was forming a panel to review all possible "symbols of hate on city property"—Columbus included. Italian American groups, many of which venerate the explorer, have demanded de Blasio take Columbus off the list. The mayor said people shouldn't "pre-judge" the commission; he later suggested some monuments could simply get explanatory plaques added to them, according to the New York Daily News.
One mayoral candidate, Republican Nicole Malliotakis, has come out in support of keeping the Columbus statue. On Twitter Tuesday morning, she wrote, "Sadly, I just learned Columbus statue in Central Park was spray painted overnight," adding that de Blasio and City Council Speaker Melissa Mark-Viverito were being "divisive" on the issue.