President Donald Trump and his Democratic rival Joe Biden faced off in a heated debate that frequently turned to random accusations and deep personal digs during their first presidential debate, live from Cleveland, Ohio, Tuesday night.
Biden called Trump a "clown," at one point, and Trump lobbed back to Biden, "There is nothing smart about you."
They both came to the stage ready to make the fight personal, avoiding deep dives into the biggest policy debates of the race—coronavirus, health care and the economy.
They often yelled over each other with host, Fox News' Chris Wallace, particularly chastising Trump for his frequent interruptions.
"It's been an interesting hour and a half," Wallace said, chuckling at the conclusion.
Biden called Trump a "racist"—a harsh accusation the president didn't directly acknowledge or refute.
Trump brought up Biden's son, Hunter, as Biden told the emotional story of his other son, Beau, succumbing to brain cancer.
The debate was the first time the candidates have faced off directly in the campaign. Ahead of the debate, the atmosphere in Cleveland, a city just 60 miles from the state line of crucial swing states Ohio and Pennsylvania, Trump and Biden supporters rallied around the heavily-secured campus of the Health Education Campus of Case Western Reserve University and the Cleveland Clinic.
It was a surreal scene with few people allowed in the venue and most wearing masks, including Trump's wife and children—except minor son, Barron.
Trump repeatedly hammered on Biden, trying to tie him to the far left of the Democratic Party, while Biden frequently was left with little to say as Trump repeatedly interrupted him.
"In 47 months, I've done more than you've done in 47 years, Joe," Trump said sarcastically at one point.
Biden at one point told Trump to "shut up, man."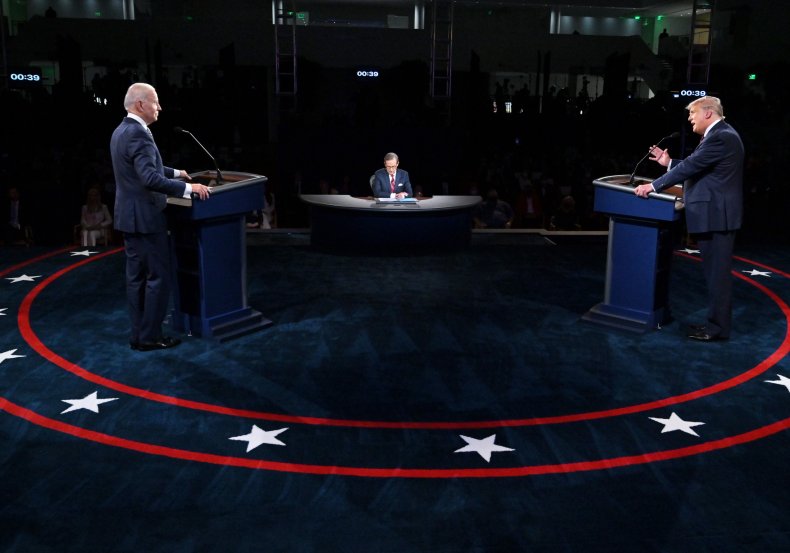 Ohio is seen as one of the crucial battleground states with fewer than 40 days until the election. The latest Real Clear Politics aggregated analysis shows Biden up about 3.3 points, with no candidate above 50 percent. The RCP average has Biden at 49 percent to Trump's 45.7 percent.
But on the ground, the scene was lively, despite strict social distancing rules for the coronavirus.
While the campus was mostly barricaded with warnings that violators would be prosecuted, Trump supporters circulated the perimeter carrying signs and urging people to honk in support.
Biden's supporters rallied with a drive-through parade and flew flags in support of the Democratic ticket while honking.
The limited-capacity site, which included on-site COVID-19 testing for attendees and media covering the debate, was an alternate selected after the University of Notre Dame cited coronavirus concerns for backing out in late July.
Before the debate even began, the day focused on multiple accusations lobbed by the campaigns over potential questionable advantages. Trump repeatedly called for both candidates to be drug tested for any possible performance enhancers and the president's campaign spread claims that Biden had sought to use a listening device in his ear, sought regular breaks in the 90-minute debate or had questions leaded to him in advance. Biden's campaign denied all of the claims.
But the day's onslaught set the tone for a particularly contentious spectacle.
Biden and his running mate U.S. Sen. Kamala Harris of California released their tax returns, following a bombshell New York Times report of leaked financial documents for Trump.
The next debate for each campaign will be between Harris and Vice President Mike Pence in Salt Lake City, Utah on October 7.
Trump and Biden are scheduled to face each other again in Miami on October 15 and then in Nashville on October 22.