Comcast Price Hike? Xfinity Sued for Alleged 700 Percent Fee Increase, Hidden Charges, by Minnesota AG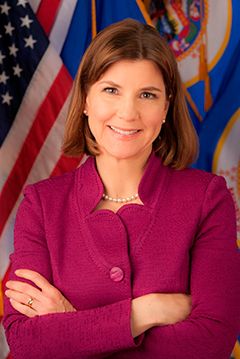 Minnesota becomes the third state to sue Comcast, now known as Xfinity, for allegedly violating consumer protection laws, including charging huge broadcast fees that could raise a bill by 30 percent or more.
Attorney General Lori Swanson, wrapping up her final days in office, sued the cable TV giant after a two-year investigation.
"It's hard to shop around for cable services if the company is playing hide-the-ball on fees," Swanson told reporters in an announcement Friday, according to CBS Minnesota. Joining her were 15 outraged Comcast customers.
Swanson alleged the company overcharged thousands of customers for cable TV packages, added undisclosed fees, charged them for equipment and services they did not order and did not deliver promised Visa gift cards, reported The Associated Press.
Specifically, Swanson said Comcast often told customers prices were fixed for one or two years, then added "an array of undisclosed fees" that potentially raised a bill by 30 percent or more.
One fee charged to customers for regional sports access had increased 700 percent since 2015, from $1 a month to $8 in 2018, resulting in $84 more a year.
Comcast said it denied the allegations, saying Swanson had ignored its communications on the matter.
"We fully disclose all charges, fees and promotional requirements," Comcast/Xfinity spokeswoman Jill Hornbacher said in a statement.
"The facts do not support the Minnesota Attorney General's allegations, and we'd like nothing more than to work collaboratively with the Minnesota Attorney General's Office; however, they've raised complaints about matters that date back several years and have largely ignored our efforts to work together to address them."
Swanson alleged that Comcast failed to cooperate for two years in her office's investigation. She accused the company of changing its name to Xfinity several years ago to distance itself from low national customer approval ratings for Comcast.
Customers were charged for equipment and services they did not order or declined, said Swanson. Others said the company did not provide promised promotional Visa gift cards worth up to $300 in exchange for signing up for service.
Comcast recently consented to settle a similar lawsuit in Massachusetts. The company agreed in November to provide $950,000 in refunds or debt cancellations for more than 20,000 subscribers—and also promised to disclose hidden fees, the AP reported.
A similar trial is ongoing in Washington state.
Among the upset customers appearing with Swanson was Jane Kennedy, who said she would not back down after the company failed to send her a promised gift card.
"I'm just saying that something's promised to me and I don't get it, I'm going to fight for it," said Kennedy, as CBS Minnesota reported.
Customer Jim Federline, said he was charged for equipment he didn't order.
"I knew what they were doing was wrong, and many people do when they see that and they feel powerless," he said.