Come Along, or Go Alone: Jerry Garcia's Collaborations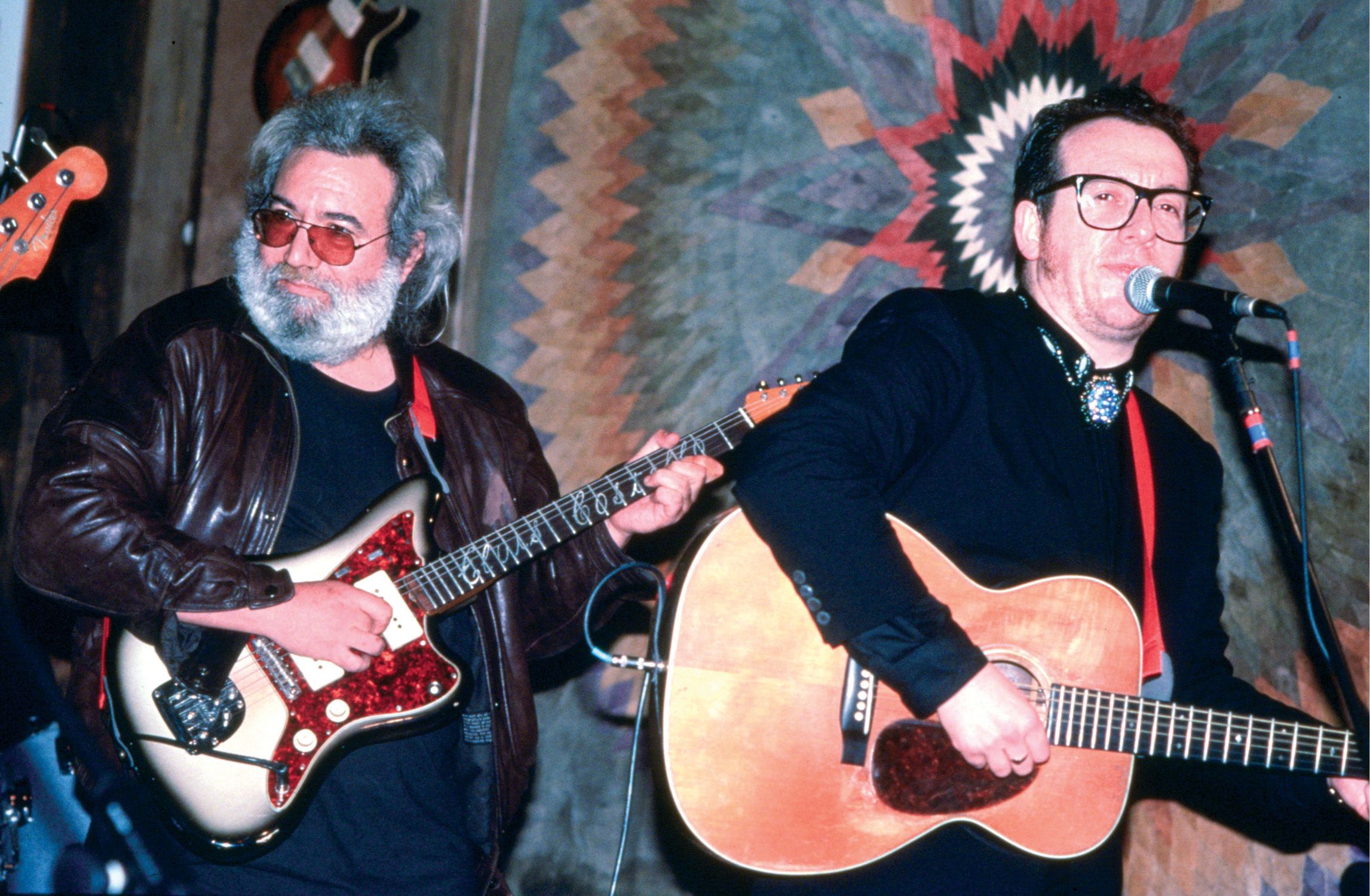 The Grateful Dead's Jerry Garcia (August 1, 1942 - August 9, 1995) was one of the most talented guitarists of the 20th century. But he was also one of its most prolific collaborators. Ahead of the Grateful Dead's 'Fare Thee Well' 50th anniversary concert this Fourth of July weekend, Newsweek's Special Editions took a look at some of Garcia's finest artistic pairings.
BOB DYLAN
"He really had no equal," wrote Bob Dylan of his collaborator, mentor and friend, Jerry Garcia. "I don't think eulogizing will do him justice." Jerry relished covering Dylan, and his many forays into the Dylan universe were compiled by Rhino into Ladder to the Stars: Garcia Plays Dylan.
CARLOS SANTANA
"Jerry was the sun of the Grateful Dead—the music they played was like planets orbiting around him. He wasn't a superficial guy at all," Santana said about his frequent on-stage collaborator. The two were guitar gods whose paths often crossed in fits of respect and mutual love of experimentation. At Woodstock, the pair shared space backstage before Santana's set, and Santana was often invited onstage with the Grateful Dead. "He was very accommodating. He'd go up and down; I'd go left and right. And I could tell he enjoyed it because the Dead always invited me back," Santana told Rolling Stone.
DAVID GRISMAN
The legendary bluegrass musician is a veteran of approximately 40 sessions with Jerry between 1990 and 1994, when they recorded as Garcia & Grisman. But the pair met in 1964 and were constantly working with and around each other. Their sessions produced classic material like The Pizza Tapes, in which Jerry goes back to his roots, plucking the banjo with aplomb. With his Acoustic Disc record label, Grisman continues to promote the music he and Jerry loved.
ELVIS COSTELLO
After a solo set at Sweetwater in Mill Valley, California, on April 24, 1989, Elvis Costello brought out some friends for a second set. Chief among these guests were Jerry Garcia and Bob Weir, but there were also Nick Lowe, Charles Brown, Kim Wilson, Mitch Woods, Jeff Burton (James's son), Annie Sampson, Sammy Hagar and Pete Sears. The jam session will go down in history for its depth of talent, but it was also the beginning of a beautiful friendship.
CSNY
During the late '60s, when Jerry became fascinated with—and mastered—the pedal steel guitar, he performed one of his most famous guest spots ever: "Teach Your Children" from the brilliant Crosby, Stills, Nash & Young album Déjà Vu. The members of CSNY were frequently found onstage with Jerry Garcia, who was able to transcend the band's famous discord. Famously, Neil Young put on an incredible show at San Francisco's Matrix in December 1970 with Jerry Garcia and Friends.
This article appears in Newsweek's Special Edition Jerry Garcia by Issue Editor Tim Baker.