Comedian Aboard Coronavirus Cruise Ship Fired After Ditching Quarantine And Returning to US
Frank King, a comedian who was working aboard the Holland America cruise ship that was quarantined after a former passenger tested positive for the COVID-19 coronavirus, says that he was fired by the cruise line after sneaking out of quarantine and returning home to Oregon.
KOMO News reported that King was contracted to perform on the M/S Westerdam for a two-week cruise around Asia. The vessel left port in Hong Kong on February 1 with Shanghai as its next destination, but it was not allowed to dock due to concerns over the coronavirus, officially known as COVID-19.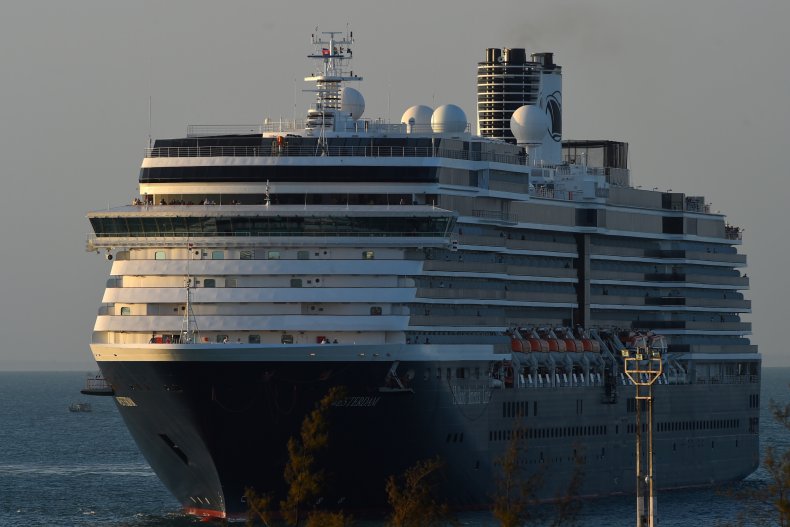 The ship was refused entry in five other countries before being allowed to dock in Cambodia. Once docked, the cruise line began returning passengers and crew to their home countries. One passenger, an 83-year-old woman, tested positive for the virus in Malaysia, which caused Holland America to stop the process until everybody from the voyage remaining in Cambodia was tested.
King said he was tested on Sunday, February 16, but had a speaking engagement in the United States on February 20 and did not want to wait for his results, especially since he had displayed no symptoms of the virus.
"There was no official 'you can't leave' (at the hotel) but if you tried to go out the front door with your luggage, security would stop you. But if you went out with your backpack and you were sightseeing, not a problem," King told KOMO.
After sneaking out of the hotel's back gate, he "self-deported" from quarantine and flew from Phnom Penh to Sea-Tac Airport in Washington. He returned home to Eugene, Oregon on Feb. 17.
King posted a video on his YouTube channel from inside a tuk-tuk on his way to the Phnom Penh airport.
After returning home, Holland America informed King he would not be asked back to perform on their ships as a result of his decision to break quarantine.
"You know it's not my fault, I was cleared by the CDC twice, it's not like I committed some horrible turpitude, I just dodged a bullet," King told the television station.
A Holland America spokesperson told Newsweek 'Frank King was a contracted entertainer for this cruise, he is not a full-time employee or crewmember. He left Phnom Penh, Cambodia against the procedures the rest of our guests are following which are advised by the Cambodian Ministry of Health. Once test results are returned and confirmed as negative (meaning free of COVID-19) guests would be able to proceed with onward flight arrangements. While we understand and empathize that Mr. King was anxious to get home and know what his flight arrangements would be, the process is being driven by local officials and beyond our control. We are very disappointed that Mr. King chose to leave and disregard this process."
On Wednesday, Holland American announced that all passengers and crew still in Cambodia had tested negative for the coronavirus. All passengers on the cruise have been offered a refund, the cruise line said.
Approximately 275 individuals who were on the cruise are still waiting to return home. According to USA Today, those individuals are being provided with a $50 per person, per day stipend for expenses such as food and being housed at a hotel in Phnom Penh.
The latest updates from the World Health Organization indicate that over 75,000 people have been infected from the virus worldwide. Over 1800 people have died from the virus, only three of those deaths have been located outside China.