Comedian Pranks Marjorie Taylor Greene in Viral Video: 'Don't Think You're Crazy'
A viral video shows Rep. Marjorie Taylor Greene grinning her way through an awkward encounter with a comedian who insists that, unlike "everyone," he does not believe that she is "crazy."
Comedian Walter Masterson trolled Greene and Florida congressman Matt Gaetz during a photo opportunity at Huntington Beach in Southern California. A video of the encounter was posted online on Sunday and had been viewed at least 2.8 million times by Monday.
"Oh my god, I'm so excited! I'm so excited!" Masterson, wearing an American flag-themed outfit, tells the Georgia Republican in the video as she and Gaetz both smile and while holding their thumbs up. "I mean, it's...everyone thinks you're crazy! I don't think you're crazy!"
Masterson then proceeds to troll Gaetz before being led from the area by security personnel. While Gaetz's expression and disposition noticeably changed by the end of their encounter, Greene continued to smile and hold her thumbs up throughout.
The video was one of many pranks Masterson has posted to social media. Other recent videos feature Masterson trolling at an anti-vaccine rally and a school board meeting on critical race theory. An uncomfortable interview with Andrew Giuliani, son of Rudy Giuliani, is also a recent addition.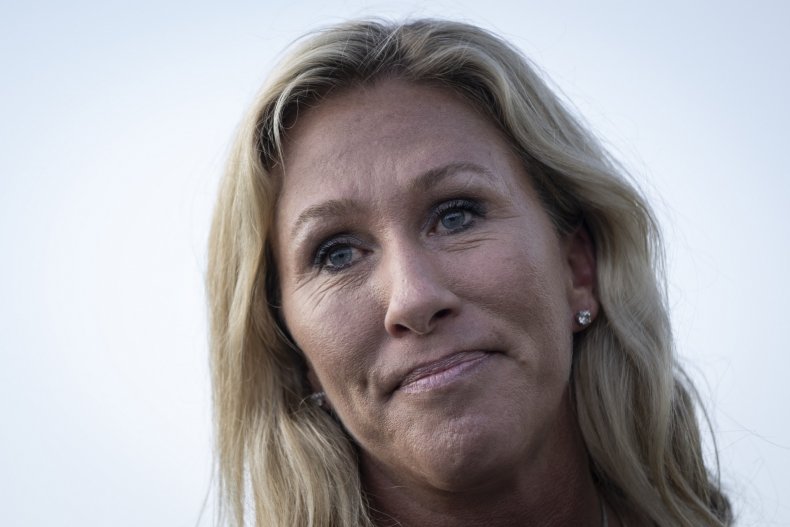 Masterson's video with Greene and Gaetz was recorded on Saturday as the lawmakers held a meet and greet on the beach during their recent "America First" tour. Greene also shared a short video of the event on Twitter, showing a modest crowd lined up and holding American flags while some shouted "freedom."
On the same day, the Republican lawmakers held a short protest outside of Riverside City Hall. A short time earlier, the venue announced that it would no longer be hosting a planned rally by Greene and Gaetz, becoming the third location in Southern California to cancel the event.
"Dems want to make the entire country like Communist California," Greene complained in a tweet on Monday. "2 city governments in CA violated our (@mattgaetz & myself) 1st amendment rights & declared America First the type of speech that does 'not represent' their American cities. We won't allow the US to be like CA!"
The Republican congresswoman's disposition during her encounter with Masterson was in line with comments she made last week during an appearance on former Trump adviser Steve Bannon's War Room: Pandemic podcast. The congresswoman told Bannon that she did not "care" that she is frequently mocked for falsely claiming that Trump won Georgia's 2020 presidential election.
"I have stood up for the truth that I know to be true, and that's President Trump won our state," Green said. "And I'm so proud to say it, I'll say it over and over again. They laugh at me, they scoff at me, they constantly make fun of me on every single level, and I just don't care."
Newsweek reached out to Greene's office for comment but did not hear back in time for publication.