Did James Comey Break Rules by Drafting Hillary Clinton Statement? FBI Experts Are Divided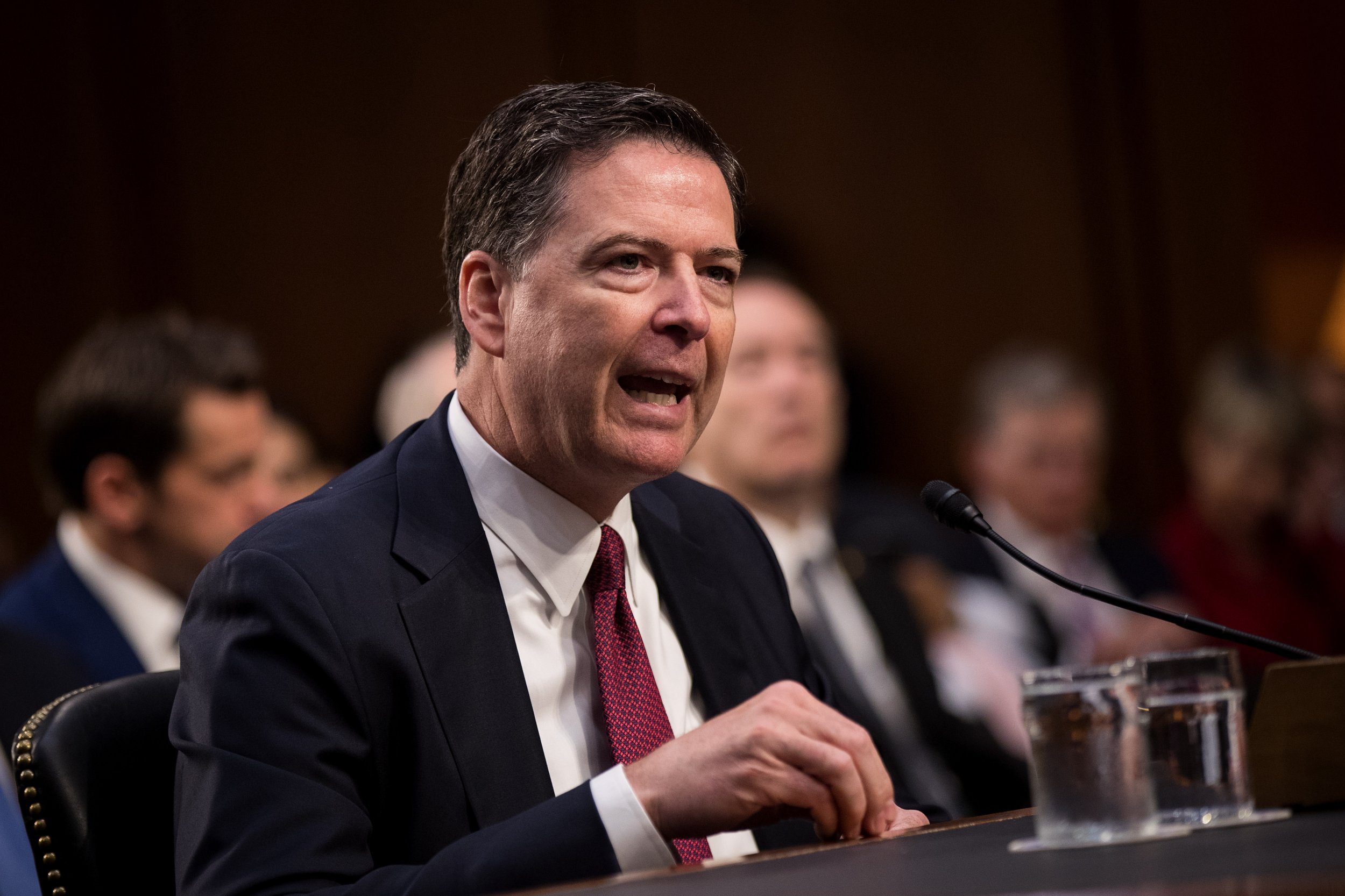 For people on the political right, the disclosure by members of the Senate Judiciary Committee that former FBI Director James Comey began drafting a statement about the outcome of the Hillary Clinton emails investigation months before he announced the probe was complete seemed to provide proof of a scheme to protect Clinton.
President Donald Trump, who fired Comey in May, said as much on Friday, tweeting, "Wow, looks like James Comey exonerated Hillary Clinton long before the investigation was over...and so much more. A rigged system!"
Comey received widespread disapproval for holding a July 2016 press conference to announce that the FBI had completed its investigation into Clinton's use of a personal email server while secretary of state and that he would not be recommending that the Department of Justice pursue charges. People voiced concerns again last October, after Comey wrote to Congress, days before the presidential election, to say his agents had found new evidence in the completed Clinton case.
Justice Department veterans from both Democratic and Republican administrations said Comey's actions strayed from agency rules and norms. The Justice Department's Office of the Inspector General launched a review of his conduct, and Deputy Attorney General Rod Rosenstein wrote in a memo to Trump before Comey's firing, "Almost everyone agrees that the director made serious mistakes; it is one of the few issues that unites people of different perspectives."
But FBI and Justice Department insiders and analysts are divided about whether Comey's decision to draft his Clinton statement in advance departed from agency norms.
Related: Comey planned statement 'exonerating' Clinton before probe ended
"To me, this is so far out of bounds it's not even in the stadium," says Chris Swecker, who retired from the FBI in 2006 as assistant director for the criminal investigative division and acting executive assistant director for law enforcement services. "If he had personally drafted it, put it in the corner of his desk and just looked at it himself from time to time," that would be one thing, he says, but circulating the draft among executive staff seems to be "clearly communicating to them where the investigation was going to go."
Swecker, who had dealings with Comey and points out that he respects the former director, says he finds it odd that Comey drafted the statement before the June 2016 tarmac meeting between Loretta Lynch, who was then attorney general, and Bill Clinton, since Comey has said he decided to issue his July 2016 statement because of that meeting.
"That is just not how things operate," Swecker says. "It's built in our DNA not to prejudge investigations, particularly from the top.... It's highly unusual."
Ron Hosko, who was an assistant FBI director under Comey until he retired in 2014, says drafting statements is common practice, as long as the drafts stay internal and avoid drawing conclusions. "When you have a significant case that is in the public domain and certainly in the public's interest, in the public's eye, I think that it could be expected that both the FBI, and the prosecutors that they're working with, are beginning to draft a statement of facts that could be used later, as the case is developing," he says. "I think the content of the statement is going to be important. Did it purport to essentially acquit her actions way prematurely, or was it simply a running statement of what they knew?"
Others believe Comey did nothing wrong in drafting the statement, regardless of additional factors. Benjamin Wittes, editor in chief of the national security blog Lawfare, tweeted that he does not find it surprising that Comey started writing the statement in advance. "By May, after nine months of investigation, unless HRC [Hillary Rodham Clinton] lied to the FBI or it found something new, this was headed for a declination," he wrote. "This may come as a shock to [Senator Chuck] Grassley and [Senator Lindsey] Graham and Trump, but judges sometimes do a memo/draft about an opinion before oral argument." Wittes has described Comey as "a personal friend."
Matthew Miller, a former Justice Department spokesman who worked during the Barack Obama administration, tweeted about the claim that Comey made up his mind too early about Clinton. "The decision is never 'made' until the end," said Miller, "even when there's a 99 percent chance it is only going to go one way." Last October, Miller said Comey's actions were in "violation of long-standing Justice Department rules or precedent."
Drafting the Clinton statement would not be unusual for Comey, given his past actions and according to those who know him. "When it comes to decision-making, he's very methodical," says Robert Anderson, who served as an executive assistant director at the FBI under Comey until December 2015. "He's a very thoughtful leader who thought a lot and then made a decision." The former director was known for writing emails to his workforce explaining why he took certain actions. He kept detailed memos about his conversations with Trump, and as Newsweek previously reported, Comey once proposed writing an op-ed to inform the public about Russia's meddling in the 2016 presidential election.
People in Trump's camp may be hoping the Senate Judiciary Committee disclosure will go further. On Thursday, separate from the disclosure about the Clinton draft, The Wall Street Journal reported that lawyers for Trump have submitted memos to Special Counsel Robert Mueller and met with him to portray Comey as an unreliable witness in order to defend Trump from claims that the president obstructed justice by firing Comey. Mueller is overseeing the FBI investigation into Russia's election meddling and possible coordination with the Trump campaign.