Former FBI Director James Comey "Violated Department and FBI Policies," Justice Department Watchdog Says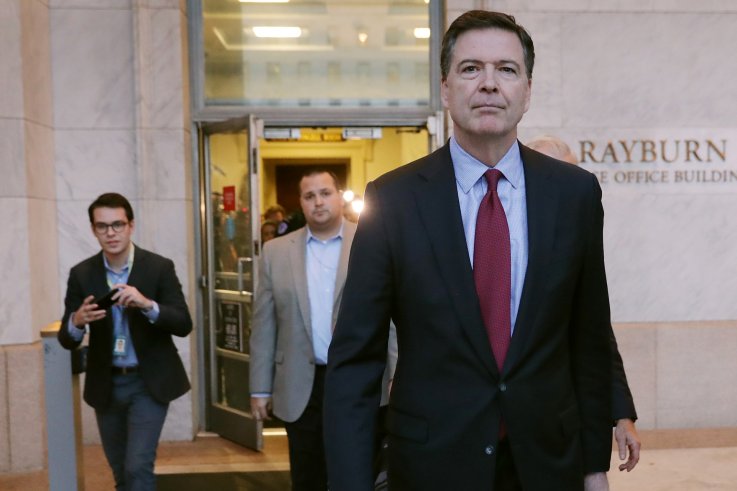 The Justice Department's internal watchdog concluded in a 79-page report on Thursday that former FBI Director James Comey violated policies within the department and FBI with his handling of a series of memos he prepared documenting his interactions with President Donald Trump.
During the first three-and-a-half months of 2017, when Comey was the FBI's director, he memorialized seven different interactions with Trump, both as president and president-elect. The memos documented behavior or requests that Comey found to be worrisome, and some of the material included in these memos contained classified information.
[Read the full inspector general's report below.]
In a personal safe in his home, Comey stored signed original copies of several memos. A couple of these documents contained classified information. He also provided his lawyers with copies of the memos he retained at his residence and in doing so transmitted some classified material. Comey redacted other classified information before sending the documents to his legal team.
"Comey was not authorized to provide these Memos to his attorneys without prior approval from or coordination with the FBI," the report found.
Comey was fired by Trump in May 2017 ostensibly for his handling of the Clinton e-mail investigation, though the president said in an interview with NBC News that the Russia investigation was top of mind when the decision was made.
After his dismissal, Comey also leaked one of the unclassified memos he "had kept without authorization" to a Columbia University professor with the expectation that it would be delivered to a reporter from The New York Times.
FBI policy requires personnel to obtain permission from the agency before disclosing information acquired in the course of conducting "official FBI duties." The department also has strict guidelines about how such information can be stored and transmitted.
"Department policy states that employees may not, without agency permission, remove records from the Department — either during or after employment," the inspector general's report notes.
The report found that Comey considered the memos he generated "to be his personal documents," having created some of them on his personal laptop computer.
Despite this inclination, the inspector general assailed Comey for his handling of apparently official material.
"Comey's actions with respect to the Memos violated Department and FBI policies concerning the retention, handling, and dissemination of FBI records and information, and violated the requirements of Comey's FBI Employment Agreement," the report assessed.
Moreover, Comey's decision to leak an unclassified memo to a reporter through his "friend" at Columbia University "violated FBI policy."
"Comey placed in the public domain evidence relevant to the investigation of [Michael] Flynn, and what he clearly viewed as evidence of an attempt to obstruct justice by President Trump," the inspector general wrote. "Rather than continuing to safeguard such evidence, Comey unilaterally and without authorization disclosed it to all."
Top FBI officials used the words "surprised," "stunned," "shocked" and "disappointment" to describe Comey's external release of the unclassified memo.
"The responsibility to protect sensitive law enforcement information falls in large part to the employees of the FBI who have access to it through their daily duties. Former Director Comey failed to live up to this responsibility," the inspector general concluded. "By not safeguarding sensitive information obtained during the course of his FBI employment, and by using it to create public pressure for official action, Comey set a dangerous example for the over 35,000 current FBI employees — and the many thousands more former FBI employees — who similarly have access to or knowledge of non-public information."
The report said that if other FBI agents followed Comey's example in disclosing sensitive information based on personal convictions, "the FBI would be unable to dispatch its law enforcement duties properly."
A copy of the report was delivered to the FBI and the Department of Justice "for action they deem appropriate."
For his part, Comey claimed some measure of vindication after the release of the inspector general's report, noting that he was cleared of the charge of leaking classified information to the media.
"I don't need a public apology from those who defamed me, but a quick message with a 'sorry we lied about you' would be nice," he wrote on Twitter.
Former FBI Director James Comey "Violated Department and FBI Policies," Justice Department Watchdog Says | Politics