The Trump Tapes: What We Know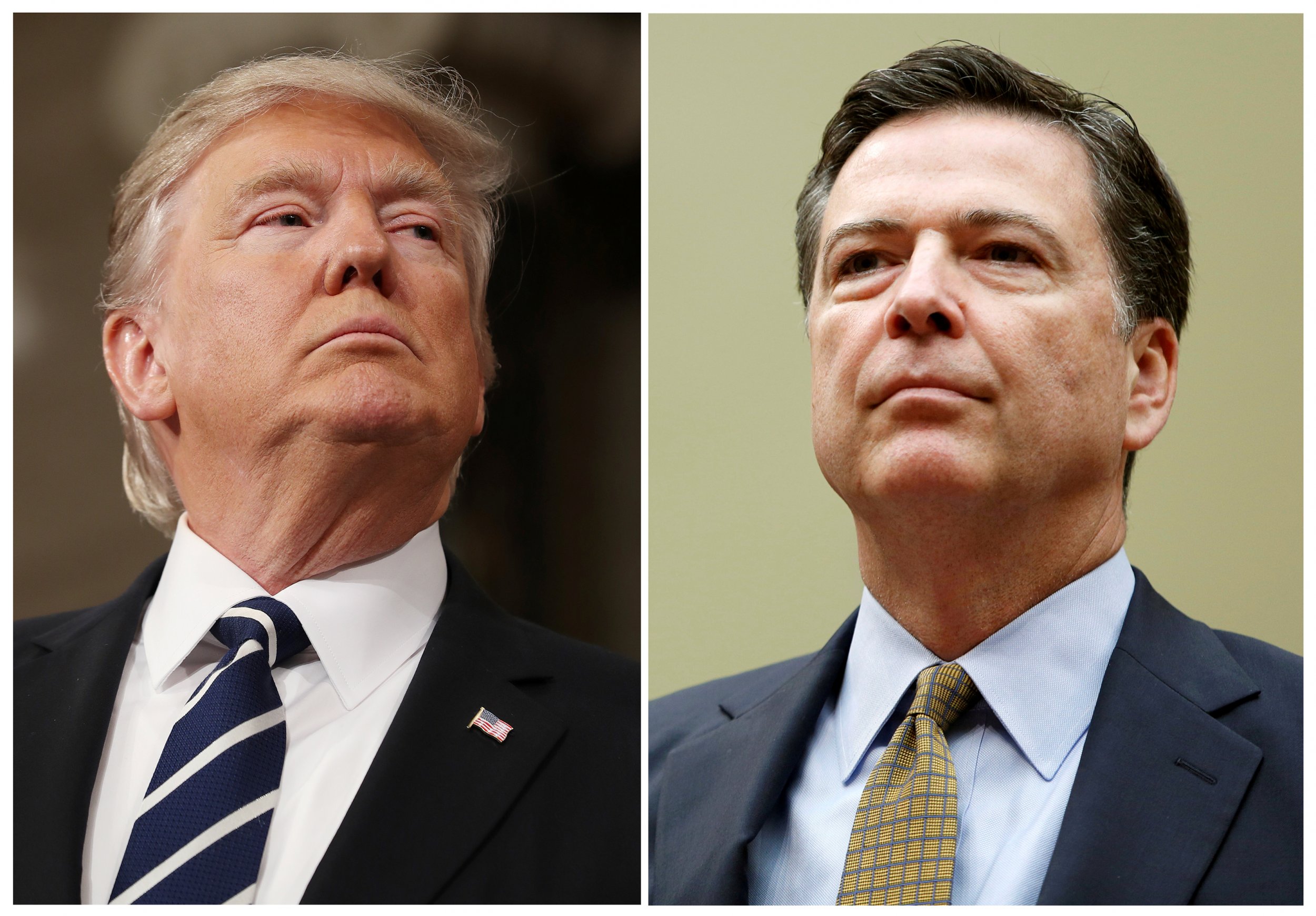 It's always pretty easy to tell which night terrors have been keeping our president from getting his beauty sleep: Just read his tweets. Lately, there's apparently been a recurring nightmare, evidence of which surfaced again Friday morning: the obsession with surveillance, and of being caught saying something regrettable on tape.
President Donald Trump's tweet at around 9 a.m. ET read: "James Comey just better hope that there are no 'tapes' of our conversations before he starts leaking to the press!"
The jury's still out on that implied threat, which seemed to suggest that Trump secretly taped the FBI director. White House spokesman Sean Spicer denied that at the daily press briefing (which Trump, in a subsequent tweet, threatened to eliminate).
But for a man who has made a fortune and built an entire brand in part by videotaping and audiotaping himself, and who reportedly watches himself on television with the sound turned down in order to fine-tune the angle of his jutting chin in future appearances, there must be no greater horror than morphing into the Gene Hackman character in The Conversation, someone who is brought to the verge of a nervous breakdown by the very technology that has enabled him.
But are there really "Trump Tapes?" Let's dispense with the Richard Nixon and Watergate comparisons spewing out of the punditry since the Tuesday night massacre.
This Tale of the Tapes is sui generis.
Here's what we know right now about Trump Tapes.
Known and Available Tapes:
Trump was nearly brought low by what are now known as the Billy Bush tapes, recordings caught on a hot mic during which he revealed himself to be, apparently, a serial sexual assaulter.
In the same genre as those gross and embarrassing recorded moments, there are the Howard Stern tapes. More than two dozen times in the 1990s and 2000s, Trump appeared on the notoriously misogynistic New York-based shock jock's show and rated women, talked about boob jobs, trashed actresses and other prominent females and discussed now-wife Melania's body and toilet habits.
Known but Currently Unavailable Tapes:
Law enforcement and intelligence agencies are known to have intercepted calls and phone records showing Trump presidential campaign aides, as well as other associates, had repeated contact with senior Russian intelligence officials in the year before the election. Two of his associates are known to have been recorded talking to Russians, including his former national security adviser, Michael Flynn, and former campaign chairman, Paul Manafort. Other advisers, including Roger Stone and Carter Page, have also been reported as being targets of investigation.
Federal officials have transcripts of wiretapped calls between Flynn and Russian Ambassador Sergey I. Kislyak (who has been described as a "spymaster") after the election, during which Flynn discussed U.S. sanctions on Russia and conveyed the general message that relations would improve under Trump. That conversation may have violated a federal law that bars citizens from negotiating with foreign governments.
Rumors of Tapes:
In the early-morning hours of March 4, Trump tweeted an incendiary accusation: "Terrible! Just found out that Obama had my 'wirestapped' in Trump Tower just before the victory. Nothing found. This is McCarthyism!" He then tapped out a series of tweets referring, of course, to Nixon, and calling Obama "a bad (or sick) guy."
Obama, the FBI and the NSA all denied the accusation. The White House later modified Trump's accusation to say that Trump was not "literally" accusing Obama. Still later, the White House accused British intelligence of doing the taping. That also was denied. But the intelligence agencies were monitoring Trump aide conversations with foreign nationals and Obama's national security adviser, Susan Rice, did participate in "unmasking" the American participants in those conversations, making Trump's claim partially true.
Wild Rumors of Tapes:
The wildest tape rumor is one that is being passed around the internet by followers of former British MP Louise Mensch, whose dogged pursuit of the Trump-Russia connections has led her followers down some freaky rabbit holes. Mensch cites "sources with links to the intelligence community" who claim former Trump aide Carter Page hand-delivered to Moscow an audiotape made by Trump in which he promises to change American policy toward Russia if elected.
The Even Wilder Wildest Tape Rumor of All, of course, is the president's own bizarre accusation, leveled Friday, that he might have taped Comey. Or some read it that Comey might have taped him, though the idea that the FBI director had grown bored enough with his desk job to implement some tried-and-true G-man tricks during a White House dinner with the president sounds preposterous. "I'd find it hard to believe. Normally, such meetings are confidential in order to promote candid and honest conversations with the president," said Andrew P. Bakaj, managing attorney of Compass Rose Legal Group, and former national security official who is a national security law expert. "That's why you often hear executive branch officials decline to discuss personal conversations with the president."
If Trump did secretly tape Comey, he wasn't breaking the law, since the District of Columbia is a "one party consent state," meaning only one party—presumably the one with the recording device—needs to consent to it. Furthermore, Trump would be joining august company: JFK and Nixon were both known to record their guests. But as of now, Trump is presumably the only one who knows whether he secretly pressed a record button on the nation's top law enforcement official.
No taxonomy of Trump tapes would be complete without the Wildest, Wildest Tape Rumor of All: the "golden showers" tape supposedly recorded by the Russians, as was cited in the private intelligence dossier compiled by former British spy Christopher Steele last year.
Related: Sean Spicer Refuses to Answer Questions About Trump Tapes of Comey
Sleepless nights at the White House are long, and getting longer for a man whose career and reputation have both soared and been sullied by open mics and cameras, and who has arrived at a position at which all the walls are listening. He probably wouldn't disagree with this observation from the late, great Hunter S. Thompson: "There is no such thing as paranoia. Your worst fears can come true at any moment."