James Comey Quotes George Washington in Swipe at Trump: 'Foreign Influence Is One of the Most Baneful Foes of Republican Government'
Former FBI director James Comey has tweeted a paragraph from the farewell address by George Washington in which the first president warned that foreign interference could disrupt the union.
In an apparent dig at the impeachment process underway against President Donald Trump, Comey tweeted the message from the address by the founding father, which he gave when he announced his retirement in 1796.
The themes of Washington's address included a warning to be wary of political demagogues and the importance of not letting foreign actors damage the union.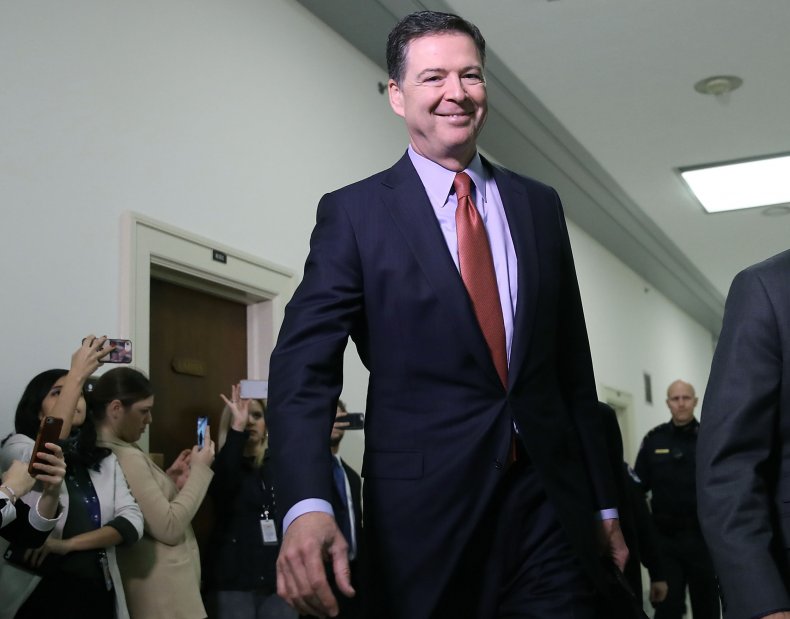 Comey tweeted: "Against the insidious wiles of foreign influence...the jealousy of a free people ought to be constantly awake, since history and experience prove that foreign influence is one of the most baneful foes of republican government."
The next paragraph of Washington's address which Comey did not quote, continued on the theme, stating: "The great rule of conduct for us, in regard to foreign nations, is, in extending our commercial relations, to have with them as little political connection as possible."
Comey gave no other comment alongside the quote, but he has been strident in his criticism of Trump. In his book A Higher Loyalty, published this year, he describes what led up to the FBI reopening the email investigation into Hillary Clinton two weeks before U.S. election day, which some say favored Trump.
In the book, he is unsparing of Trump, comparing him to a mob boss and describing how he watched him build "with his words an alternative reality."
Comey served under President Barack Obama's administration and was fired by Trump in May 2017 in a move that was widely criticized, and seen as an attempt to undermine an investigation into claims of collusion with Russian interference in the U.S. presidential election.
Trump attacked Comey publicly, accusing him last December on Twitter of lying to the House Judiciary Committee.
Last month, Comey had initially said he hoped Trump would not be impeached, because his supporters would think "some sort of coup" had taken place.
"We need to take responsibility for this and vote next November and show that we have a certain set of values and we insist that our leaders reflect those values," he told CNN affiliate KCRA.
However he said that his view had changed in light of the claims that Trump had pressured his Ukrainian counterpart Volodymyr Zelensky to investigate former Vice President Joe Biden and his son Hunter.
Comey tweeted that "we may now be at the point where members of the House and Senate can't uphold their own oaths to support and defend the Constitution without acting."
This story has been updated, to include the correction that Comey was the head of the FBI, not the CIA.