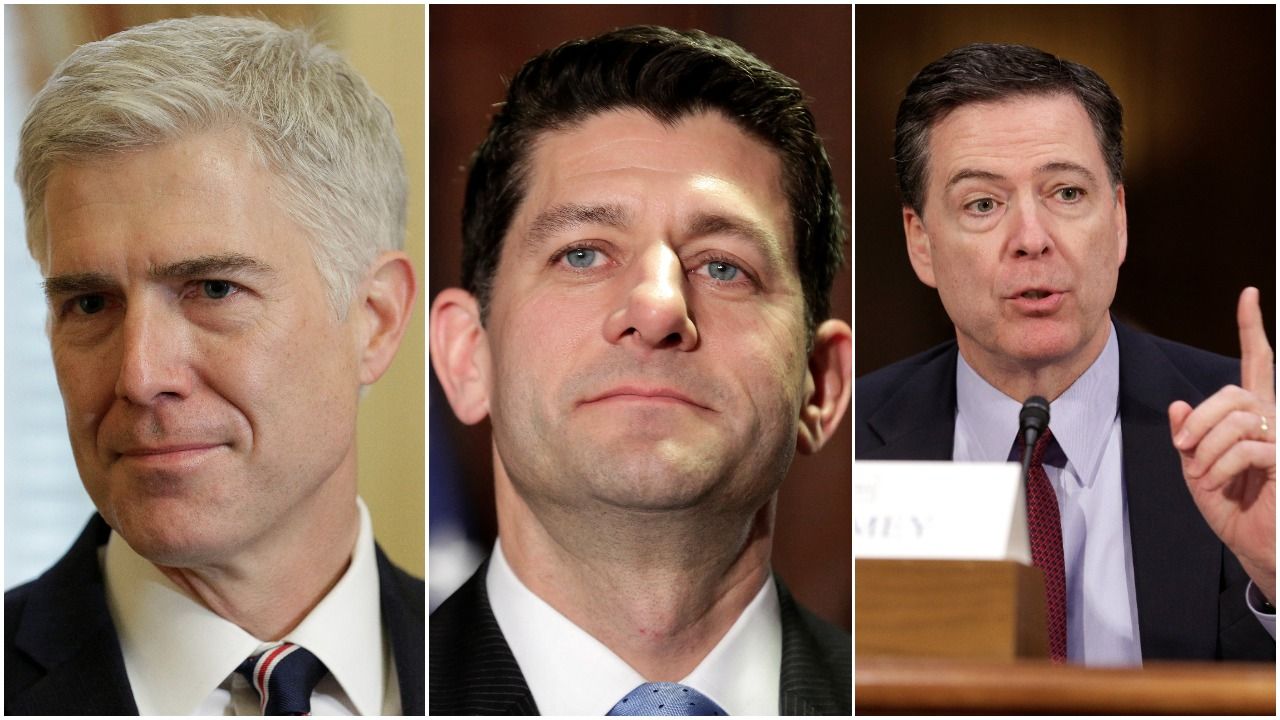 The week ahead promises to be an important one for Congress and the White House as President Trump's Supreme Court nominee testifies before the Senate Judiciary Committee, the House votes on the Republican replacement for Obamacare and FBI Director James Comey testifies about Russian intelligence in a public session of the House Intelligence Committee.
RELATED: Inside the CBO's alarming report on Trumpcare
None of these moments will put an end to the issues roiling Washington. The Senate won't vote on Gorsuch before next month; House and Senate agreement on health care is still months away; and the Russian question won't disappear either. But these will be important moments that could reverberate for decades.
Gorsuch Testimony
Historians may see Gorsuch as the most important moment. The 49-year-old appeals court judge could serve on the bench for decades. But his path to taking the seat left vacant when Justice Antonin Scalia died last year will be a rocky one. Democrats are livid over the way Republicans blocked a vote on President Obama's nominee, Merrick Garland, and many are vowing to oppose Gorsuch no matter what. It will be difficult, if not impossible, for Republicans to garner the eight Democratic votes that they'll need in the Senate to reach the 60 votes needed to avoid what is an almost certain filibuster. At that point, which could come a month from now, the Republicans leadership in the Senate must decide whether to exercise the "nuclear option"—essentially abolishing the filibuster as it currently stands, a move that could dissolve what little comity is left between the two parties.
As for Gorsuch, a graduate of Columbia and Harvard Law, he's expected to present well before the committee. Born into a political family—his mother was Ronald Reagan's administrator of the Environmental Protection Agency and active in conservative politics—he's better prepared than many nominees and he's been practicing before so-called murder boards that give a taste of the kind of tough questioning that he's likely to face from Senate Democrats on the panel. In addition to the kinds of questions that they usually hurl at Republican nominees—where they stand on the seminal abortion decision, Roe v. Wade, or the Citizens United campaign finance case—Gorsuch is likely to be asked about his close ties to conservative groups who are backing his nomination.
Healthcare Vote
Over on the House side, the chamber will vote on Thursday on the healthcare plan that has sped through two important committees, Energy and Commerce, as well as Ways and Means on party-line votes. Despite outspoken opposition from some conservative House members of the Tea Party and Freedom caucuses, as well as misgivings from a handful of moderates, House Speaker Paul Ryan and House Majority Leader Kevin McCarthy would be unlikely to schedule a vote unless they were convinced that Steve Scalise, the House Whip, had the votes in hand to get the bill passed. Earlier this month, President Trump took the unusual step of inviting the entire House Whip team to the White House for a strategy session on passing the bill. He and Vice President Mike Pence, a former House member with close ties to conservatives, will continue to stump for the measure.
Even if the health care bill clears the House it faces a much more difficult path in the Senate where Republicans hold a much narrower majority—just two votes. Already several GOP members have either said they won't vote for the bill or indicated that they probably wouldn't. The opposition comes mostly from the right, including Senators Rand Paul of Kentucky, Ted Cruz of Texas and Tom Cotton of Arkansas, who believe the bill leaves too many elements of Obamacare in place, including how much more insurance companies can charge older customers, who tend to be sicker, than younger, healthier ones. Other Republican senators such as Susan Collins of Maine, Lisa Murkowski of Alaska and Rob Portman of Ohio have expressed concern that the bill's steep cuts in Medicaid, the federal-state health care program for lower income Americans that was greatly expanded under Obamacare, will leave millions without healthcare insurance. In fact, last week the Congressional Budget Office offered an assessment of the health care bill wending its way through the House and determined that it would leave 24 million fewer Americans insured by 2026 than if the country stuck with Obamacare.
Still, if Speaker Ryan and President Trump can get the bill through the House it will be an important milestone, the largest legislative achievement to date for the new president and the speaker with whom he had had a rocky, contentious relationship during last year's presidential campaign—a row that was underscored this week when Breitbart News released an audiotape of a House GOP conference call from last fall in which Ryan said he couldn't support Trump and urged the members to do whatever they needed to in order to win election. The release wasn't especially surprising given Ryan's public comments but the mere fact that it emerged now was a reminder that those tensions aren't entirely gone either.
Comey Testimony
James Comey, the FBI director, will testify before the House Intelligence Committee on Monday about Russian intelligence, which 17 U.S. spy agencies concluded last year had made an effort to interfere with the presidential elections, although they did not conclude that Moscow had affected the outcome. Last week, Comey briefed the so-called gang of eight, the chairs and ranking members of the House and Senate intelligence committees, as well as the leadership in both parties. The grave tone that they seemed to have emerging from those meetings only raised anticipation about what Comey would say. It's no secret that Comey strongly objects to President Trump's charge, tweeted three weeks ago, that the Obama administration had his "wires tapped" [sic] at Trump Tower during its last week in office. The leaders of the intelligence committees, including House Intelligence Committee Chairman Devin Nunes of California, have said they have seen no evidence to support that extravagant claim. On Sunday, though, Nunes raised the possibility that even if the Obama Administration had not engaged in surveillance of Trump Tower, it may have mishandled and leaked classified information.
"The president doesn't go and physically wiretap something," Nunes said on Fox News Sunday. "But the other issue out there is the unmasking of names, the leaking of names. That happened to [former National Security Adviser] Michael Flynn. The concern we have is: Are there any other surveillance activities in the unmasking of names?"
The Comey hearing will be public and it begins at 10 a.m. The Gorsuch testimony, also public, will begin at 11 a.m. The Senate Judiciary Committee confirmation hearing for Gorsuch will be live on C-SPAN2, C-SPAN.org and the C-SPAN Radio app. The cable news stations are expected to carry large portions of it, as well. Comey's testimony will be carried on C-SPAN3 and C-SPAN.org. Count on the cable news networks to carry that, as well.