What Will Happen to Trump?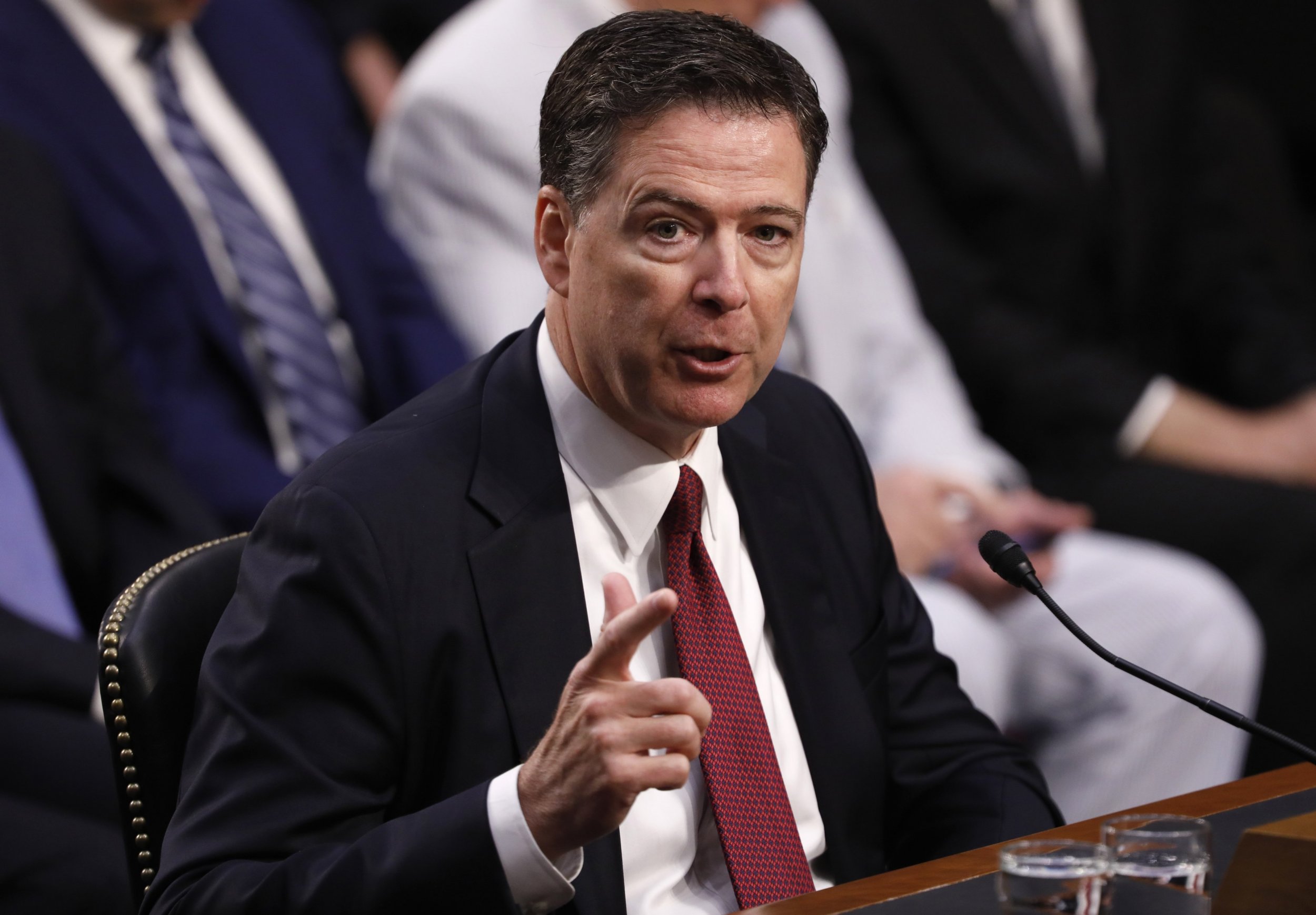 Is Donald Trump screwed?
James Comey's dramatic testimony before the Senate intelligence committee on Thursday, during which he said the president had "lied" and "defamed" him, strengthened the argument that the president of the United States attempted to obstruct justice. The former FBI director's testimony should be very worrying to the president, the White House and his personal counsel, as well as to the Republicans who find themselves lashed to Trump's political fortunes.
Related: President Trump stays silent on Jim Comey's Russia testimony in remarks to conservatives
Comey described in detail a previously reported January meeting at the White House in which Trump asked Attorney General Jeff Sessions and Jared Kushner, the president's son-in-law and senior adviser, to leave him alone with his FBI director in the Oval Office, before saying about Michael Flynn, his former national security adviser who was being investigated by the FBI, "He is a good guy. I hope you can let this go."
"Why did he kick everybody out of the Oval Office?" Comey said. "That, to me as an investigator, is a very significant fact."
While Comey never directly accused the president of obstructing justice, his intent was clear—and he was making the case for a key point in any obstruction case: that the president was consciously disobeying the law. Otherwise, why ask everyone to leave?
It's up to those investigating Russian attempts to interfere in the 2016 presidential election to decide whether there is a case against Trump. That includes the Senate and House intelligence committees and, more importantly, special counsel Robert Mueller, the former FBI director, who was tapped to lead the investigation after Comey's firing last month.
Under the U.S. Constitution, the president cannot easily be charged with a crime, but the special counsel can recommend impeachment proceedings that would begin in the House of Representatives, or the House could take it up on its own accord. It wouldn't be the first time. The House Judiciary Committee approved an article of impeachment against Richard Nixon in 1974 on obstruction of justice charges. He resigned before it went to the full House for a vote. In 1998, the House approved obstruction charges against Bill Clinton in its role as a de facto grand jury. The Senate later voted to acquit the 42nd president.
What Comey told the Senate intelligence committee in person on Thursday and in his written testimony, which was released on Wednesday, amounted to a powerful, but not conclusive, case against the president.
First, he said the president had "lied" when he said that Comey had lost the confidence of the FBI and that's why he was being dismissed. Acting FBI director Andrew McCabe, a Comey deputy, has said publicly that Comey enjoyed widespread support, and subsequent news stories have backed him up. The heads of organizations representing current and retired agents have praised Comey, undercutting Trump's main claim about why he fired the lawman.
Comey said he took the president "at his word" in public comments that he was dismissed because of how he was leading the investigation into Russian interference in the 2016 election. In a dramatic moment, Comey said he was "sure" that Mueller is looking into obstruction charges against Trump, a notion that's hard to dispute given Comey's account of the pressure he said he felt from the president to back off the criminal inquiry of Flynn, who lost his position in January after just a few weeks for having lied to the vice president and others about his contacts with the Russian ambassador to the U.S., Sergey Kislyak.
The New York Times has reported that the day after the firing, Trump told Kislyak and Russian Foreign Minister Sergey Lavrov in an Oval Office meeting that firing Comey had relieved "great pressure because of Russia." And Trump told NBC News's Lester Holt that he'd fired Comey in part because of his handling of the Russia investigation, which Trump dismisses as fake news.
"I know I was fired because of the way I was handling the Russia investigation," Comey said Thursday. He also said he had already sent his contemporaneous memos and notes to the special counsel. In one of many jaw-dropping moments during the testimony, Comey acknowledged that he had a friend, a Columbia Law School professor, release to a press outlet news of Comey's contemporaneous notes shortly after his firing, in an effort to put pressure on Deputy Attorney General Rod Rosenstein to appoint a special counsel.
But it was Comey's personal, eyewitness testimony that rendered the immense hearing room in the Senate Hart Office Building silent at times. On Thursday, Comey detailed multiple encounters with Trump. In none of them, according to Comey, did the president evince curiosity about the Russian hacking itself. Instead, Comey offered powerful testimony about private meetings with the president that seemed like pressure sessions used to discourage him from pursuing Flynn and to demand personal loyalty. While the president used words like "hope," as in he hoped Comey could "see his way clear" to dropping the Flynn case, Comey said he construed that as an order and not a request. At one point Comey cited a famous line about Thomas Becket, "Who will rid me of this meddlesome priest?" The next day, the clergyman was dead.
From his very first encounter with Trump, in December 2015 at Trump Tower in New York, Comey said he didn't trust the man. Comey said he started to take notes after that first Manhattan meeting with Trump for fear that the incoming president would lie and mischaracterize their encounter. He continued to do so for all of his following personal and telephone contact with Trump. "I was honestly concerned he might lie about our meeting," Comey said.
Proving obstruction of justice in court can be a tricky matter, and Congress need not use the same standards of evidence that a criminal court would when considering Sections 1503, 1505 and 1512 of Title 18, which make it a crime if someone corruptly "obstructs, influences or impedes any official proceeding."
Comey did give Trump a few things that he can use to defend himself. First, he said Trump had told him that he wanted the FBI, if necessary, to prosecute "satellite" persons in his campaign for colluding with Russia, a possible reference to people such a Paul Manafort, the Trump campaign official who has had Russian-backed Ukrainian political clients and is being examined by the FBI. During questioning, Republicans on the committee noted that Comey never reported his conversations with Trump to his superiors as potentially criminal. They also noted that Comey never considered resigning—something he weighed in 2004 when he was acting attorney general in the George W. Bush administration and was at odds with the president's policies on collecting electronic intelligence. The insinuation was clear: If Trump's behavior was so disturbing, why didn't Comey sound the alarms?
Comey's answers on this front weren't entirely satisfying. He at times seemed to chide himself for not having the "presence of mind" to stand up to the president more directly. Ultimately, though, an obstruction of justice charge won't depend on Comey's state of mind but on Trump's. Did the president intend to stymie a criminal investigation?
For special counsel Mueller, Comey's testimony is anything but conclusive. He'll now have to pursue Trump's side of the story and see if there is any corroborating evidence. Did Trump describe his Comey encounters to White House staff, and did he characterize them differently? (The White House has issued several statements saying the president never intended to thwart the Flynn investigation.)
There will be a search for documents, witnesses and the like. White House staff have been instructed by White House counsel Don McGahn to preserve documents that might be subpoenaed at a later date. White House staff are retaining counsel. The president's son-in-law and senior adviser, Jared Kushner, has retained Jamie Gorelick, who was the deputy attorney general under Bill Clinton and one of Washington's most prominent attorneys. The president's own attorney, Marc Kasowitz, went on camera on Thursday afternoon to state that Comey had exonerated his client and in fact told the president that he was not personally under investigation. Trump's counsel also emphasized that the president never directed Comey to abandon the Flynn investigation. Now that Jim Comey has had his say, they won't be the last to lawyer up.